To achieve a power increase from standard 512 hp / 377 kW to 542 hp / 389 kW there will be soon available the GeigerCars.de STAGE 1 performance kit. The tune-up contains a free-flow intake air guiding with sport air filter, special exhaust manifolds, steel bed catalysts, four large chrome exhaust tips and a special mapping for the ECU. The engine tuning makes the Corvette Z06 even more agile and doesn't only convince with quicker revving up but also with higher road performances: The sprint time from 0 - 100 km/h is reduced to about 3.7 seconds, maximum speed is increased to about 327 km/h.
Many other special GeigerCars.de customizing components for the fastest production Corvette ever are already available. The designers of Europe's leading customizer of American cars developed a front spoiler edge to fit on the standard apron. The bodystyling part doesn't only make the front view more aggressive: The lift on the front axle is further reduced. Its aerodynamic counterpiece is a diffuser to fit on the rear apron.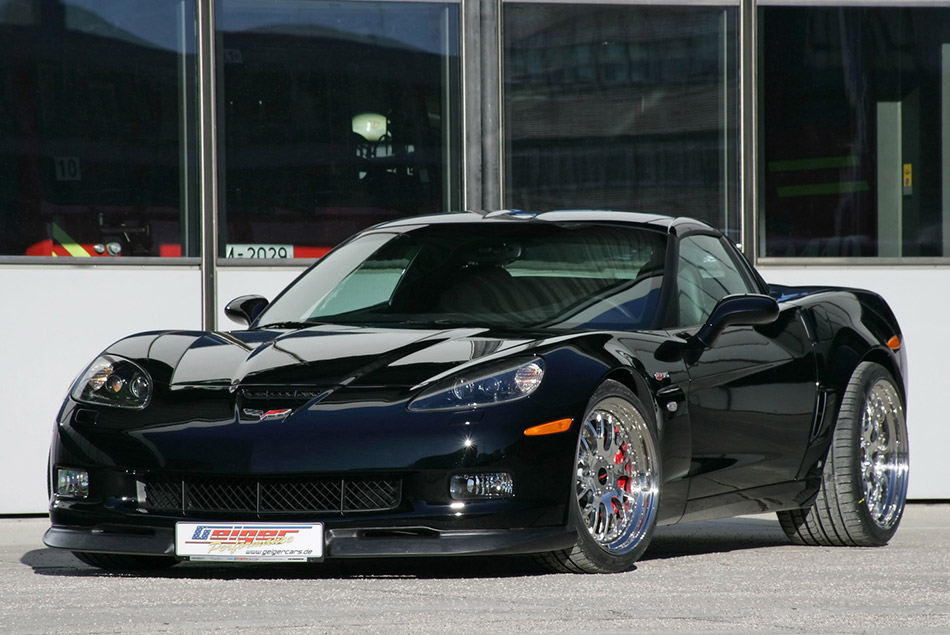 To be able to always safely control the outstanding road performances of the tuned Z06, GeigerCars.de offers a high performance brake system. GeigerCars.de also offers suspension tuning for the new supersportscar. They designed a custom spring strut sport suspension, which replaces the standard transverse springs to achieve an even more dynamic handling.
To perfectly fill the existing space inside the wider Z06 wheel houses, the GeigerCars.de technicians developed an equally spectacular and exclusive wheel/tire combination. The multi-piece chrome wheels were designed in the dimensions 10.5Jx19 front with 285/30 ZR 19 tires and 13Jx20 rear with 345/25 ZR 20 tires. The GeigerCars.de set of wheels with tires is charged with 9,450 Euros.
Of course GeigerCars.de also offers exclusive interior appointments for the cockpit from Carbon panels up to the masterly handcrafted full leather trim in every imaginable color and design.
GeigerCars.de doesn't only offer customizing options for the new Corvette Z06 but also fully tuned cars starting from 93,000 Euros.
Source: GeigerCars
Gallery:
GeigerCars Corvette Z06 (2006)