The New Insignia range made its world debut at the Frankfurt Motor Show last week before first UK deliveries start in October.
Available as a five-door Hatch, four-door Saloon and Sports Tourer estate, the new range now starts at just £16,279, nearly £2,000 less than entry into the outgoing line-up.  Also available are a range-topping Country Tourer and a high performance VXR version, the fastest car available in the UK for under £30,000.  
There are four new engines, including: a 99g/km 140PS 2.0 CDTi offering large cost benefits to fleet and high-mileage drivers; an all-new 1.6 SIDI 170PS Turbo petrol; and a new 250PS 2.0 SIDI Turbo petrol. Existing diesel units have also benefited from refinement improvements.
An all-new infotainment system, incorporating Bluetooth-operated internet connectivity, an 8-inch touchscreen, and 3D navigation and voice control, has full smartphone compatibility and allows drivers unrivalled communications while on the move. A DMB (Digital Media Broadcast) radio is now standard across the range.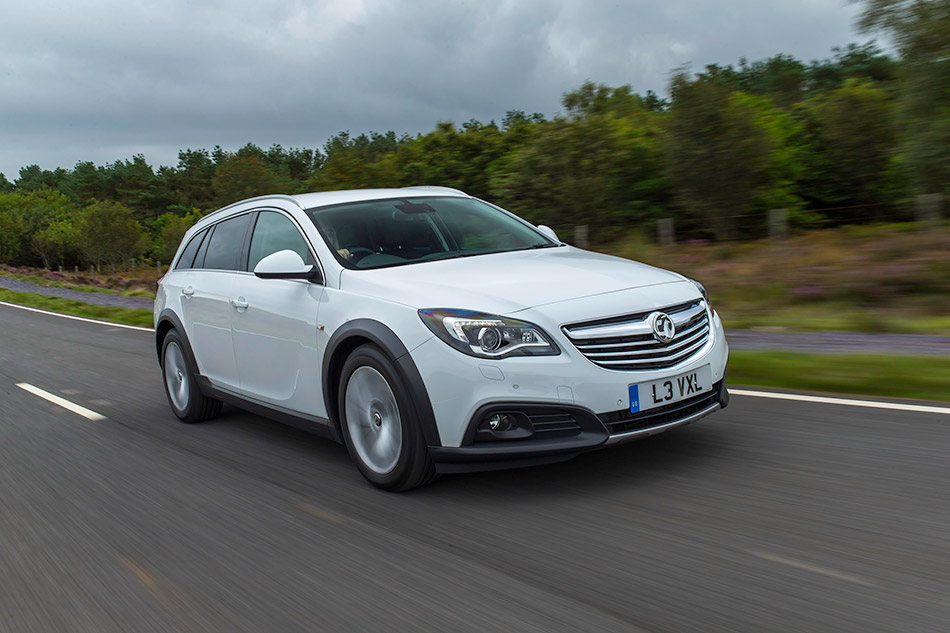 Since its launch in 2008, the Insignia has largely dominated the mid-size sector and launched the eye-catching design philosophy that has permeated through all subsequent new Vauxhalls. The Insignia's classic exterior lines remain for the new range, refreshed styling at the back and front of the car, but inside there are important changes to its instrument cluster and centre console design, as well as improvements to control-functionality.
The Insignia's range has been simplified, too. There are now eight trims (down from 14 in the outgoing line-up), ranging from Design to Elite, with a mixture of new models that will appeal to both retail and fleet buyers. And like all Vauxhalls, the new Insignia range will come with Lifetime Warranty, allowing first owners peace of mind for as long as they own the car, up to 100,000 miles.
Vauxhall is raising its game in the highly competitive D-segment with the launch of the new Insignia. 167,000 Insignias have been sold since launch in the UK illustrating its popularity with both retail and fleet buyers, as well as its appeal to buyers who had only previously considered premium cars in the D-sector.
While the Insignia has increasingly found favour with retail buyers, much of its success has been in the fleet market with 80 per cent of Insignias going to business customers.
Vauxhall's combination of more efficient engines, premium design and state-of-the-art infotainment systems will certainly prove tempting to both company car drivers and fleet decision-makers alike.
The new Insignia's direct competitors include the VW Passat, Ford Mondeo, Toyota Avensis nd Peugeot 508. Other potential competitors include the Audi A4, BMW 3 series, and Mercedes C-class.
DESIGN AND AERODYNAMICS
The biggest change existing Insignia customers will see when they sit in the new car is a completely re-designed centre console and instrument cluster. The centre console has been simplified and now has fewer buttons for more intuitive operation of common functions, such as air conditioning and infotainment, while the instrument cluster has new dials and a fresh, high-tech look.
Optional across the range is an 8-inch screen infotainment display (up from 5-inches in the outgoing range) and a new, upgraded instrument cluster with an 8-inch, high-resolution colour display. The cluster incorporates two outer dials showing fuel and revs, while in the centre sits a speedometer that can be displayed in analogue or digital form, or changed to show functions such as smartphone or audio use, or navigation.
The 8-inch infotainment display has touch-screen functionality, allowing drivers to access all functions and sub-menus such as radio stations, song titles, smartphone connection or 3D navigation in an intuitive and safe way. Its illuminated, touch-sensitive surface reacts immediately to finger movements, with even individual letters and numbers being accessible via this method. Up to 60 favourite menus can be stored from all functions and apps, available next year, and can also be downloaded via the car's Bluetooth-connected internet.
In addition to button, touchscreen and touchpad operation, Insignia drivers can also control the infotainment system via re-designed controls on the new-look steering wheel. The advanced voice recognition function can also be operated by a single push of a button on the steering wheel.
Stylish new leather and cloth trims are available in the New Insignia range, complemented by upgraded dashboard materials and decors.
With 40 industry awards to its name – including the coveted European Car of the Year in 2009 – the outgoing Insignia has earned respect from media and customers alike. One of the pillars of its success has been its premium design – we called it 'sculptural artistry meets technical precision' at launch – and with the new range this has been enhanced still further.
Starting at the front of the car, the high-gloss chrome grille is wider and lower than before. The logo-bar that cradles the Griffin badge is thinner and includes winglets that link with the re-designed headlamps. On Elite models, these feature bi-xenon lamps with AFL (Advanced Forward Lighting), which is optional on all other models.
Standard headlamps are trimmed in high-gloss black with chrome-embedded accents, with the up-level AFL lights getting a 'wing-signature' daytime running light with energy-saving LEDs.
The lower front fascia inserts are designed to appear slim and wide to emphasise the upper grille size. Fog lamps are combined with wide, black inserts and chrome accents, which grow in width as they near the cabin.
In profile, the New Insignia range's Hatch and Saloon models are better defined through their unique tailgates and rear spoilers. The crease line on the C-pillar of the Hatch fades out before it reaches the spoiler's trailing edge, giving it a classic coupe silhouette. On the Saloon, the crease line continues along the edge of the spoiler to emphasise the body's length.
At the rear, the New Insignia range models appear wider and lower. The high-gloss chrome logo bar has been positioned lower on the tailgate. It extends into the tail-lights and incorporates the slim-look reversing lamps. The tail and stop functions of the two-piece tail-lights are illuminated by LEDs throughout the range.
The Sports Tourer's rear styling embodies a similar wider and lower appearance. The main visual enablers are again the stretched chrome brand bar, also framing the reverse functions, and an uninterrupted body-coloured division between the tailgate glass and the longer, slimmer light units. The rear bumper moldings for all models also incorporate several black 'cut-out' inserts according to the powertrain choice, with or without visible exhaust tailpipes.
The New Insignia range offers a raft of technology, safety and comfort highlights. These include state-of-the-art radar and camera-based assistance systems (including adaptive cruise control and second-generation park assist), premium seats, and 'Open & Start', the keyless entry and start system, to name just a few.
Two new exterior colours – Emerald Green and Aurum Green – join the existing 10 colour choices.
Aerodynamics
Vauxhall's new Insignia is not only the lowest CO2 emitting car in its sector but now also the most streamlined vehicle in the world in its class.
Thanks to clever changes to the body design of the new Insignia, Vauxhall's engineers have reduced the vehicle's drag coefficient to under 0.25 for the Insignia hatchback and 0.28 for the Sports Tourer. New extended underbody covers, wider front spoiler lips, tail lamp housings designed to enhance airflow separation and an integrated rear deck lid spoiler contribute to the new Insignia's slippery shape.
Insignia 2.0 CDTi ecoFLEX (120/140PS) models with Start/Stop also feature an additional, ultra-modern aerodynamic element: an active front air shutter. Air flowing through the front grille to cool the engine usually accounts for up to eight per cent of total vehicle air drag. To reduce this effect, a shutter in the lower front grille automatically closes to prevent air entering and causing turbulence. For cold starts, an additional advantage is a faster engine warm-up, which also helps reduce fuel consumption and CO2 emissions. Whenever the engine needs air for cooling, the shutter opens automatically.
These changes help the new Insignia ecoFLEX (120/140PS) achieve class-leading CO2 emissions of 99g/km and 76.3mpg on the combined cycle.
This gives the ecoFLEX a range of up to 1175 miles, which means that an average UK driver covering 8,200 miles*, would only have to refill with diesel seven times per year.  Or put another way, an ecoFLEX driver could travel from London to Budapest on one tank of fuel!
*Source: Department of Transport's UK Travel Survey 2012 and based on a combined 76.3mpg for an ecoFLEX model fitted with 2.0 CDTi 99g/km engine.
ENGINES AND CHASSIS
The new Insignia range's powertrain line-up has been broadened still further with the addition of an all-new petrol engine and new derivatives of the existing 2.0 CDTi unit.
Now available with a choice of three power outputs – 120PS, 140PS and 163PS – the New Insignia range's 2.0 CDTi engine offers drivers ultra-low C02 emissions of 99g/km (76.3mpg combined) for the lower two outputs and 114g/km (65.7mpg combined) for the higher output unit (figures for Hatch models). But performance hasn't been compromised, with even the 120 and 140PS models producing up to 320 and 370Nm of torque respectively, and the 163PS model up to 380Nm.
For company car drivers, the new diesel engines offer an even more compelling argument, with both the 120 and 140PS ecoFLEX Hatch versions emitting just 99g/km of C02 and dipping in to the 14 per cent Benefit-in-Kind category for the 2013/14 Tax Year.
Also new to the engine line-up are two direct injection petrol units: the new-generation 1.6-litre SIDI (Spark Ignition Direct Injection) producing 170PS/280Nm that recently launched in the 2013 Cascada convertible, and the 2.0-litre SIDI, producing 250PS/400Nm. Both engines provide an exceptional mix of refinement, economy and performance. They can be coupled with a six-speed manual transmission and Start/Stop function, or with a new, low-friction six-speed automatic gearbox.
Chassis
Across the New Insignia range, there have been improvements including dampers, roll-bars and steering, which result in improved noise and vibration behaviour and even higher levels of comfort. Completely new suspension control arms and carrier housings were built into the axle architecture to improve driving comfort. Electronic Power Steering (EPS) is standard in all but the VXR models and has been reprogrammed for improved feel. Noise Vibration and Harshness (NVH) levels have also been reduced for enhanced occupant comfort.
Vauxhall's FlexRide adaptive damping chassis system, with its real-time driving style recognition, is also used in the new Insignia. This innovative chassis networks all driving dynamics systems and features electronic damper adjustment, as well as speed-dependent power steering. The driver can choose between three driving modes: Standard for driving comfort, Tour for an even softer, more comfortable drive, and Sport for a more direct, sporty driving experience.
RANGE AND PRICING
The New Insignia range comprises eight trim levels starting with Design, and going up to Elite. There are also two trims – Energy and Limited Edition – which package generous equipment levels popular with retail buyers. And a further two trims – Design and Tech Line – that package comprehensive levels of equipment for company car drivers.
All models have a long list of standard equipment, which includes:
DMB digital radio
Bluetooth connectivity
USB connection and aux-in socket
CD/MP3 player & stereo radio
LED daytime running lights
Leather covered steering wheel
Cruise control and trip computer
Electric four-way lumber adjustment on driver's seat
Electric height adjustment on driver's seat
Six airbags
Remote control security alarm and deadlock
Electronic Stability Control
Electric park brake
Electronic climate control
Automatic lighting control
Electrically operated front windows
Electrically adjustable/heated door mirrors
Massive savings for company car drivers
The New Insignia range offers big savings over key competitors for company car drivers. Thanks to the new low C02 engines, the Insignia Design 2.0 CDTi (120PS) ecoFLEX with Start/Stop saves company car drivers £992 in benefit-in-kind tax over a three-year period against a Ford Mondeo Edge 1.6 TDCi (115PS) and £1,118 over a Volkswagen Passat BlueMotion Tech S 1.6 TDI (105PS).
'The New Insignia family not only offers refreshed styling, new engines and cutting-edge infotainment, but also big savings for company car drivers,' said James Taylor, Vauxhall's Fleet Sales Director. 'Against key rivals such as the Ford Mondeo and the VW Passat, company car drivers can save over £1,000 in BiK tax as well as getting more standard equipment and better fuel economy.'
Pricing for the New Insignia starts at £16,279 for the Design and goes up to £29,329 for the top-of-the-range Elite model.  Full pricing and range details can be found in the price guide in this press kit.
NEW GENERATION INFOTAINMENT
The new Insignia features cutting-edge infotainment with many existing features radically simplified over the outgoing model.
Vauxhall technicians set three developmental criteria when working on the new Insignia's infotainment offering safety, simple operation and personalisation. Most importantly, any infotainment must offer maximum safety for driver and passengers, with the lowest-possible distraction from road traffic. The system also had to be clear and simple to operate and drivers and passengers had to be able to individualise it to their personal tastes.
The centre console has a completely new look and feel. It has a host of state-of-the-art technologies and functions. The control panel was simplified and the operation of the infotainment system as well as air conditioning or the premium FlexRide chassis is now fast and intuitive.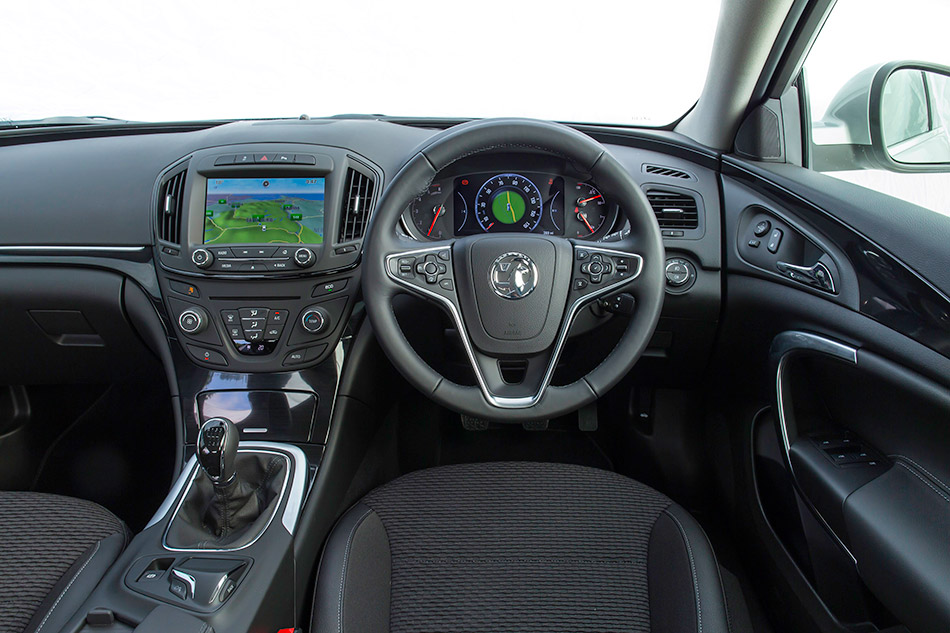 The new infotainment generation is part of the IntelliLink family introduced in the ADAM this year. Thanks to user-friendly IntelliLink technology, smartphone functions can be optimally integrated into the car. In the Insignia, the driver can choose between four different operating possibilities. The new system Navi 900 Touch can be controlled over an 8-inch colour display with touch operation. From the starting screen the driver can access all core functions and sub-menus such as radio stations, song titles, smartphone connection or 3D navigation map via the touchscreen as well as a button on the steering wheel, voice control or the brand new touchpad.
The degree to which the system can be individualised is unique – up to 60 personal favourites can be stored. While earlier infotainment systems only enabled the selection of radio stations, driver and front passenger in the Insignia can now also choose their personal favourites in navigation, telephone and entertainment. For example, the most popular radio station is directly next to the most important telephone numbers on the display, which are just one fingertip touch away from the stored business address in the navigation directory.
The touchpad is ergonomically integrated in the centre console and offers a completely new way of quickly and intuitively accessing the infotainment system. Its touch-sensitive surface recognises handwriting and reacts immediately to finger movements, vibrating lightly to give noticeable haptic feedback and making operation of the new infotainment generation simple and without distracting the driver.
To move the cursor, just one finger is needed, followed by slight pressure on the touchpad to open the selected menu option. With a two-finger swiping motion, the driver can for example change the audio source and a three-finger swipe over the touchpad surface opens the favourites list. The navigation system map has zoom functionality which can be controlled with a pinching motion just like on a smartphone. Even individual letters – for instance when searching for a song title in the database or a city in the navigation system – can be entered by fingertip on the touchpad. When just the first letter is entered, a list of stored addresses appears in the navigation system.
Synchronisation of the infotainment system and a smartphone is easy. Drivers only have to connect their phone to the infotainment system and many smartphone contents are displayed on the colour touchscreen in the centre console. These include not only telephone and song lists but also films that are saved on the smartphone on the Insignia's 8-inch monitor (only when the car is stationary).
Insignia drivers can control the newest generation infotainment system over newly designed, clearly laid-out steering wheel controls as well as voice commands in addition to via buttons, touchscreen and touchpad operation in the centre console. The advanced voice recognition function can be activated by the simple push of a button on the steering wheel controls. Then using voice control, the driver can enter addresses into the navigation system, play songs saved on the smartphone or make calls, all while the drivers' hands stay safely on the steering wheel.
The newly designed instrument panel with an up to 8-inch high-resolution colour display also contributes to the driver's optimal information overview. In addition to the classic readouts like speed, rpm and fuel tank level, further driver-defined details on navigation, smartphone use and audio options are directly in the driver's line of sight.
Similar to the infotainment system display in the centre console, the most important functions can be called up here on the starting screen and then the sub-menus selected. To do this, the driver uses the buttons on the right side of the steering wheel. The steering wheel buttons on the left are to control safety functions such as cruise control or the speed limiter. So Insignia drivers not only benefit from a multi-functional, customisable infotainment system, but also from an instrument panel with a centrally located, colour display that can be tailored to individual needs and preferences.
A state-of-the-art Bose Sound System, with nine loudspeakers, a sub-woofer, four broadband loudspeakers, tweeters and a digital sound processor, is available as a £525 option.
SAFETY, COMFORT AND CONTROL
The new Insignia's cabin offers access to a host of advanced driving safety and assistance features, many radar and camera-based. These include:
Adaptive Forward Lighting Plus (AFL+). Vauxhall's innovative system improves driving safety and significantly eases driving strain at night by automatically optimising light beam patterns for different driving situations, road and weather conditions. Numerous intelligent AFL+ lighting configurations are provided, including High Beam Assist (HBA), which automatically engages high and low beam by using a forward-facing camera to detect approaching traffic or a vehicle ahead.
Adaptive Cruise Control (ACC) helps the driver keep to a selected speed, while always maintaining a safe distance to the vehicle(s) in front. In combination with automatic transmission, ACC will now also bring the car to a complete stop and automatically re-start it. The system includes Forward Collision Alert (FCA) with automatic Collision Imminent Braking (CIB) to mitigate a potential impact.
A speed limiter function allows the driver to select a maximum vehicle speed, a useful feature in town or city driving to prevent a 30 or 50mph speed limit being inadvertently exceeded.
Traffic Sign Assistant (TSA), which recognises and displays circular speed limit signs and rectangular advisory road signs as a reminder for the driver.
Lane Departure Warning (LDW), which recognises road markings and initiates an audible warning chime and tell-tale light display if the vehicle should unintentionally veer out of lane.
Other radar-based driving safety functions are: Side Blind Zone Alert (SBZA), which warns of traffic close-by within the driver's blind spot, and Lane Change Alert (LCA), which warns the driver of traffic rapidly approaching from the rear in a parallel lane. New for Insignia is Rear Cross Traffic Alert (RCTA), which is activated when reversing and warns the driver of traffic approaching from up to 20 meters away on either side of the vehicle. LCA and RCTA are provided in combination with a Rear View Camera (RVC), also new for Insignia. This is mounted above the rear number plate, and a full colour image is displayed in the centre stack screen, together with a dynamic overlay showing the path of the vehicle when reversing.
Advanced Park Assist (APA) helps the driver detect a suitable parking slot by using multiple sensors in the front and rear bumpers. APA calculates the optimal parking path, and guides the driver with steering input displays in the centre stack screen and audible warnings.
NEW INSIGNIA COUNTRY TOURER
Top-of-the-range Sports Tourer with SUV characteristics
Higher ground clearance and distinct protective body elements
Advanced all-wheel drive with variable torque delivery
Two powerful turbo-diesel engines with up to 400Nm torque
Vauxhall has added a rugged SUV-inspired all-purpose estate to its New Insignia range with its first public appearance at the Frankfurt Motor Show.
Known as the Insignia Country Tourer, and based on the Sports Tourer model, but with all-wheel drive, higher ground clearance and tougher styling.
DESIGN
With its signature Griffin grille, now wider and deeper, the Country Tourer's front styling is distinctively Vauxhall. The grille's horizontal chrome bar carries the central brand emblem and is sculpted in a wing form, with its outer tips turned upwards alongside the headlamps. A protective panel, in a gleaming silver finish, sweeps out from under the engine compartment, a prominent design theme echoed at the rear.
Another feature is the anthracite-coloured protective cladding on the side sills and lower body sections, which gives the wheel-arches a more pronounced, flared look.
A final visual flourish is provided by distinctive front and rear light units. The headlamps, with embedded chrome accents, incorporate wing-style LED daytime running lights. This theme is repeated at the rear, with LED brake and taillights.
POWERTRAINS
State-of-the-art all-wheel drive is combined with two powerful turbo-diesel engines: a 2.0-litre BiTurbo CDTi, producing 195PS and 400Nm of torque, and a 2.0-litre CDTi with 165PS and up to 380Nm torque available. A choice of six-speed manual or a low-friction, six-speed automatic transmission is available on the 2.0-litre (165PS) diesel engine.  The 2.0-litre (195PS) BiTurbo diesel engine is available in automatic only.
DRIVETRAIN
The electronically controlled 4x4 drivetrain incorporates a high-quality clutch, operating on Haldex principles, and an electronic limited-slip differential to ensure superb traction on both paved and unpaved surfaces. It constantly adapts to the prevailing road conditions, and can vary torque distribution seamlessly between the front and rear axles, as well as between the rear wheels, even before a wheel begins to slip.
When necessary, the clutch controlling drive distribution immediately sends more torque to the rear axle. The 4x4 system's sensors constantly feed individual control modules with information on yaw rate, acceleration, steering angle, wheel speed, throttle pedal position, engine speed and torque. The front/rear power distribution is constantly adapted to the driving situation based on this information.
Ultimate stability and higher dynamics are ensured by the electronically-controlled rear-axle Limited Slip Differential (eLSD). The eLSD controls the distribution of torque between the rear wheels, transferring drive torque to the wheel that has the most grip. While offering better traction in slippery conditions, the sophisticated operation of this adaptive 4x4 drive system guarantees the highest levels of driver control and active safety in all situations. The Insignia Country Tourer can even provide propulsion when three wheels are on loose or slippery ground and only one rear wheel has traction.
The adaptive all-wheel system also supports drivers in non-critical situations. To reduce frictional losses and save fuel, the system automatically reverts to front-wheel drive whenever it senses that no adaptive interventions are required.
Off road, the new Insignia Country Tourer also benefits from larger tyres and a raised ride height, in addition to its four-wheel drive traction. Ground clearance is 20mm higher than on a standard model, a major advantage when encountering loose, uneven terrain. The Nav models also come with 8-inch instrument cluster as standard.
"The Insignia Country Tourer is perfect for a winter holiday, on snowy roads, or simply when the going gets tough," said Stuart Harris, Vauxhall's Head of Carline Brand.  "Even on urban roads its robust looks give it strong stand-out appeal."
NEW INSIGNIA VXR
With a top speed of 170mph and power output of 325PS, the new Insignia VXR SuperSport remains the UK's fastest car you can buy under £30,000.
Now benefiting from a raft of design and chassis revisions which have been made across the entire Insignia range, the new Insignia VXR SuperSport will receive its world premiere at the Frankfurt Motor Show (September 12th -22nd).
As before, the SuperSport is available as either a Hatch or Sports Tourer, but externally both models have received a re-styled front and rear, with signature VXR design elements such as distinctive 'saber-tooth' detailing at the front and the tailpipe trim integrated into the rear valence.
The SuperSport's adaptive all-wheel-drive chassis has also been improved, with around 60 per cent of the car's rear suspension components receiving revisions, while the car's front HiPerStruts – which prevent geometry changes during hard cornering – remain an innovative feature in this class.
Complementing this, are modifications to the ESP software for even more precise handling and control of understeer, and upgrades to the damper software as part of the SuperSport's FlexRide adaptive damping system.
In addition, NVH (Noise Vibration Harshness) behaviour has been fine-tuned to achieve greater refinement for occupants, enhancing the SuperSport's credentials as one of the UK's best-value performance saloon cars.
With six-speed manual transmission and all-wheel-drive, the new Insignia VXR SuperSport reaches 60mph from zero in just 5.9 seconds (6.1 seconds for Sports Tourer) and on to a top speed of 170mph. Its drivetrain incorporates an electronically controlled 4x4 system, operating on Haldex principles and an electronic limited-slip differential. It constantly adapts to prevailing road conditions and varies torque distribution seamlessly between the front and rear axles, as well as between the rear wheels.
Other important changes to the Insignia VXR SuperSport range include an all-new instrument panel and central console design, which incorporates optional Bluetooth-operated internet connectivity, an 8-inch touchscreen, 3D navigation and voice control. DAB is standard across the SuperSport range.  The Insignia VXR has both 8-inch screens as standard, Navi 900 IntelliLink and the 8-inch instrument cluster behind the steering wheel.
The Insignia VXR SuperSport is available to order now, and starts at £29,749 OTR for the Hatch and £31,049 for the Sports Tourer.
Source: Vauxhall
Gallery:
Vauxhall Insignia (2013)