Geigercars now offers the noble Dodge RAM 1500 in a special economic power version. The centerpiece is the new 3.0 liter V6 Common Rail turbo diesel, with the maximum performance exploit of 241 horse power at a relaxed 3.600 r.p.m. The maximum retrievable torque peak of good 569 Newton meter turns out even far more impressive. It is even content with the highly manageable consumption rate of just 7.5 liters in 100 kilometers in combined cycle. The aggregate was developed by the Italian engine specialist VM-Motori and may come up trumps amongst others, also in the Jeep top model Grand Cherokee.
The extremely high performance reserves of the 24-valve diesel are not without palpable impacts on the maximum permissible trailer load. With a massive weight of 3.5 tons, the new Dodge RAM EcoDiesel is on the same plane with the European competitors VW Amarok and Toyota Hilux. At the same time, it also exceeds them in maximum power, cubic capacity and transmission performance. The automatic box of Dodge RAM EcoDiesel has good eight-level gear thus exceeding even the reigning gear king Nissan Navara, which – with its top motorization – has just a seven-level gear.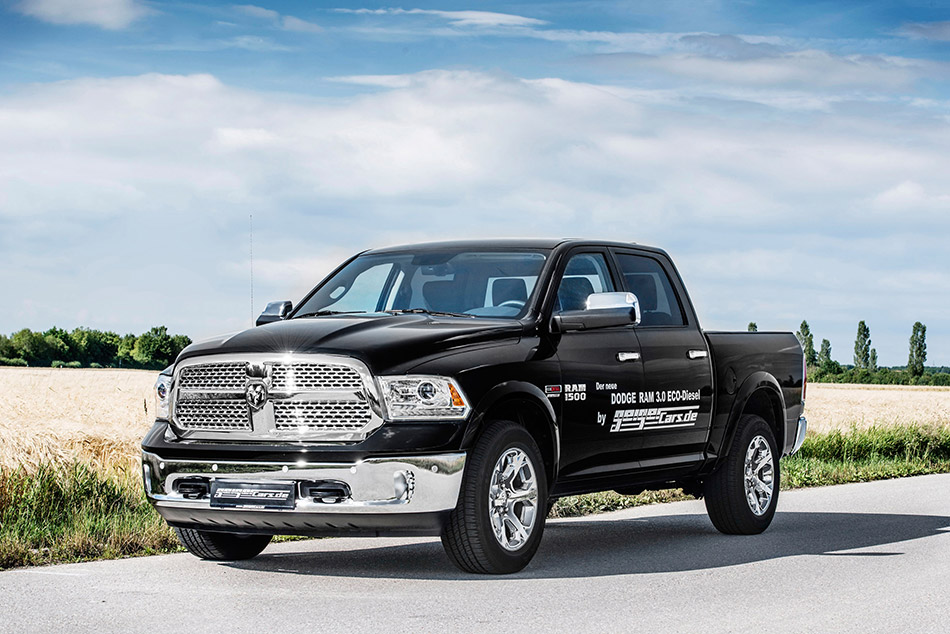 In fact, the entire offer was packaged in an extremely attractive manner. In the model "Dodge RAM 1500 4x4 Crew Cab Ram Box 3.0l V6 EcoDiesel", Geigercars offers its new flagship pickup as from EUR 49,900. For the model year 2014, it is holding off on a particularly elaborate serial fitting. Amongst others, on the said eight-level automatic gear, pneumatic suspension system, tow-bar preparation with intensified cooling system, underride protection, headlight assistant, keyless-go, leather equipment, steering wheel heater, air-conditioned front seats, EU navigation system and many more! Weight reduction through aluminum engine hood, improved aerodynamics through
adjustable lamella in radiator grill as well as a strongly dampened and better reworked driver's cabin all account for an additional upgrade of the Dodge RAM of the model year 2014.
Geigercars offers all potential customers the exclusive option of configuring their own individual RAM choices. At the center of it all are official Dodge models that are designed for the European market.
The new Dodge RAM 1500 3.0 l V6 EcoDiesel is available in Geigercars warehouse and can be delivered immediately on demand.
Technical data
Dodge RAM 1500 3.0 l V6 EcoDiesel
Engine: V6 Turbo diesel
Cubic capacity: 2,988 ccm
Performance: 177 kW (241 HP)
Torque: 569 Nm
Transmission: 8-level automatic gear
Combined consumption: 7.5 l (Diesel)
Co2 combined 275 g/km
Basic price: as from EUR 49,900
Source: GaigerCars
Gallery:
GaigerCars Dodge RAM 1500 EcoDiesel (2014)