Motorsport fans who find garden parties dull must not have been to the Goodwood Festival of Speed yet. Because for the last 20 years, the "largest motoring garden party in the world" has been attracting car fans as if by magic – even current Formula One drivers are reluctant to miss the biggest and fastest event of its kind. The premium vehicle refiner GEMBALLA is the guest of honour at the stand of its technology partner Michelin during this Goodwood anniversary year. The tyre brand has long represented the ultimate expertise when it comes to performance and safety – features which GEMBALLA also demands from its in-house developments. The company from Germany has been world-famous for more than three decades for the vehicles born of this philosophy. In order to show its appreciation of the event location, GEMBALLA has decided to exhibit its new GT Spider, based on the McLaren MP4-12C Spider. The technically and visually refined version of the open-top sports car will be displayed for the first time in the UK, the country where it all began.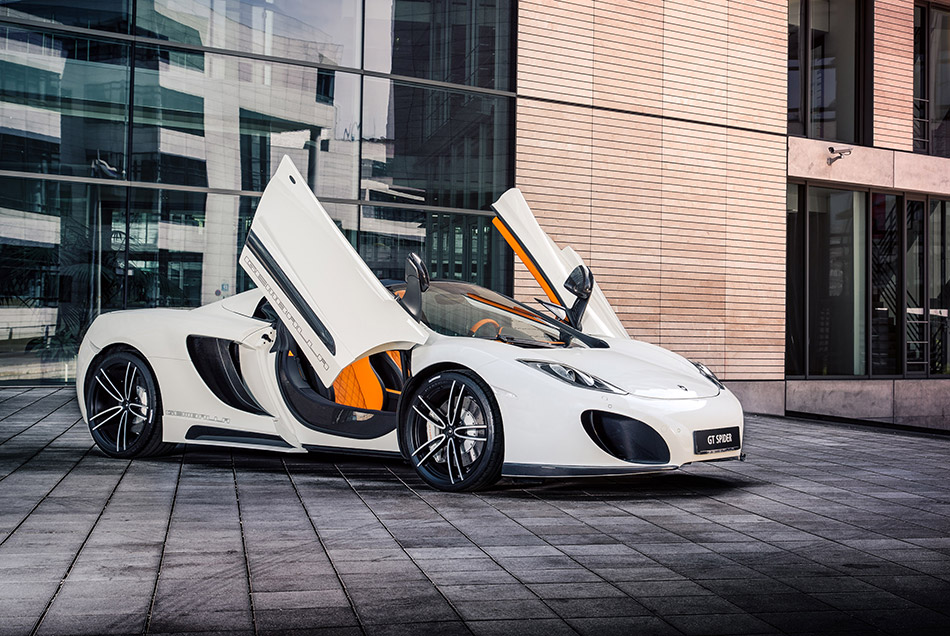 The aerodynamic kit used by GEMBALLA comes from "good old Germany" and consists of the highest quality carbon fibre materials. These parts are extremely rigid, ultralight, and are the base material used in the front skirt, side skirts and rear skirt. In the development and design of these parts, GEMBALLA uses ultramodern digital measurement technology, allowing it to guarantee the best possible fit at the original attachment points. GEMBALLA engineers use the high-tech body components in their pursuit of the MP4-12C's lightweight concept, and have given the Brit a somewhat more emotional appearance. This blend should ensure that the vehicle will be well received by the "car-crazy" public (in the best sense of the word) at the Goodwood Festival of Speed.
The performance concept behind the GT Spider is based throughout on thinking patterns drawn from motorsport. Its aluminium rims are not merely decorative, but serve primarily to reduce weight. The GForged-one forged wheels are 20 inches in the front and and 21 inches on the drive axle, and weigh significantly less than the original despite the size increase. The car is also a hit in the "Black Magic" and "Gunmetal" versions.
Source: GEMBALLA
Gallery:
Gemballa McLaren 12C GT Spider (2013)