HAMANN MOTORSPORT does not shy away from even the classiest of automobiles. This means that not even the Lamborghini Murciйlago misses out. HAMANN puts the finishing touches on this true star!
The high-class tuning specialist in Laupheim, Germany, adorns the recently revamped model with a front spoiler fitted to the production spoiler. Since this Italian roadster breaks the 300 km/h sound barrier with ease, this is a wise investment, as the additional downforce generated on the front axle greatly enhances the Murciйlago's stability at such high speeds. At the other end of the car, HAMANN fits a rear spoiler, which boosts the downforce on the rear axle. HAMANN supplies both of these aerodynamic parts in either a fiberglass or carbon Kevlar version and blends these so seamlessly into the basic design that anyone would think they had come straight from the Lamborghini factory. Precision fitting accuracy and a matching design take top priority with HAMANN.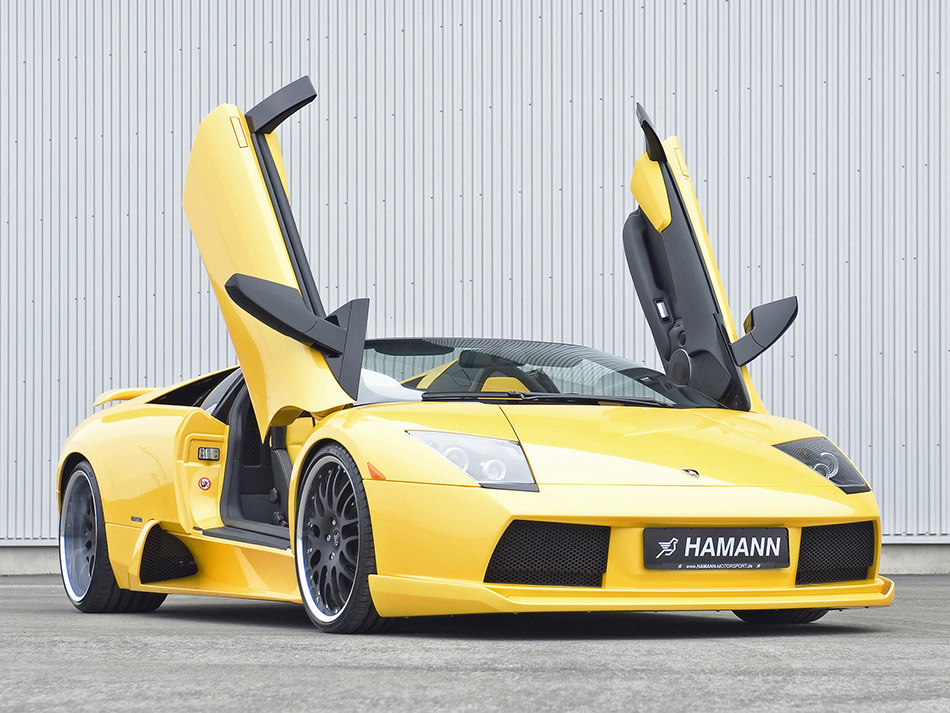 Under the hood, HAMANN leaves the 640 bhp muscle car untouched. The 6.5l V12 engine can give vent to its power by fitting a HAMANN rear sports muffler. Its awesome sound outdoes that of the production muffler, bringing goosebumps to all who hear it! What's more, its stylish double pipe (diameter 120 mm each) also underlines the car's power visually. Here, too, HAMANN attaches utmost importance to quality with a rear muffler in durable V2A stainless steel.
To enhance the interior of the Lamborghini Murciйlago, HAMANN offers an interior kit from carbon fiber. The eight-piece kit adorns the cockpit with trims around the instruments, a set of vents (5-piece) plus a shift gate panel and an ashtray console.
When it comes to wheel rims, HAMANN should also be at the top of the wish list. Its "EDITION RACE" creation is a composite, forged wheel with a cross-spoke design. HAMANN offers this rim for the Lamborghini Murciйlago in black with titanium bolts and a rim flange polished to a high gloss. It is fitted on the front axle in size 8.5 J x 20 and on the rear axle in size 13 J x 20. A complete set of tires is also available from HAMANN, 235/30 ZR20 for the front and 325/25 ZR20 for the rear.
Needless to say, HAMANN will also customize any Lamborghini to suit the customer's individual needs. Lavish leather upholsteries in a range of colors are possible, as are extensive multimedia conversions featuring a DVD, TV and Playstation.
Source: Hamann
Gallery:
Hamann Lamborghini Murcielago (2007)