Just in time for the start of the cabrio season, HAMANN Motorsport is introducing a comprehensive programme for accessories and modification of the current BMW Z4 Roadster, known internally as the E89. The broad palette of customisation options for the roadster with the fold-away hardtop includes exciting bodywork styling, striking rim designs and powerful performance improvements.
The HAMANN aerodynamics programme is characterised by top-quality workmanship on body components with impressive design and optimised airflow over the vehicle silhouette: The specialists have replaced the series production front spoiler on the front axle with an in-house development that features two integrated LED day lamps. Striking side skirts between the front and the rear impress with a convincing design concept, and lend the Z4 an even lower and longer appearance. The lift force on the rear axle is reduced by a HAMANN technical development that sees a shapely spoiler mounted on the tailgate. A new rear apron completes an impressive overall appearance and makes space for the four tailpipes responsible for the throaty sound of the HAMANN sports exhaust system.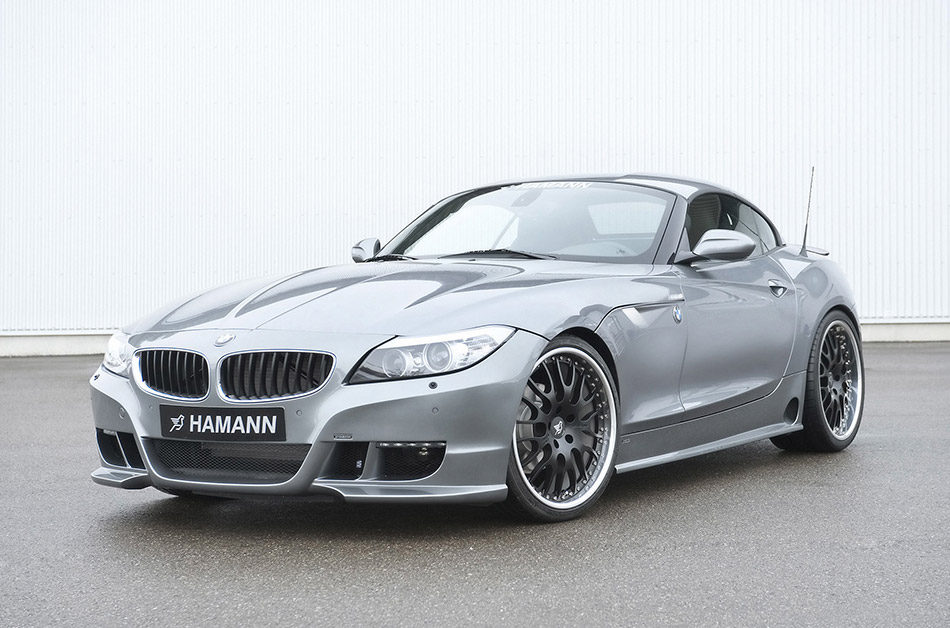 The HAMANN engine specialists have developed a powerful performance improvement for the BMW Z4 sDrive35i engine, which also lifts the 250 km/h limitation. The optimisation of the series production control device has resulted in performance figures of 360 hp / 265 kW at 5230 rpm (standard is 306 hp / 225 kW at 2500 rpm). The maximum torque simultaneously increases to an impressive 540 Nm, which is available in the engine speed range of 1300 to 5000 rpm (standard is 400 Nm at 1300 - 5000). This modification results in a top speed of 285 km/h.
One of the technical highlights in the comprehensive range of wheels is the three-part HAMANN light alloy wheel known as the EDITION RACE "MATT BLACK". The 20" forged wheel combines sportiness with elegance. The matt black, polished spoked rims and the titanium screw joints accentuate the wheel dynamics, while the highly polished rim flange makes for a sophisticated impression. HAMANN is offering the wheel/tyre combination of 8,5Jx20 inch including 235/30ZR20 front tyres with 10,0Jx20 rims plus 295/25ZR20 back tyres from 7,640 Euro. Extra focus is on the new aluminium wheels with special chassis springs that allow the centre of mass on both the front and back axles of the Z4 Roadster to be lowered by 30 millimetres. Handling of the sports car is simultaneously enhanced.
For the interior, HAMANN Motorsport has come up with subtle internal applications. The aluminium gear knob and the set of foot mats with the silver stitched HAMANN logo provide a sporty look. On request, hand-made complete leather fittings in line with the exclusive demands of every BMW Z4 Roadster driver can also be supplied.
Source: Hamann
Gallery:
Hamann BMW Z4 E89 (2010)