No sooner had the first production of the brand new Mercedes Benz C class (W205) rolled out and found their way onto the streets than the first tuning upgrade of the new medium class limousine of the renowned refiner Inden Design from Rennerod also rolled into the limelight. The new Inden Design project vehicle was photographically showcased along with the photo model Angela Kutscher from Sprockhövel, who has successfully acquired a huge name-recognition value as well as won several beauty contests and had in the past, also posed before the camera for the Inden Design fine art wall calendar.
Inden Design implanted in classical silver, the current Shoxx rim design of the company Barracuda Racing Wheels in the wheel houses of the C180 limousine that has already been delivered in the sportive AMG Line in the factory-fitted form and ornamented by the respective aprons and sillboards. The vehicle in the picture was fitted all-round with 9x20 inches double-spoke rims with Dunlop Sport Maxx tires of the dimension 235/30R20 mounted on them. Alternatively, Inden Design also offers rims measuring 10.5x20 inches with 275/25R20 tires for the rear axle; bodywork adaptations are however required for the proper installation of this wheel/tire combination.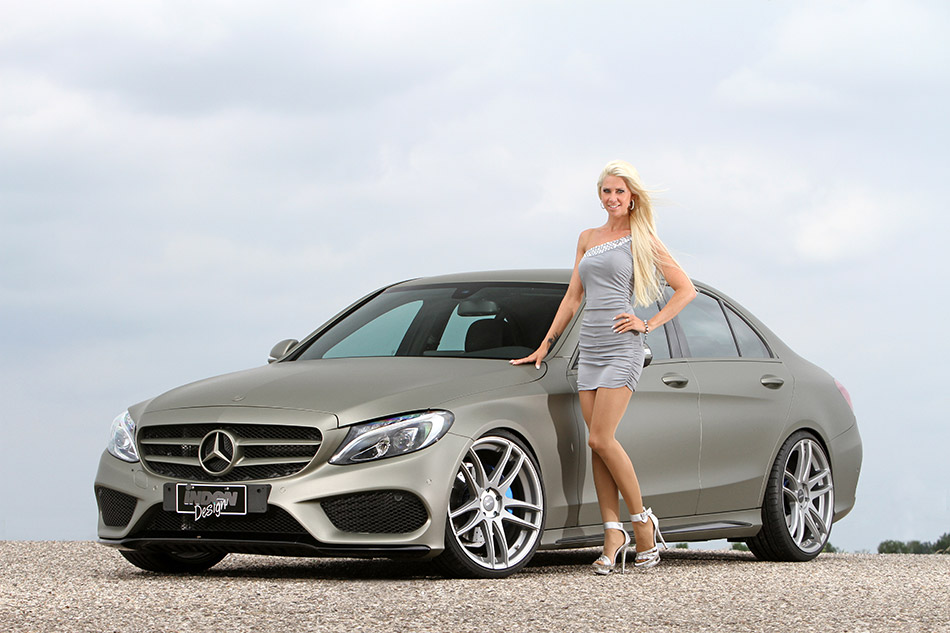 For a well-set fitting of the wheels and a crouched visual appearance and a more dynamic driving behavior, Inden Design installed chassis suspensions on the vehicle shown in the picture, which reduces the focal point by about 45 millimeters. In the near future, a complete coilover kit that will take the project one step further in terms of lowering and driving dynamics will be obtainable on optional basis.
Another highlight of the exterior styling is no doubt, the complete wrapping of the original obsidian black vehicle in dull sandstone metallic that was done by TTS (Timos Tuning Smithery) from Sprockhövel. The wrapping also covered all strips and attached parts; on the front flap as well as on the side skirts, contrasting focus was set on glossy black.
Finally, Joachim Inden integrated the characteristic exhaust pipe-end covers of the C63 AMG Black Series Coupé in the AMG line rear apron, which can be optionally combined with the serial exhaust system or with a stainless steel sports exhaust system. Last but not the least, the four-cylinder C180 turbo engine also produces an exceedingly more distinctive sound. Moreover, the vehicle in the picture is already fitted with power boost of about 200 horse power that is currently still undergoing development (Serial production: 156 horse power).
By the way: The vehicle presented here is for sale. Inden Design offers this limousine that is of absolute new-vehicle-value (list price: EUR 47,800) including all tuning reconstructions for just EUR 49,900.
Source: INDEN Design
Gallery:
INDEN Design Mercedes-Benz C Class W205 (2014)