For 2003, the Civic will continue its environmental leadership position with models offering among the lowest emissions and highest fuel economy on the market. On the environmental front, all 2003 Civic coupe and sedan models are rated as Ultra Low Emissions Vehicles (ULEV) in all 50 states.
The 2003 Civic coupe and sedan are available in DX, LX and EX trim levels with automatic and 5-speed manual transmissions available in each.
In the area of fuel economy, a sporty yet fuel-sipping HX coupe is also offered. The HX coupe will be offered with a choice of 5-speed manual transmission or an automatic CVT (continuously variable transmission).
The natural gas powered Civic GX sedan, considered to be the "cleanest internal combustion engine in the world" will remain in the Civic line-up. The state of California, which employs the strictest emission standards in the world, has rated the GX as SULEV (Super Ultra Low Emissions Vehicle). The GX comes exclusively equipped with the automatic CVT.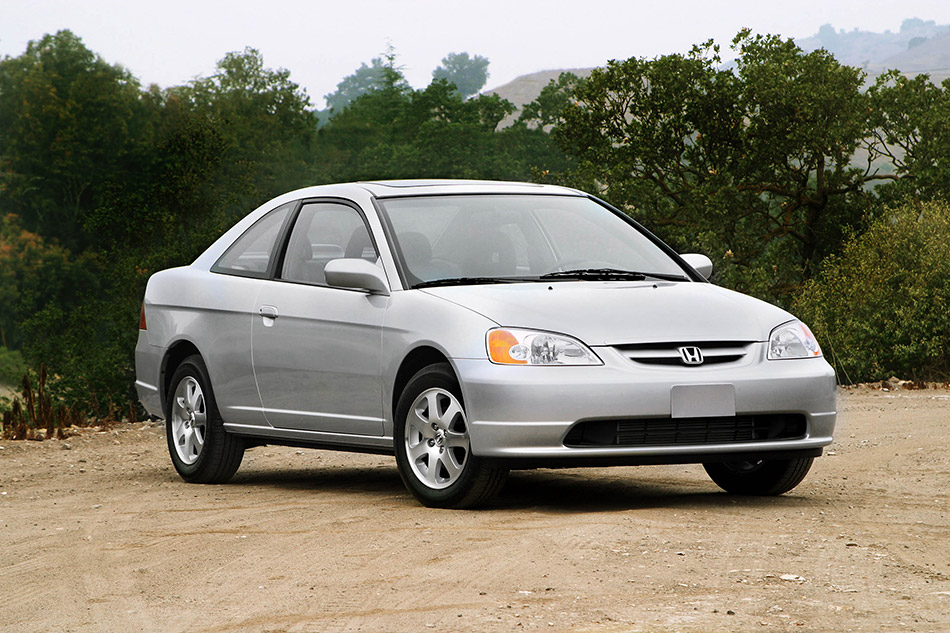 The family of Civic sedans has grown in 2003 to include the all-new Civic Hybrid. Introduced in April, the Civic Hybrid is the first mainstream automobile application of gasoline-electric technology.
The Civic product line is sourced from Honda's global supply network and are constructed using domestic and globally-sourced parts. Coupe models are assembled exclusively at the Honda of America Manufacturing plant in East Liberty, Ohio. The sedan derivative is sourced from Honda factories in Japan, Honda of Canada Manufacturing in Alliston, Ontario, Canada as well as the Honda of America Manufacturing plant in East Liberty, Ohio.
The sporty, high-performance Si returned to the Civic lineup in 2002 as a hatchback. The hatchback model is produced exclusively at the Honda UK Manufacturing facility in Swindon, England.
All models come equipped with a full complement of advanced safety features. The Civic coupe equipped with Honda's available advanced side airbag system earned a five-star rating for all passengers in the National Highway Traffic Safety Administration's (NHTSA) frontal and side impact crash tests.
The Honda Civic, long considered the best car in its class and America's small car sales leader, features a host of product enhancements on the sedan and coupe models for the 2003 model year, including:
Interior
Improved seat fabric on all models,
New center console with armrest and storage compartment (LX/EX),
New easy to read illuminated gauges (HX/LX/EX),
Rear adjustable outboard headrests (DX, LX, GX, HX, EX),
Sporty 4-spoke steering wheel (DX, LX, GX, HX, EX),
CD player added as standard equipment on HX and LX models,
Manual driver's seat height adjustment on LX models.
Exterior
Aluminum alloy wheels added to the EX coupe models,
New wheel cover designs on DX/LX sedan and coupe and EX sedan,
Two new exterior colors: Galapagos Green and Shoreline Mist,
Rear combination tail lamps on sedan receive a freshened, re-designed appearance.
Source: Honda
Gallery:
Honda Civic Coupe (2003)