Honda Motor Co., Ltd. announced it will begin sales of the N-ONE, the third model of the new N Series mini-vehicle following the N BOX and the N BOX +, on November 2nd at dealerships across Japan.
The N-ONE was developed in the motif of the N360, the first mass-produced Honda mini passenger car introduced to the market in 1967, and inherits Honda's M/M (man maximum, machine minimum) concept which is the starting point of Honda's automobile design. With this new model, Honda engineers strived to build a new basic car with their passion to propose a new type of vehicle for the new era in Japan, which will enjoy enduring popularity.
Key features of the N-ONE include a spacious cabin which comfortably accommodates four adults, and an improved acceleration performance. Further, stable driving performance and excellent quietness even during highway driving were realized through adoption of a lightweight and highly-rigid body and an exclusively-developed suspension. In addition to these key features, the N-ONE realizes excellent fuel economy of 27.0km/L. Moreover, for the first time among all mini-vehicles in the market, the N-ONE features the Emergency Stop Signal (ESS) system as standard equipment on all types.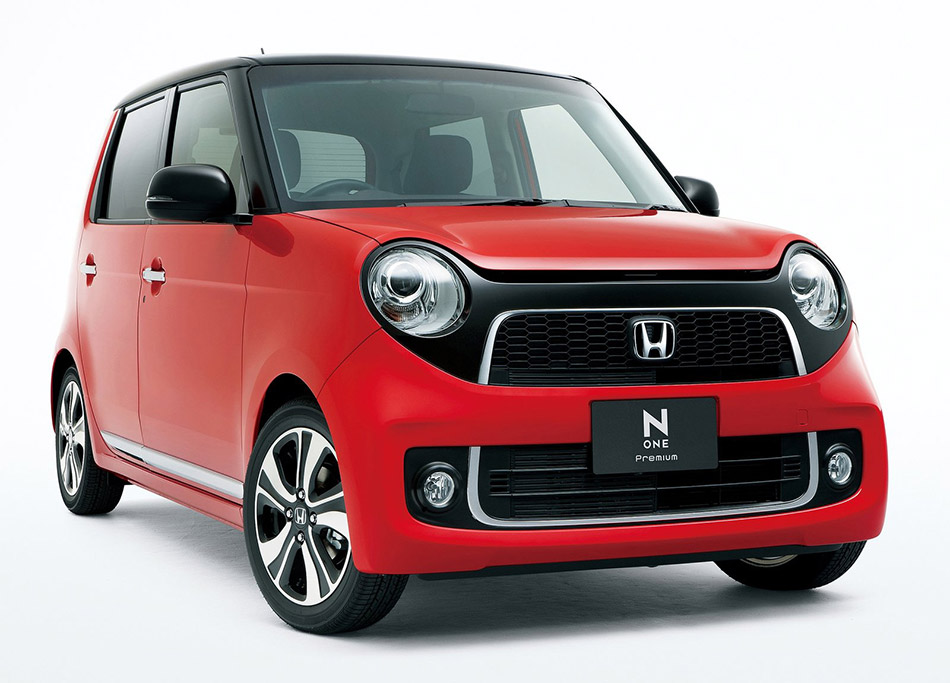 The N-ONE lineup also includes a higher grade model, the N-ONE Premium, which features a high-quality exterior and interior which are beyond those of any models in the mini-vehicle category. Furthermore, to accommodate the unique tastes of individual customers, a great variety of exterior colors are offered with total 11 body colors and a 2-tone color style, which has different colors for the body and roof.
Timeless N design which is friendly and impressive:
Individuality and innovativeness are expressed with the friendly and timeless hatchback style which was designed in the motif of the N360.
There are five color combinations for the 2-tone color style which more effectively highlights the individual tastes of customers.
The Interior design is simple and yet great attention was paid to ensure the quality feel of materials in every detail. Comfort and a sense of security were pursued with the large-size bench seat. With these factors, a comfortable cabin space was achieved that people will not grow tired of even after prolonged use.
A flat and cleanly fit audio system display was adopted. By connecting a smart phone using "InterNavi Pocket," a genuine navigation system application developed by Honda, the navigation screen can be displayed on the screen of the audio system (manufacturer's option).
High performance power unit which realizes top class driving performance and fuel economy:
The DOHC Turbo engine equipped with a high-performance turbo charger is made available for all grades and realizes driving performance equivalent to a vehicle in the 1.3L class.
Both smooth and powerful driving and excellent fuel economy of 27.0km/L were realized through the combination of the DOHC engine, which realizes top class output and torque, and optimally-tuned CVT (Continuously Variable Transmission).
Enhanced safety features which realize excellent safety performance:
For the first time among all mini-vehicles in the market, the Emergency Stop Signal (ESS) system, which responds to sudden braking and quickly blinks hazard lamps automatically to alert the drivers of trailing vehicles, is featured as standard equipment on all types.
VSA (Vehicle Stability Assist) system is standard equipment on all types.
HSA (Hill Start Assist) system that temporarily prevents the vehicle from rolling backward when starting on an upward incline is standard equipment on all types.
The side curtain airbag system which helps mitigate head impacts in a side collision and the front seat i-side airbag system are standard equipment on select model types.
The Pedestrian Injury Mitigation Body, which features structures that absorb the impact of a collision on a pedestrian's head and legs in case of a collision, was adopted.
Class-leading omni-directional collision safety performance was realized with the newly-designed engine and new load distribution structure.
Environmental performance:
All types are certified by the Ministry of Land, Infrastructure, Transport and Tourism as complying with the 2005 - 75% emissions standard.
NA (natural aspiration) engine types achieve fuel economy of 20% higher than the 2015 fuel economy standard. Turbo engine types achieve fuel economy 10% higher than the 2015 fuel economy standard.
More than 90% of the entire vehicle is recyclable.
Source: Honda
Gallery:
Honda N-One (2013)