For the 2011 Los Angeles Design Challenge, which is seeking to find the most spectacular new film car for Hollywood, the designers from the Mercedes-Benz Advanced Design Studios in Sindelfingen (Germany) and Carlsbad (USA), have joined the ranks of the screen-writers. Their efforts have borne fruit in the form of three visionary "hero cars" – a Mercedes-Benz and a smart, each perfectly cast in an action thriller, and a Maybach luxury carriage starring in a modern-day fairytale. The futuristic Mercedes-Benz Silver Arrow teams up with two crash test dummies to battle it out with the forces of evil. The smart 341 Parkour, which is able to climb sheer faces and take to the air, helps a young reporter to scoop the story of her life. The Maybach Berline brings a touch of magic into the life of a hapless Cinderella.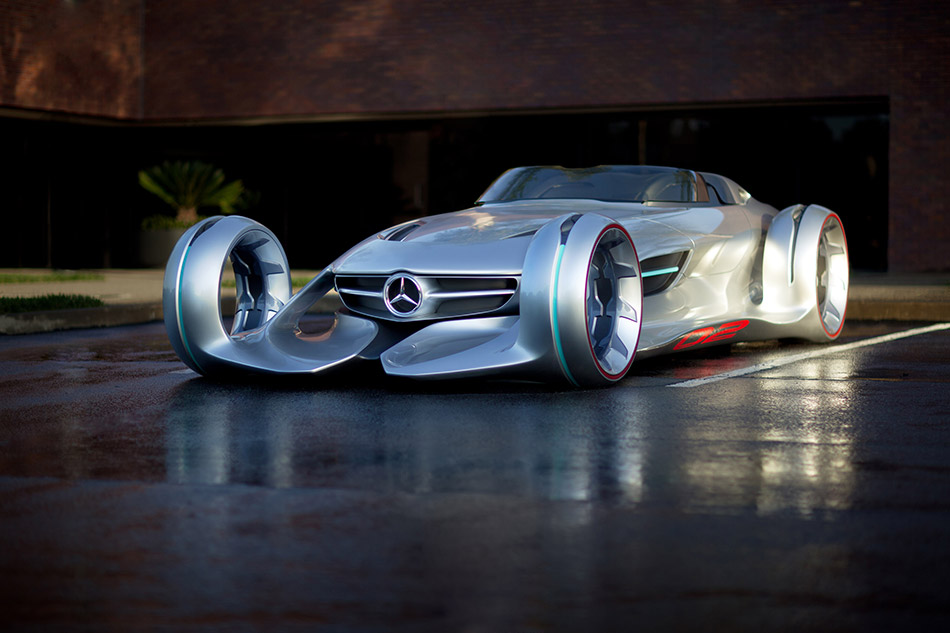 The designers at the Mercedes-Benz Advanced Design Studio in Carlsbad, California have created a Hollywood-style homage for Mercedes-Benz to 125 years of innovation in automotive technology and design. The leading roles are played by two high-tech characters which have been instrumental in reconciling safety and stylish design in automobiles: the Mercedes-Benz Silver Arrow cult racing car and crash test dummies.
The film "Silver Lightning" is set in the near future, in an age of artificial intelligence. Two crash test dummies by the names of Hans05 and Franz02 take on evil ruler Dr. Crash-Barrier to save their beloved Mercedes Silver Arrow. They engage in an action-packed, nerve-jangling duel with the ruthless battering ram before finally outfoxing him. The Silver Arrow is a low-lying sculpture on wheels. A feat of technical innovation is the diagonal, hubless roller which allows steering in all directions. The futuristic Silver Arrow's proportions are reminiscent of the legendary sports car from the late 1930s and the Uhlenhaut SLR from the 1950s.
Source: Mercedes-Benz
Gallery:
Mercedes-Benz Silver Arrow Concept (2012)