The HSC was created to deliver the joy of a sports car and the thrill of free-spirited driving in a package that anyone can handle. It combines the ultimate in vehicle performance with carefree handling accessible to all. The HSC is a pure sports car, offering driving exhilaration that until now only a professional could experience. The long wheelbase and short overhangs help maximize performance. Located mid-ship for better handling, the lightweight, compact V6 engine is designed for high efficiency and delivers output in excess of 300 horsepower. A paddle-shift shift lever makes for instant gear changing. The HSC delivers liberating technology in a machine accommodating enough for any driver. It all started with the S500, Honda's first automobile, a two-seat sports car,and the HSC is the latest inheritor of the Honda sports DNA.The HSC-a pure sports car for a new age.
A captivating design to match the exciting performance
Optimally designed to make the most of the vehicle's high performance, the body is inviting and sensuous, with curves you want to look at and touch. The upper body is shaped to appeal to the emotions, while the lower body features sharp lines that reflect the power within.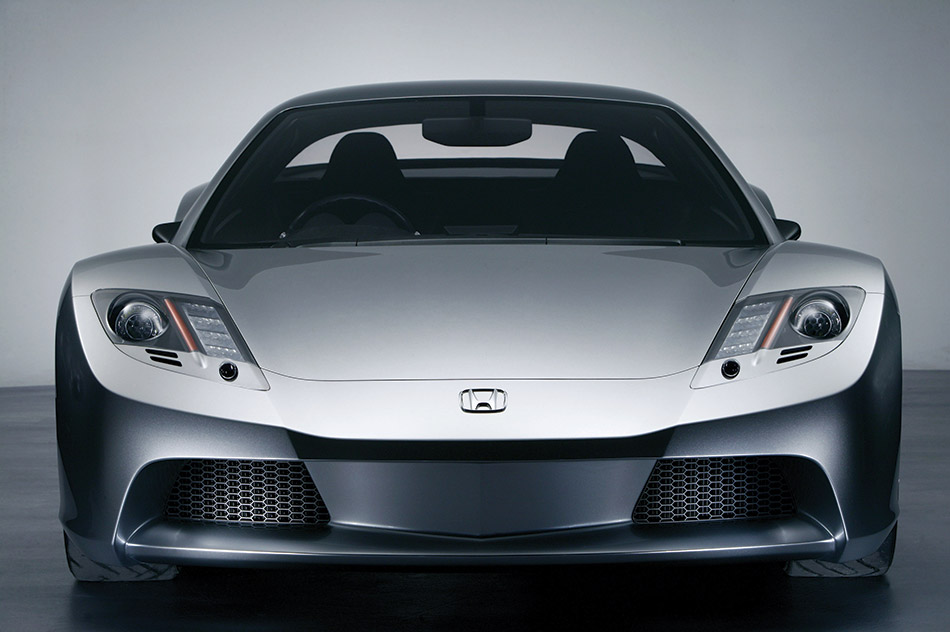 A sporty, new-look interior that puts you in the mood to drive
The instrument panel is designed on a skeletal motif, for a light yet strong look. The cockpit design is elaborate, ranging from black and blue carbon to colored aluminum, crystal aluminum, and nubuck leather-just what you'd expect in an intelligently conceived sports car.
Layered meters help the driver focus on the driving
Meters are superimposed to offer two sets of information in one location. This reduces the adjustment in focal distance that the driver needs to make between the meters and the world outside, for faster decision making.
Combined dial and paddle shifters for outstanding operability
Along with an easy-to-operate dial shifter, the HSC comes equipped with a paddle shifter, for the ultimate in sporty driving enjoyment.
Highly visible 3D rear combination lights and a rear-view CCD camera
High-illumination LEDs are incorporated into the rear combination lights to form a visibility-enhancing 3D design. The LEDs' superior lighting response provides information more quickly to drivers in vehicles approaching from behind. Meanwhile, the CCD rear-view camera provides the driver with a more precise view to the rear.
Source: Honda
Gallery:
Honda HSC Concept (2003)