The bicycle: a highly maneuverable, environment-friendly means of transportation that responds to the rider's every whim. The IMAS: a sports car designed to provide that same invigorating cutting-through-the-breeze feeling. The design concept was to combine environment-friendly performance with fun-to-drive sports-car performance in an advanced, lightweight, aerodynamic package. The body is made mainly of super-light carbon fiber and aluminum-the overall weight is just 700 kg. A sweeping aerodynamic shape helps achieve a drag coefficient (Cd) of just 0.20. The efficient power plant is a refined update of Honda's IMA system. Outstanding aerodynamics, light weight and a 'green' power plant for bicycle-like freedom of movement-that's what the new-age lightweight IMAS sports car is all about.
A Cd of 0.2 from an ultra-light carbon composite body
Designed to be ultra-light and exceptionally aerodynamic, the IMAS features a carbon fiber body and an ultra-low weight. A sweeping aerodynamic contour and a transparent spoiler with built-in rear combination lights help provide an exceptional drag coefficient of 0.2. Sharp exterior lines combine with smooth planes to create an exceptionally wind-cheating form.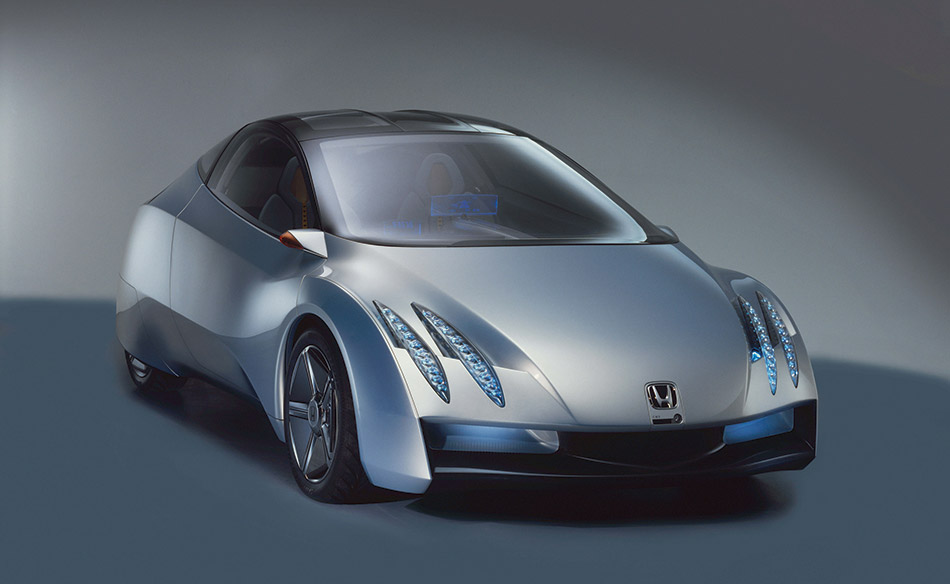 The 'naked' interior of a road racer
Designed for lightness, the interior construction is sparse and reveals the aluminum frame structure, reminiscent of a road racing bicycle with its shining parts shown to full advantage. An ultra-thin, transparent instrument panel and navigation monitor provide precise, comprehensive information, including images from a CCD camera showing what's happening to the sides and rear of the vehicle.
Advanced, highly efficient Honda IMA technology: an exhilarating drive
Honda's IMA system has evolved, becoming even more efficient. Exceptionally light and aerodynamic, the IMAS gets over 40km/liter. Handling is optimized with a shaft-less VGS steering system. Drive By Wire technology delivers a natural, linear throttle response. Working in perfect synergy, these electronic control technologies produce a crisp, clean driving experience.
Large double tailgate
Designed to open wide for maximum loading and unloading convenience, the top-bottom split double tailgate achieves both sophisticated design and functionality.
Source: Honda
Gallery:
Honda IMAS Concept (2003)