For the 2006 model year, the Honda Element freshens its lineup with the addition of a new trim level, the EX-P, to the existing EX and LX trims. All 2006 Elements include new features and added value across the lineup - including new interior and exterior additions to the EX and LX trim levels, standard ABS on all models and the addition of new exterior colors to the Element's already expansive palate.
The new EX-P trim level is built upon the existing EX trim with a few exterior enhancements. The EX-P trim additions include painted panels and door handles. The EX-P is available in both 2WD and 4WD, either with a standard 5-speed manual or available 4-speed automatic transmission. The EX-P is available in Alabaster Silver, Tango Red Pearl, Nighthawk Black Pearl, Atomic Blue Metallic, Kiwi Metallic and Tangerine Metallic.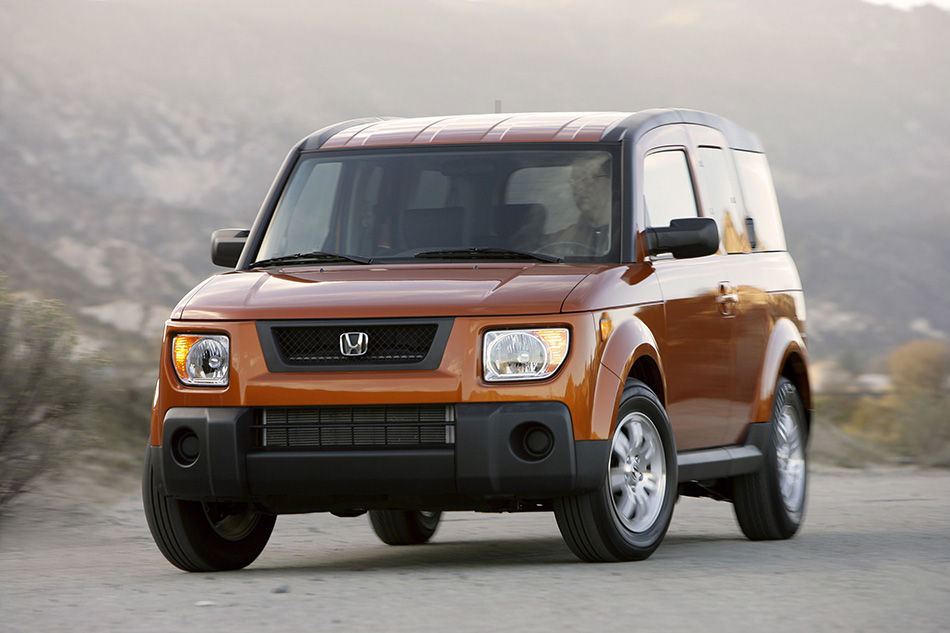 The EX and LX trim levels have also received upgrades for the 2006 model year. The EX (and EX-P) adds steering wheel mounted audio controls and a new alloy wheel design, while the LX trim receives Anti-Lock Braking (ABS) with Electronic Brake Distribution (EBD) and metallic exterior cladding. New exterior colors for both trim levels are Alabaster Silver, Atomic Blue Metallic, and Rallye Red. Kiwi Metallic is also available on the LX.
Honda's 2.4-liter, i-VTEC, 4-cylinder engine with 156-horsepower and 160 lb.-ft. of torque provides excellent acceleration while maintaining fuel economy in the low- to mid-twenties. The i-VTEC system blends Honda's patented VTEC system with Variable Timing Control (VTC) to improve low rpm torque while expanding high rpm horsepower. Sixteen-inch wheels are standard on all models.
The Honda Element offers the most flexible package for any vehicle in its price range with a multi-functional cargo area, innovative and versatile seating, resilient and dirt-resistant interior, brisk performance and exceptional value.
*For the 2006 model year, all Honda horsepower and torque specifications have been updated to reflect revised Society of Automotive Engineers (SAE) J1349 (Rev 8/04) net calculations that went into affect in January of 2005. These new calculations reflect a number of significant changes in the way horsepower and torque are measured and may cause SAE net horsepower and torque totals published in 2006 media materials to differ from the figures published in previous years. To avoid confusion, all 2006 Honda press materials will specify "SAE net (Rev 8/04") after all horsepower and torque figures to denote adherence to the new standards.
Source: Honda
Gallery:
Honda Element EX-P (2006)