When the 33rd Paris Motor Show opened its doors on October 3, 1946 after an 8-year pause, one of the models on show caused a sensation. Developed by Renault in total secrecy, the 4CV was to enjoy huge success. A dazzling career awaited this car that started life as an undercover operation.
A car steeped in history
On June 16, 1940, German forces took over the management of Renault plants. All ongoing automotive projects were frozen. A handful of brave Renault engineers with a passion for their work, decided to defy the ban and started secret research studies on a new vehicle. They set 2 key requirements: the car had to be inexpensive and it had to be frugal in order to adapt to fuel shortages. Thus started the 106 project, which paved the way for the 4CV.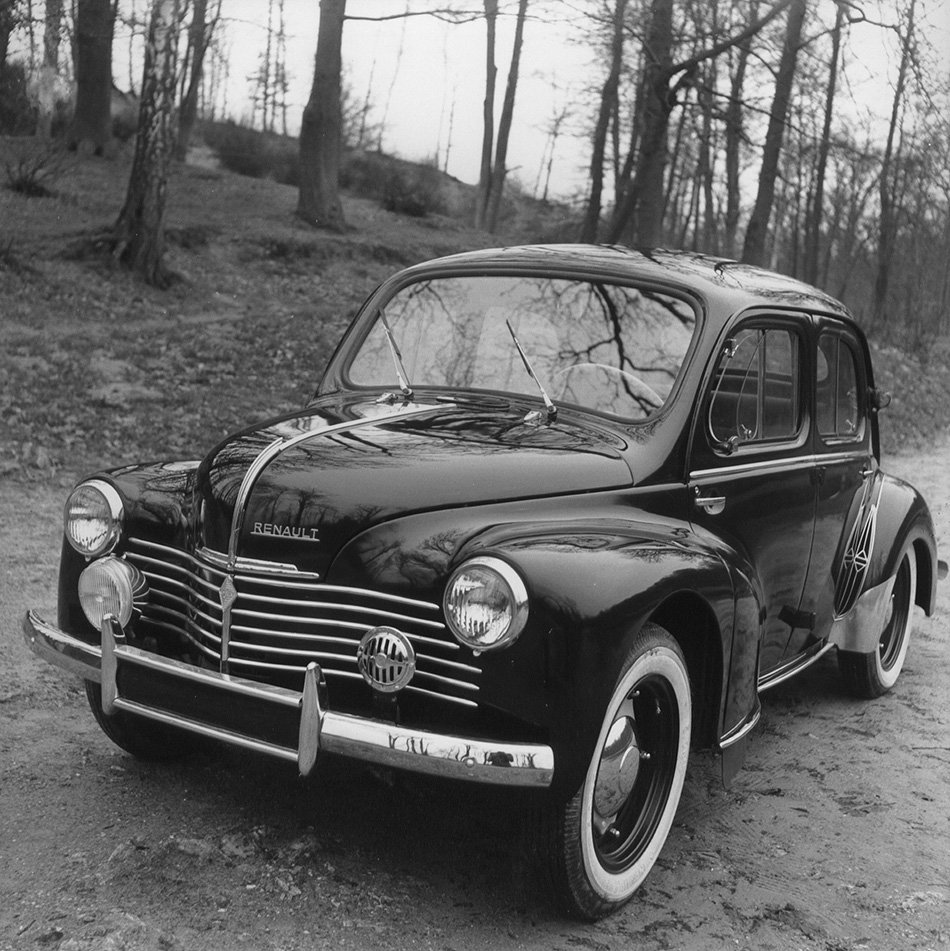 When France was liberated, the project gathered pace. In March 1945, Pierre Lefaucheux replaced Louis Renault at the head of the state-owned Régie Nationale des Usines Renault. The new Chairman and CEO was highly enthusiastic about this small, economical and eminently affordable car. He decided to improve the model with a view to bringing it to market.
A huge popular success
The first 4CV left the Renault production line in 1947. It was available in 1 body style, 1 color and 1 engine: post-war France had no time for niceties! The main need was to meet the requirements of French customers who were rediscovering the joys of freedom and… holidays.
Light (560 kg) and economical, the Renault 4CV was able to carry 4 people in comfort, with the flat floor pan created by the rear-mounted engine. It was produced in more than 1 million units, thanks to the new transfer lines that heralded the era of automation. The Renault 4CV was produced in several versions, from the highly economical "Service" to the alluring convertible  and sporty 1063. It was sold in the US and produced in Japan.
The 4CV, a little racer
The 4CV proved to be a strong competitor right from the start, notching up its first win on September 19, 1948 at Mont Ventoux. In the wake of this victory, the management gave the go-ahead for developing a sports version: the Renault 1063. Between 1951 and 1954, this vehicle won trophy after trophy: Monte-Carlo Rally, Tulips Rally, Alpine Cup, Tour de France and even the Le Mans 24-Hour event. This easily modifiable car even attracted the interest of small-scale vehicle converters, such as Jean Rédélé who used the 4CV as the basis for his renowned Alpine models.
The 4CV also broke sales records. In April 1954, the 500,000th 4CV was assembled. 6 years on, the total had risen to 1,105,547 units. At that time, a record for a French vehicle. The Renault 4CV was in tune with the post-war thirst for freedom.
Source: Renault
Gallery:
Renault 4CV (1947)