For the third year in a row, Hyundai is partnering with the powertrain gurus at Bisimoto Engineering, this time to create a 708 horsepower Sonata for the 2014 SEMA show in Las Vegas. Bisimoto's team specializes in extracting huge output from Hyundai's engines, like the 1000 horsepower Bisimoto Genesis Coupe that was built for last year's SEMA show.
For this year's show, the team is using Hyundai's 2.4-liter "Theta-II" 4-cylinder engine as the starting point for their build. Through a combination of strengthened internal components – forged pistons, connecting rods, a high-revving valve train and camshafts – a high-boost turbocharger, and a fast-burning, flex-fuel diet, Bisimoto will extract 708 horsepower from the engine. Power will be sent to the road through a 6-speed manual transmission. As a total package, the 2015 Bisimoto Engineering Sonata boasts supercar-beating power, with room for three friends to come along for the ride of a lifetime. The vehicle will be revealed at Hyundai's SEMA press conference on November 4 at 9 a.m. PT.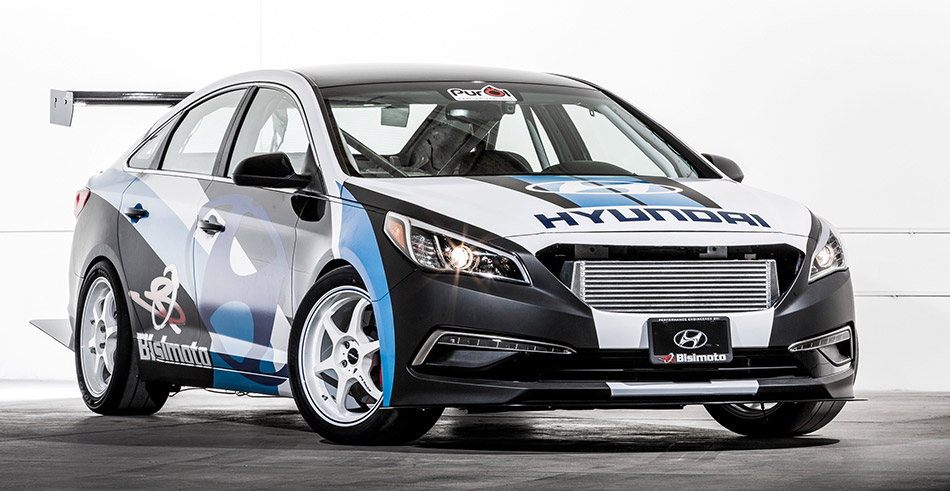 "With a proven and efficient 2.4-liter engine as a starting platform and a sophisticated, sleek, four-door design, the 2015 Sonata was the perfect candidate for this year's build," said Bisi Ezerioha, owner and chief engineer, Bisimoto Engineering. "Outrageous power is nothing without reliability, and it was a firm goal to retain the reliability that Hyundai is known for. After hundreds of hours of testing, failure analysis and prototyping, 18 new products will be engineered and produced in house to produce 708 horsepower from the Sonata."
Complementing the extensive overhaul under the hood, Bisimoto wrapped its 2015 Sonata in custom laminated body wrap and graphics. The interior has been given a sporty feel with the addition of racing harnesses, AEM wideband gauges and EK Autoworx interior paint. Rounding out the exterior look is a Bisimoto front splitter and aero package, Fifteen52 18-inch aluminum wheels and Burns stainless exhaust system.
Source: Hyundai
Gallery:
Bisimoto Engineering Hyundai Sonata (2015)