The Infiniti Kuraza Concept, a design exploration of future luxury utility vehicle interiors, traces its origin to one simple idea: In the future, all luxury passengers should be created – and treated – equal.
That idea, the designers took to mean, dictated that 3rd row seating should be as comfortable as the 2nd row seating, which should be as comfortable as the driver and front passenger accommodations. As a pure, unconstrained design study, "equal" also applied to 2nd and 3rd row dimensions – including headroom, legroom and shoulder room. The result is a conspicuously indulgent-sized vehicle with as many doors as seats – six.
"The Kuraza Concept is about hospitality, not transportation," said Kojii Nagano, product design director, Nissan Motor Co., Ltd., who headed the Kuraza design team at the Nissan Technical Center in Atsugi, Japan. "Kuraza, like a beautiful guest room in a fine home, is not designed to be used everyday. It is intended as a social space for six adult friends, such as couples meeting at a resort and heading out together for a special dinner. Therefore it doesn't need all of the usual utility features, including cupholders, excess luggage space, storage compartments and individual DVD monitors."
Kuraza mades its world debut at the 2005 North American International Auto Show in Detroit in January.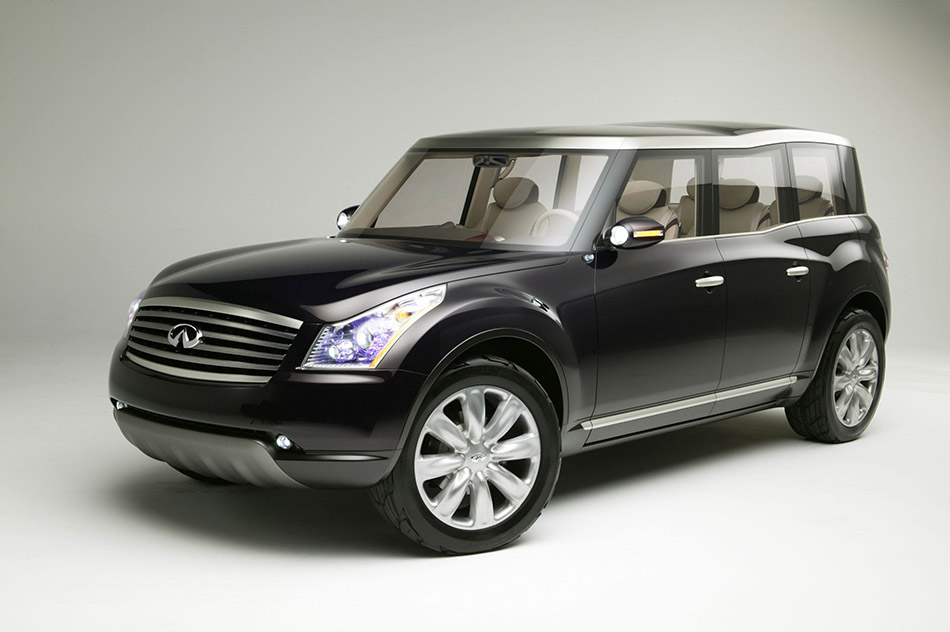 Exceptional Access and a Panoramic View
Recognizing that one of the limiting factors to the comfort of current luxury SUVs is convenient access to the 3rd row seating, the Kuraza design team added an extra set of doors. The wide 3rd row doors are rear-hinged and the elimination of a pillar between the 2nd and 3rd row doors offers an ample opening, maximizing access for both 2nd and 3rd rows.
The 2nd and 3rd row seats also offer stadium-style seating (along with a stepped-up roof line), large window areas with wrap-around rear glass and three-overhead glass roof panels for a truly panoramic view for all passengers. At night, soft overhead console lighting provides a sense of openness and relaxation by subtly defining the large space above.
"Another problem with most existing luxury SUVs is the number of passengers they try to accommodate," said Nagano. "As a result, space becomes limited, in even the largest vehicles."
Kuraza is designed as a six-passenger vehicle (rather than eight), with each seat offering indulgent spaciousness. A unique center-beam console runs the length of the 2nd and 3rd rows, helping define each passenger's personal space. At the same time, the center console has an open, non-confining design and a portion of both the 2nd and 3rd row sections fold down so as not to restrict access from side to side.
Seatbelts are integrated into the bolsters of each individual seat, so that passengers don't have to negotiate around hanging straps and belts.
Combining Japanese Tradition and Modern Design
Kuraza's highly social, highly luxurious interior environment combines traditional Japanese design cues, extensive use of natural materials and modern technology.
Kuraza is designed to fuse the traditions of Japanese heritage and luxury, with the vibrancy and energy of today's active society, resulting in a vehicle with both a gracefulness and strength. "The emotional core of the Kuraza design is the historical blending and evolution of Japanese luxury," explained Nagano. "Luxury first emerged in Japan with the rise of the nobility in the 9th century. In the Edo period, luxury took on a more vibrant, sensually seductive aura – which continues today. Kuraza reflects both, along with a respect for the power of nature and the spiritual precision that has always been a part of Japanese culture."
Two examples of how Kuraza incorporates elements of Japanese design are seen in the seats and the large central information monitor. The shape of each seatback suggests that of the traditional Japanese kimono - layered, rich, carefully folded. The layers of fabric are a reference to traditional "Juni-hitoe" (12-layer) design, while the Infiniti logo on each seatback resides where a family crest would be found.
The combination of materials, leather for the outer areas and rich, raw silk underneath, suggest the "Uramasari" tradition of fine clothing, in which the inner layers of a garment are more elegant and refined than those on the outer layers. The Uramasari philosophy is also applied to fine Japanese jewelry, where an ornate design is applied underneath a less showy outer appearance – again similar to the Kuraza's rich interior and more subtle exterior.
Kuraza's large, 16-inch by 6-inch, vertically oriented center monitor is a modern interpretation of the traditional "Kakejiku" art form. Like Kakejiku scrolls or displays, which are often found in the entry areas of Japanese homes or businesses, the monitor screen is programmed to display images of nature and the changing seasons. "In Japan, we anticipate and celebrate the changing of seasons, not just winter, spring, summer and autumn but up to two dozen separate periods," said Nagano.
"We were looking for new ways to add an emotional element to the current information-centric monitors. We want the images on the monitor to provide a peaceful contemplation area, much like you find in a Japanese home. You can also add images from nature or digitize personal photos for display, anything to make the experience of driving or riding in Kuraza more spiritually rewarding."
Of course, the touch screen central monitor, like many aspects of the Kuraza, has a decidedly modern side as well, with its programmable display of weather, road conditions and other information.
"Like all Infiniti vehicles, Kuraza also provides a well-focused driver area, with a wrap-around cockpit and a unique instrument panel design that combines analog and electronic readout of key information – including separate compass and gyro meter, tire pressure monitor and, keeping with a 15-year Infiniti tradition, an analog clock. The clock is one of many examples found throughout Kuraza of the fine Japanese detail in the design. The face of the clock features a very subtle etching, using a traditional Japanese pattern on the surface.
Lighting is another area that addresses both the functional and emotional needs of the driver and passengers. All functional parts, including the automatically retracting outside steps, grip handles and armrests are lighted with a soft violet-colored LED illumination for an inviting feeling. The colors are well harmonized with the rest of the interior and exterior colors.
The use of natural materials, another longstanding Japanese design tradition, includes the special wood and aluminum-strip flooring, with the wood reflecting the same deep violet hues as the Kuraza exterior paint. The wood is cut in the traditional "Chijimi" method, which highlights the beauty of the wood grain.
Wood, aluminum and a light, natural-appearance beige-colored leather are used extensively throughout the interior. Many of the metal surfaces are treated with a warm, palladium gilt.
An Alluring Exterior
The exterior of the Kuraza, like the interior, offers an artistic expression of both strength and gracefulness. It is very powerful in appearance, yet very detailed upon closer look, which reflects its fine balance of grace and strength.
"There is a dynamic movement from front to rear, designed to catch and reflect the light as the eye travels over the body. The shape suggests a vigorous brush stroke – dynamic in attitude but not overtly muscular," said Nagano. "The windshield angle and greenhouse are upright and authentic. We are not trying to hide its size or purpose. Yet at the same time, there are jewel-like elements and details – the lights, the side mirrors, the grille detail, all of which suggest that there is more subtlety to Kuraza than its pure dimensions might suggest."
The Kuraza's exterior is painted a deep violet color with a three-coat pearl paint with special metallic flake.
Fine-grain directional finish aluminum is used in abundance around the Kuraza exterior, including on the wide band that wraps around the vehicle at the roofline. This band helps define Kuraza's character, imparting a feeling of graceful, luxury craftsmanship. The Infiniti-style "double arch" grille also projects a handcrafted, almost coach-built appearance, as do the carriage lamp-style side combination mirror/spotlights.
The door handles are substantial yet refined and the thresholds are milled, setting the stage for entry. The lighted, sectional side steps, which combine milled aluminum with dark wood inlays, pivot out from beneath the vehicle as needed as each door is opened for easier ingress or egress.
Kuraza's 23-inch wheels are cast aluminum and are mounted with specially designed Dunlop 305/45R23 tires.
"Like so many element of Kuraza, the wheels have a visual strength but not a heavy or bulky appearance. And, Kuraza has a relatively low ride height, which also contributes to its more graceful appearance," said Nagano.
The Kuraza's LED headlights and taillights offer a delicate attention to detail and share a similar look – as well as a violet-tinted, anodized appearance. A surround-view micro camera system in each headlight transmits images to the upper area of the central monitor to show potential obstacles in blind spots.
"Kuraza takes its colors and materials from nature, its vibrancy from life. It is an expression of the luxury utility vehicle redefined," said Nagano.
Innovative and Realistic
"We're excited to have the Infiniti Kuraza make its world debut in Detroit and to have the opportunity to judge consumer reaction to the interior concept," said Mark Igo, vice president and general manager, Infiniti. "Kuraza is futuristic, but lives between innovative and realistic. It's ultra-functional yet addresses the emotional needs of luxury SUV owners – not only relaxing but also rejuvenating."
Source: Infiniti
Gallery:
Infiniti Kuraza Concept (2005)