The new Jaguar XF is already acclaimed as a key element in the revitalization of the Jaguar brand, with its new generation of beautiful fast cars. But now the car that defines Jaguar sporting luxury is even better, with major powertrain changes and a wider range of models - including a stunning new, supercharged Jaguar XFR.
The 2010 model year Jaguar XF features all-new 5.0-liter direct-injection V8 engines. There are also significant trim and specification changes - including many new features unique to the new XFR - and the introduction of a new Portfolio derivative.
When it was introduced last year, the Jaguar XF was soon recognized as a dramatic expression of a bold new Jaguar design language. It also soon became apparent that here was a car where the driving experience exceeded the expectations created by the striking appearance. Now, the new XFR takes this driving experience to new levels, shifting the balance even further towards dynamic performance while still retaining the Jaguar XF's core values as a refined and luxurious sports sedan. Power comes from an all-new 5.0-liter direct-injection supercharged V8 engine delivering 510bhp and 461lb-ft of torque. Immediately recognizable thanks to unique new 20-inch wheels, a new front end design with revised chrome air intakes, 'Supercharged' hood louvres, four polished exhaust tailpipes, an aerodynamically functional rear spoiler and side sills, the new XFR also sports discreet 'R' badging.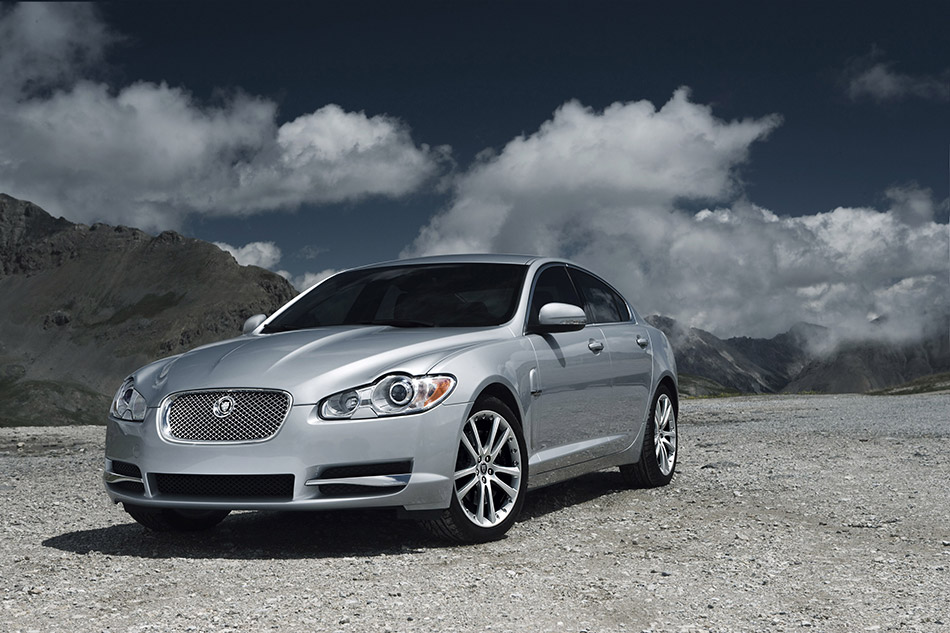 The attributes that marked out the Jaguar XF at launch are still very much new and in the public eye. The four-door XF has the visual excitement of a coupe, but room inside for five adults to enjoy an interior wholly contemporary in style yet uniquely Jaguar.
Simplicity and clever use of space are key to the Jaguar XF's interior design and this is unchanged in the new generation. For the driver, this is centered on the compact packaging of the JaguarDrive Selector™ transmission interface. The beautiful cast alloy Selector has already gained recognition for its part in the distinctive XF 'welcoming handshake'; a sequence in which the illuminated stop/start button pulsates like a heartbeat until pressed, when the JaguarDrive Selector™ rises into the driver's hand and the rotating fascia vents silently open.
Features such as this have already attracted more than 30,000 customers to the new Jaguar XF - and now, in many instances, they have been enhanced even further. The combination of aluminum dashboard, satin or gloss wood veneers, tailored instrument and door panels with twin-needle stitching as standard, plus Phosphor Blue halo illumination and interior mood lighting, set the Jaguar XF's cabin as far apart from its competitors as its exterior styling.
Customers seeking luxury appointments should look to the new Portfolio specification. Available with the naturally aspirated 5.0-liter V8, the Portfolio model includes ultimate craftsmanship details such as contrast stitching on leather trim, Jaguar Suedecloth Premium headlining, deep-pile carpet mats with contrast edging and embroidered logos, unique veneer and ventilated heated and cooled seats.
But it is the new powertrain options that are at the heart of the changes for 2010 model year. The all-new 5.0-liter AJ-V8 Gen III engines - in 385bhp/380lb-ft of torque naturally aspirated and 510bhp/461lb-ft supercharged 'R' guise - add an entirely new, even more sporting dimension to the Jaguar XF range.
These new engines are Jaguar's most efficient ever, and they deliver power and performance at a higher level across the board. In the case of the supercharged engine, compared to the 4.2-liter V8, power has increased by a remarkable 23 percent and torque by 12 percent.
The result in the new Jaguar XFR is a 0-60mph sprint time of just 4.7 seconds (0-100kph in 4.9 seconds). More relevant in everyday driving, an excellent indicator of XFR's great flexibility is the time it takes to accelerate from 50-70mph - just 1.9 seconds.
The comparisons for the naturally aspirated engine are equally impressive. Power is increased by 29 percent and torque by 25 percent. The benchmark 0-60mph acceleration time is 5.5 seconds (0-100kph in 5.7 seconds) - some 0.8 seconds quicker than the 4.2 Jaguar XF. Better still, these improvements are achieved without hindering fuel economy and emissions performance. The new engines meet US ULEV II/Tier 2 Bin 5 emissions regulations.
And alongside these new engines, the naturally aspirated 4.2-liter V8 engine will continue to play a key role for the Jaguar XF and will be available starting January 2009. Customers will be able to order the latest naturally aspirated 5.0-liter V8 versions of the new Jaguar XF range from January 2009. The 510bhp supercharged V8 XFR will be available to order from February 2009.
Source: Jaguar
Gallery:
Jaguar XF (2010)