At the beginning of 2014 PIECHA Design introduces a complete design program for the Mercedes -Benz E -Class (before facelift 04/ 2013). The complete modular program "E-Class GT -R" is available for the Model T as well as for the sedan. At PIECHA Design, it is tradition to develop modular accessory programs that can be combined individually or as a complete package.
For the PIECHA E-Class GT- R designprogram a new rear port diffuser was developed, which supports the functionality of the original MB towbar. Function follows form? Not at all: design and functionality go hand in hand with this development. At the front part of the E-Class, Piecha added the so-called front flics(239 Euro).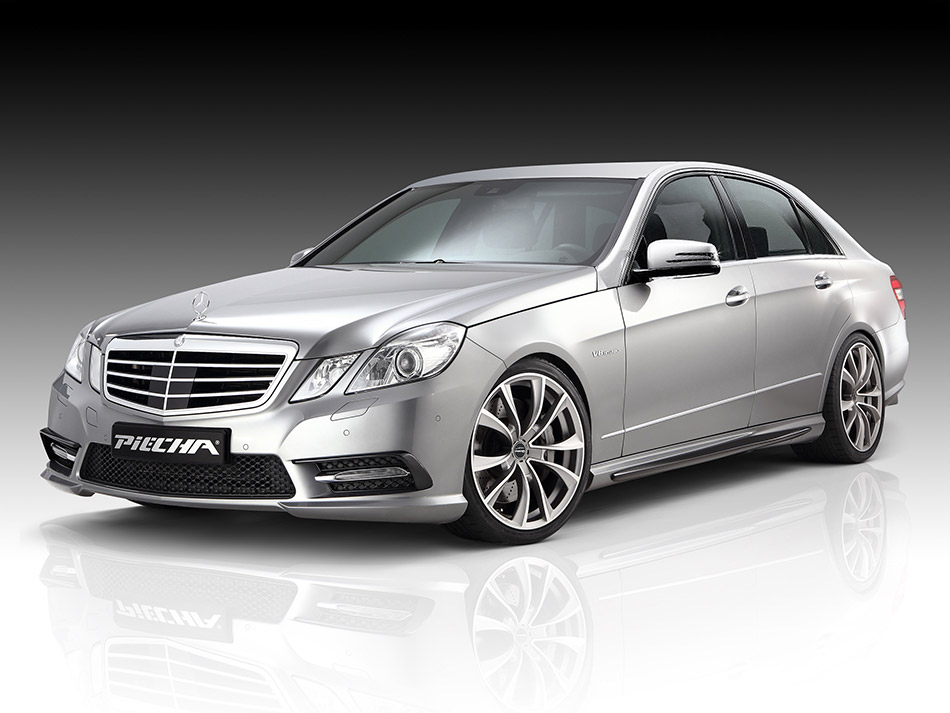 This gives a much more distinctive and sportier appearance to the car and sets the standard LED daytime running lights in the focus. The new side skirts(714 Euro) are also compatible with the E63 AMG version, complete the design package. The PIECHA design known LED door sill lighting(298) is optionally available for this model and gives the vehicle, especially at night, a supportive and functional add on. The PIECHA rear diffuser(1022 Euro) insert for AMG bumper (facelift until 04/ 2013) is integrated harmoniously into the existing vehicle line.
Through the rear diffuser insert, which is provided with SL63 AMG ( R231 ) double tailpipes(598 Euro) in rectangular trapezoidal design, the vehicle acts considerably more powerful, wider and sportier. Additional also available a rear muffler for much better sound (1250 euro), for E350/E500.
The available Mercedes-Benz Airmatic suspension can be controlled using the PIECHA lowering module, which individually adjust the height of the vehicle for the front and rear axle. In conjunction with the 19" PIECHA wheel designs MP1, MP2-Le Mans and the new MP3 -Dynamics (available soon) the car looks and performs outstanding. The PIECHA Power Converter (357 Euro) is a must for noticeably better power delivery.
Source: JMS
Gallery:
JMS Piecha Mercedes-Benz E-Class GT-R (2014)