The all-new Kia Carens compact MPV makes its world premiere at the Madrid Motor Show today (Thursday) and will go on sale across Europe later this summer. A little over 4.5 metres long, the New Carens unveiled in Spain has been created specifically with European consumers in mind and features unique styling for the European market.
The New Carens will be marketed in Europe in two versions - with seven-seater and five-seater cabins - both featuring ´European-specific´ frontal styling with unique twin-chrome-bar grille, lower centre air-intake and front bumper with inset air-intakes or fog lamps.
Responding to consumer feedback and to developing market trends within the compact MPV sector, Kia conceived a next generation vehicle for active lifestyle families that blends the interlocking trends of MPVs and SUVs.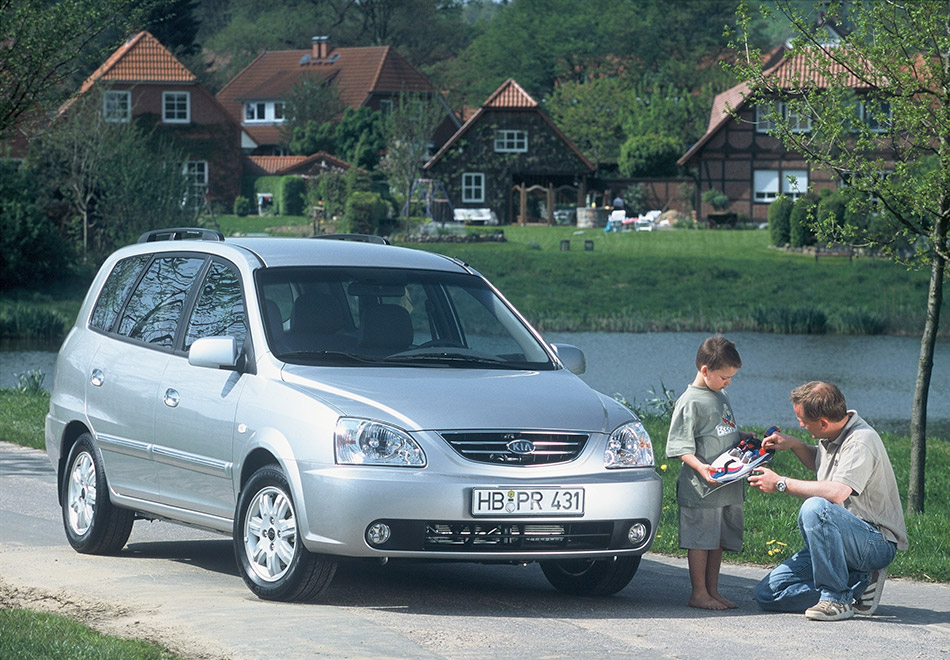 New Carens is an all-new model, only the name of the previous model has been retained. Longer, wider and taller than its predecessor (by 55, 50 and 40 mm respectively), the latest Carens does not share a single panel with the old model and its smoother exterior, with elegant detailing, results in significantly improved aerodynamics. The 4545 mm long New Carens´ aerodynamic Cd is a highly competitive 0.32 - down from 0.35 for the previous model - despite the latest vehicle´s increased cross-section and frontal area.
Consumer clinics in Europe with UN prototypes, confirmed that a significant percentage of today´s compact MPV customers would welcome a larger vehicle that could seat up to seven people - provided that any increase in overall length was kept to a modest level. Consequently, New Carens is higher and wider than the model it replaces, with a much longer wheelbase (up by 130 mm, a 5% increase), but it is only 55 mm (or 1.2%) longer, thanks to skillful packaging design.
"With New Carens we are presenting consumers a surprisingly spacious yet compact MPV. Our Kia teams on several continents designed the new Carens to surpass the escalating expectations of Kia customers. They have created a truly competitive vehicle that is more stylish and more practical, and will complement modern families´ lifestyles - however they spend their work or leisure time," commented Jung-Moon Park, Senior Executive Vice President and COO of Kia Motors.
"New Carens marks a major advance for our compact MPV model. It incorporates a host of significant improvements in every category - design, comfort, performance, versatility, quality and safety. I am sure that New Carens will certainly have great appeal to new and existing Kia customers all across Europe," concluded COO Park.
Room for seven with greater versatility
Making best use of the longer wheelbase and wider cabin, Kia engineers also created an innovative ´shallow´ fuel tank mounted integrally with the rear suspension subframe, which allowed the rear cabin floor to be lowered by 40 mm, boosting interior space and ensuring that the rear row seats in the seven-seater will accommodate two 1.8 meter adults in comfort.
In both versions, the middle and/or rear row seats fold down to create a flat-floored luggage area. With five seats occupied, luggage space is more than 400 litres and with just the driver and front passenger on board, up to 2,106 litres of cargo can be carried.
Two newly developed 2.0-litre engines, diesel engine with DPF
Kia is offering European Carens customers a choice of one diesel engine and one gasoline engine (both Euro4 compliant), with manual gearboxes or automatic transmissions, so they can choose the power train that best suits their motoring needs.
Kia´s upgraded four-cylinder 2.0 CRDi diesel engine features a variable geometry turbocharger (VGT), that comes with a particle filter as standard. It generates 140 ps and has a six-speed manual gearbox. The twin-cam four-cylinder 2.0-litre ´Theta´ gasoline engine, with continuously variable valve timing (CVVT), produces 144 ps and is mated to a five-speed manual.
Both Carens engines will be available with a four-speed automatic transmission (as an extra-cost option), fitted with Kia´s Sport Mode system which offers drivers the choice of fully-automatic gear changes or driver-controlled sequential manual selection.
Improved suspension, steering and braking
New Carens´ significantly wider track (up by more than 80 mm), longer wheelbase (up by 130 mm), and stiffer bodyshell, have inherent benefits for the new model´s agility, ride, handling and safety.
The fully independent suspension systems, both front and rear, are designed to deliver responsive handling and a supple, comfortable ride on European roads. For agile handling in everyday driving, the New Carens model has an hydraulic power-assisted rack and pinion steering system with relatively high gearing, requiring just 2.86 turns of the wheel from lock-to-lock with the standard 16 inch wheels.
New Carens´ braking system has larger and thicker ventilated front discs and solid rear discs for powerful, secure and stable braking performance, backed up by ABS with EBD. Stopping from 100 kmh is achieved in a braking distance of just 41.8 metres.
Bolder challenge for compact MPV segment sales
"New Carens will be a bold new challenger for compact MPV honours in the European marketplace, transforming Kia´s fortunes in this sector," commented Jean-Charles Lievens, Senior Vice President Kia Motors Europe. "We anticipate that demand in Europe will be evenly spilt between the seven-seater and five-seater versions, with 65% of buyers ordering diesels and 35% gasoline.
"Last year, Kia Carens sales across Europe totaled almost 17,000 units. New Carens is a perfect new example of one of our brand aspirations, quality. With this all-new model, we are confident that New Carens will become a high-volume seller, with sales rising from 25,000 in 2007 to 50,000 units annu-ally by 2008," enthused SVP Lievens.
16 models in nine colours on sale from summer 2006
New Carens will appear in Kia dealer showrooms all across Europe from the Summer. In most countries there will be a the 16-strong model line-up (in a choice of nine distinctive exterior colours), with both the five-seater and seven-seater versions available in two equipment levels (LX and EX), with diesel or gasoline engines, manual or automatic transmissions, and an extensive range of optional equipment.
In Europe, New Carens will have a three year, unlimited kilometre warranty, backed by three years roadside assistance and a six year anti-perforation warranty.
Source: KIA
Gallery:
Kia Carens (2006)