Kia Motors Corporation held the world premiere of its all-new Kia Magentis executive sedan at the Frankfurt Motor Show today (Tuesday). Completely redesigned from the ground up, the new Magentis is a modern, high-quality, high-value sedan, which offers customers clean, crisp, handsome styling, more power, higher performance, better handling, a smoother ride, more space, more luxury, a larger trunk and enhanced fuel economy.
Created by Kia design teams in Korea, Germany and the USA, New Magentis will transform Kia´s fortunes in the important D-Segment in Europe. On sale from Spring 2006, the 4,735 mm long new Magentis will be available in nine derivatives across Europe, providing customers with comfortable, spacious and refined transport in an elegantly understated all-new car.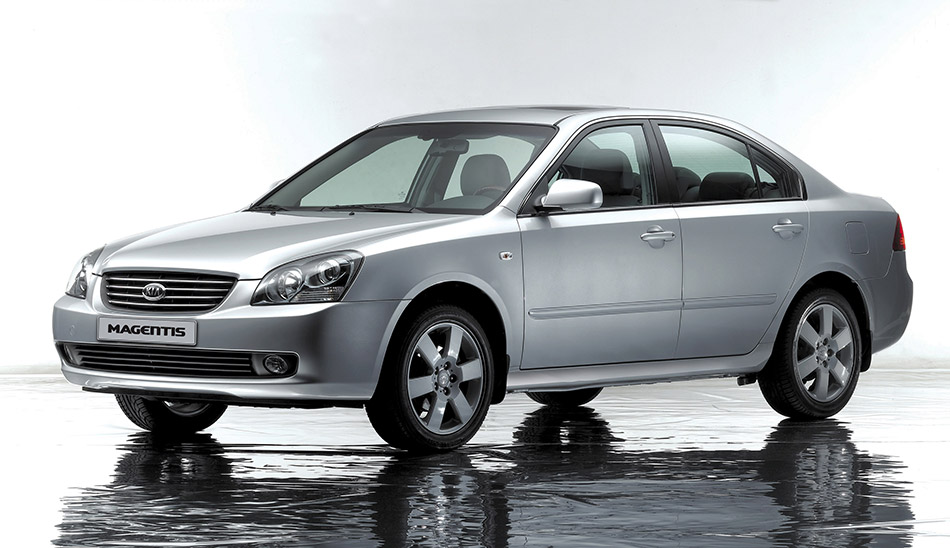 For the first time in the D-Segment, Kia will be offering customers a choice of gasoline and diesel engines in the Magentis. Available only in European Magentis models, Kia´s new 2-litre 140 ps CRDi diesel engine features a variable-geometry turbocharger (VGT) and a diesel particle filter (DPF) as standard, for optimum performance and economy, with clean Euro4 compliant emissions.
The availability of New Magentis with diesel power is not the only major innovation made by Kia to meet the specific needs of European customers. A special ´Europe Only´ interior, with an all-black or grey-black seating and trim combination, will replace the grey and beige two-tone treatment used in other markets.
Special ´Europe Only´ front and rear seats have also been developed, with longer cushions and larger side bolsters on both the cushion and backrest, to support occupants more securely during spirited driving. These seats will be standard fit for diesel powered models and will be introduced on all European market Magentis models later in 2006.
"New Magentis continues the recent Kia tradition of introducing new models which are attractively styled, comfortably appointed, technically sophisticated and thoroughly modern," enthused Mr Yong-Hwan Kim, Senior Executive Vice President and COO of Kia Motors Corporation.
For Kia, the new Magentis will be a highly competitive entry into a significant segment of the European market and the new model line-up will feature a total of nine derivatives. Depending on the model selected, customers can choose from two equipment levels (LX and EX), two gasoline engines (2.7 and 2-litre) and one diesel engine (2-litre) with five or six speed manual and four or five speed automatic transmissions, and an extensive range of optional equipment.
Taller 1480 mm (+70 mm), wider 1805 mm (+15 mm) - excluding the old model´s protruding door handles - and longer (+5 mm) than the model it replaces, the new Magentis has a longer wheelbase 2720 mm (+20 mm) and reduced front overhang 935 mm (-25 mm) to create much improved interior packaging, which offers significantly more cabin space, together with a larger 420-litre trunk.
The new, fully independent McPherson Strut front suspension and Multi-link rear suspension systems are designed to deliver a supple, comfortable ride on European roads with agile, responsive handling and good stability under the toughest road and weather conditions.
"With significant improvements in every category - design, comfort, performance, quality and safety - plus its new diesel engine and new transmissions, and specially developed ´Europe Only´ seats and interior trim, New Magentis will certainly have great appeal to existing and new Kia customers all across Europe," commented Jean-Charles Lievens, Senior Vice President Kia Motors Europe.
Three newly developed Engines
Kia´s range-topping Magentis EX model can be ordered with a powerful, responsive, upgraded quad-cam 2.7-litre 188 ps V6 ´Mu´ petrol engine with VIS (Variable Intake System). Available in both EX and LX Magentis models, the all-new ´Theta´ 2-litre 144.5 ps petrol engine is an impressively quiet, state-of-the-art four-cylinder powerplant with CVVT. The new 2-litre CRDi diesel engine is also available in both EX and LX Magentis models. This SOHC engine produces 140 ps and 305 Nm of torque from 1,800 to 2,500 rpm (output to be confirmed). All three engines are smooth and powerful, with clean emissions complying with Euro4 standards.
Advanced automatic and manual transmissions
Unusually in the D-Segment, all Magentis engines will be available with an automatic transmission. Both petrol and diesel 2-litre engines can be ordered with a four-speed automatic transmission as an extra-cost option, while the 2.7-litre is mated to a new five-speed automatic gearbox as standard. Fitted with Kia´s Sport Mode automatic transmission, these gearboxes offer a choice of fully automatic changes or driver-controlled sequential-manual gear selection. As standard, the 2-litre petrol engine is fitted with a five-speed manual, while the 2-litre diesel engine is supplied with an all-new, fuel-stretching six-speed manual gearbox.
Active and Passive Safety Kit as standard
Each New Magentis is fully equipped with active and passive safety measures to avoid hazards and protect occupants in real-world accidents. The all-new bodyshell is manufactured with a large percentage of high-strength steel. ABS with EBD, front and side airbags, front ´active´ head restraints and three-point seatbelts for all five occupants, are fitted as standard. In addition, ESP stability control, reverse parking sensors and curtain airbags are available as options.
Challenging for D-Segment honours
Despite predictions that overall D-Segment sales in Europe will gradually decline to 1.48 million units by 2010, Kia is determined to maintain or grow its segment share. Depending on individual market conditions, Kia intends to triple sales of New Magentis - targeting sales of almost 10,000 units annually in Europe.
New Magentis is manufactured in Korea at Kia´s Hwasung 3 assembly plant. It is an exclusively Kia product, independently developed and built on the new MG platform, unrelated to the Hyundai Sonata, which uses a different wheelbase and suspension systems. In future years, the MG platform will also form the foundation for the replacement Kia Carens model. The new Magentis and the Sonata do share several engine and transmission components.
In Europe, New Magentis will have a three year, unlimited kilometre warranty, plus three years road-side assistance and a six year anti-perforation warranty. The nine-strong New Magentis range is scheduled to reach Kia showrooms from Spring 2006 and will be available in nine distinctive exterior colours.
Source: KIA