Kia Motors Corporation today debuted the KOUP concept car – combining youthful exuberance with a sporty and sleek two-door coupe design – at the 2008 New York International Auto Show (NYIAS).
Illustrating the shape and evolution of future Kia vehicles, the simple yet bold and aggressive KOUP exterior is complemented by its realistic, practical and sleek 4-seater interior design. Originating from the Kia Motors America Design Centre in Irvine, California, the KOUP concept demonstrates Kia´s ´Power to Surprise´ with its balanced proportions and fluid design set to evoke an emotional driving experience.
"The Kia KOUP concept represents the future of the Kia brand and its dynamic vehicles that embody our core philosophies," said Tom Kearns, chief designer of Kia Motors America (KMA). "Kia designs cars to appeal to the emotional side of driving enthusiasts who seek adventure and want to take a leap into the future with stylish looks and advanced technology, and the KOUP effectively delivers that strong appeal."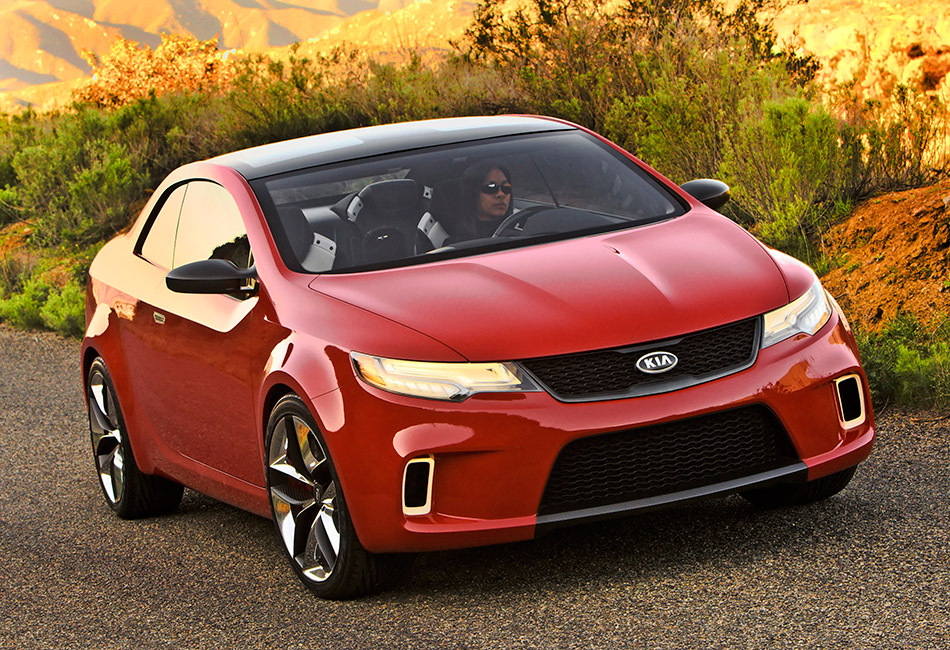 Maximum appeal at First glance
The KOUP´s appeal begins with its balanced proportions and fluid design. From the tab-shaped and purposeful upper grille to the high-tech and pragmatic headlamps, the front fascia´s form gives the vehicle a bold and aggressive stance.
The KOUP features an uncluttered yet dynamic wedge shape profile stemming from its glowing, carbon fibre and black-chrome enhanced LED lamp lenses. While the KOUP´s overall form is simple and precise, it makes a design statement with positive tension created by a ´swoosh´ that sweeps from the C-Pillar forward, down to the A-Pillar and flares all the way back around to the rear boot lid. A trailing horizontal lip along the boot lid tapers up toward the outer ends to meet up with the swoosh from the beltline. The rocker sill has a distinctive ´check mark´ (tick) shape and prominent wheel arch flares that give the KOUP a strong, lowered posture. The short overhangs and a wide stance endorse its well-balanced and responsive character.
No element of high-style design is missing in the KOUP concept as illustrated by its greenhouse-integrated, panoramic-view glass roof with two panels extending from the windshield to the rear screen, appearing as two parallel pieces of glass – similar to a fighter jet cockpit. Segregating the glass panels, an interior mood light runs the full length of the greenhouse.
To further the performance-inspired appearance with sporty elegance, carbon fibre enhancements accent the KOUP´s chin spoiler, lamp lenses, cowling panel, door mirrors, rear bumper insert and the rear diffuser, while flashy five twin-spoke alloy wheels include carbon fibre inserts paired with an open design to show off the Brembo® calipers and large cross-drilled ventilated discs.
Driver-oriented cockpit and cabin
Conceived artfully and with graphic precision, the KOUP´s interior hones in on the desires of car enthusiasts from the inward lean of the dashboard and Supervision instrument panel that enhance the performance-inspired driving experience, to the custom-designed, race-inspired steering wheel in front of a three-gauge instrument cluster. Carbon fibre accents on the gear shift plate and seat tilt-adjust mechanism reinforce its sporty performance image.
Both audiophiles and car enthusiasts will enjoy the eight speaker system, including large rear deck speakers matched to a juke box, further harmonising the overall driving experience. A built-in Bluetooth-enabled navigation system with Map On Demand (MOD) is just the beginning of the telematics services, including safe driving, car maintenance and life / assistance offerings.
The KOUP features a practical interior design that integrates high-style materials, including rich and supple seat fabrics accentuated with concrete- and black-colour trims. As a true driver´s car, the front seats differ from the rear seats with contrasting colours and patterning and horizontal, padded silicone bars feature across the seat backs for extra comfort. High-tech details are integrated into the interior, including convenient smart key with push button start, and a six-speed automatic transmission with steering column-mounted paddles for manual control of gear shifts.
Taking flight with Turbo Power
Powered by a commanding 2.0-liter Theta II turbocharged engine producing 290 hp with a GDI (Gasoline Direct Injection) twin scroll turbocharger for greater power and efficiency, the KOUP delivers astonishing torque of 289 lb-ft from a low 2,000 rpm, sustained to 4,000 rpm. By injecting fuel directly into the cylinders under high pressure using the Kia GDI system, the intake charge is cooled and combustion behaviour is improved. Improved combustion assures excellent fuel economy and low emissions. Lower front grille openings deliver additional air to the engine for extra power.
Built on a front-wheel-drive unitary bodyshell, coil springs and stabilizer bars complement an independent front suspension featuring MacPherson struts and an independent dual link rear suspension to provide the optimal balance of ride comfort and handling responsiveness. An engine-speed-sensitive, power-assisted rack-and-pinion steering system adds the finishing touch for precise road behaviour. Continuous Damping Control (CDC) delivers quick responses to chassis movements, road changes and driver inputs for maximised grip during spirited driving.
Optimised Safety Equipment
The KOUP concept features all of the standard safety features offered on many of Kia´s regular production vehicle line-up including six standard airbags, a Tire Pressure Monitoring System (TPMS), plus Electronic Stability Control (ESC) paired with the CDC. The large 245/40 ZR19 tyres complete the KOUP´s impressive chassis and running gear package. Adaptive front lighting and cruise control, add further to the KOUP´s advanced safety technology.
Source: Kia
Gallery:
Kia KOUP Concept (2008)