The Koenigsegg is currently the fastest street-legal car in production with a top speed exceeding 390 km/h. The CCR has an acceleration that takes it up to 100 km/h in 3.2 seconds, with the CC8S not far behind in less than 3.5. They are made using state-of-the-art materials and technology; both body and chassis are made of carbonfiber, reinforced with Kevlar and aluminum honeycomb.
The Koenigsegg developed suspension system, modeled from Formula One racing, has been judged by expert test-drivers to provide better handling than any competing supercar. Its supercharged engine delivers 655 horsepowers and a torque of 750 Nm for the CC8S, and a colossal 806 horsepowers and a torque of 920 Nm at 5.700 rpm for the CCR.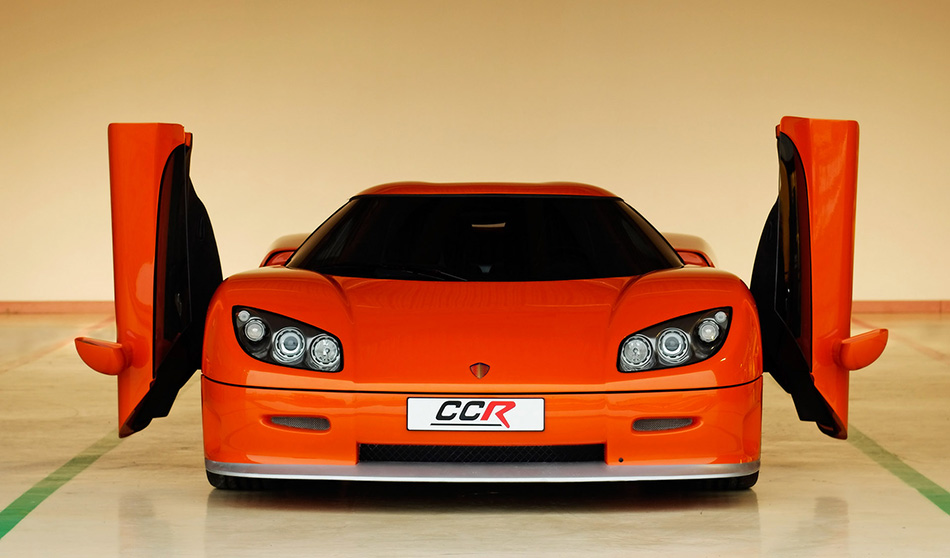 Koenigsegg creates each car specifically for each costumer; they are individual pieces of art. They can be equipped to suit the costumer in a variety of ways, including the new and extravagant Twin-fin Wings, which provide downforce without obstructing the rear view, and the new 20" Koenigsegg magnesium wheels.
The design of the CC creates an impression of strength and flowing motion, and perfect aerodynamics have been achieved without compromising this aggressive beauty. A hardtop roof-panel, which is easily removed and stored under the front hood, covers the luxurious interior. The leather and aluminum fitted cabin incorporates all the top equipment for comfort and security.
Koenigsegg CCR
The new model CCR is the top version of Koenigsegg. It has all the features of the CC8S model but a refined design of the side air intakes, different headlight arrangement, a revised rear design, larger brakes, a more powerful engine and small performance enhancing modifications as well as new front splitters for optimized downforce.
The extremely favourable power figures are made possible thanks to use of a specially developed Swedish Lysholm twin-screw compressor and a new exhaust system made of titanium.
This takes the engine's power output to the extreme peak value of 806 hp at 6.900 rpm. The torque curve also shows high values over a broad revolution band with a peak value of 920 Nm (678 ftlb) at 5.700 rpm.
As shown in the diagram, both max torque and power curves have their peak values over a fairly wide (1000 rpm) band.
The CCR is decorated with a ghost symbol. This is to honour the Swedish Fighter Jet Squadron No. 1 which had their fighter jets in the same facility as Koenigsegg now occupies. The ghost was the squadron's symbol.
Source: Koenigsegg
Gallery:
Koenigsegg CCR (2004)