In addition to the KW coilovers Variant 2 for the BMW X4, we now also have the adaptive KW DDC plug&play coilover kit available. This KW suspension made of stainless steel is compatible with the adaptive BMW suspension electronics, so all functions of the optional "Dynamic Damper Control" of the BMW X4 remain fully functional. The KW DDC plug&play coilover kit allows a continuous lowering of up to 70 millimetres in order to emphasize the dynamics also optically.
The adaptive KW DDC plug&play coilover kit is the intelligent retrofit solution for all BMW X4 with optional "Dynamic Damping Control". This enables the KW suspension to adapt to the driver's style as well as to the road conditions. "With other aftermarket suspension kits, the BMW X4 drivers have to resist on conveniences of the adaptive damper control or accept compromises", said KW Product Manager Johannes Wacker.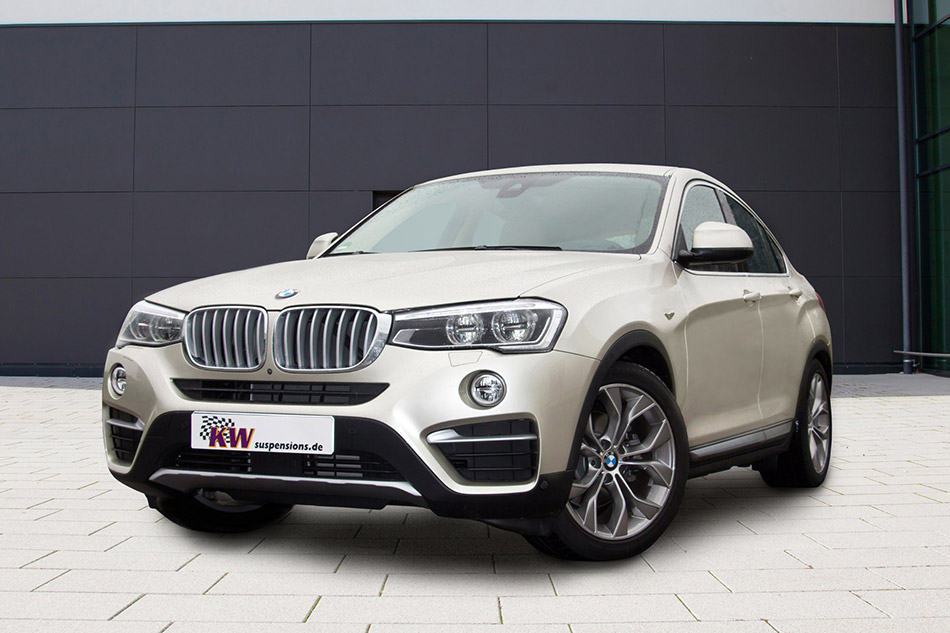 The complete suspension control of the adaptive KW coilover suspension works via the BMW series sensors and these also control the KW valves. When installing the suspension kit, actually only the standard suspension has to be replaced by the KW suspension and the KW DDC plugs connected to the original plugs. The sensors adapt the suspension setup for example in Comfort mode within a split second to the respective driving situation. If you drive on the freeway acceleration lane or accelerate during a passing manoeuvre, also the damper settings will get more direct.
This works quick and harmonious that you hardly notice it in everyday life. "When choosing the sport mode, the BMW X4 with the DDC coilover kit drives much more direct and agile," explains Johannes Wacker. Also the functions of the so-called "BMW Driving Experience Control" remain and the BMW X4 driver can still choose between the different BMW suspension settings.
The adjustment of the lowering is made at the adaptive KW DDC plug&play coilovers via the dirt-resistant KW trapezoidal thread on the stainless steel strut as well as with the rear-axle height adjustment. The proofed adjustment range allows a continuous lowering of 30 to 50 millimetres at the front axle, while the X4 even allows an adjustment of 40 to 70 millimetres at the rear axle.
Source: KW
Gallery:
KW BMW X4 (2015)