The Lancia Delta S by MOMODESIGN special series is the result of renewed collaboration between Lancia and MOMODESIGN, two world-famous brands and icons of Italian design.
Targeting young, male, urban drivers in search of distinctive style, the brand new Delta S by MOMODESIGN enhances the Delta's already powerful personality through a series of design and colour personalisations inspired by the style elements typical of the helmets, wristwatches, eyewear, footwear, travel accessories and other products that emerge from MOMODESIGN's famous Style Centre.
The exterior of the Lancia Delta S by MOMODESIGN stands out for typically sporting design features like skirts and bumpers in the same colour as the body, dark chrome trim, burnished headlights, 18" dark finish wheels, double exhaust tail pipe and glossy black tailgate. The tailgate is further characterised by the S logo that identifies this new special series.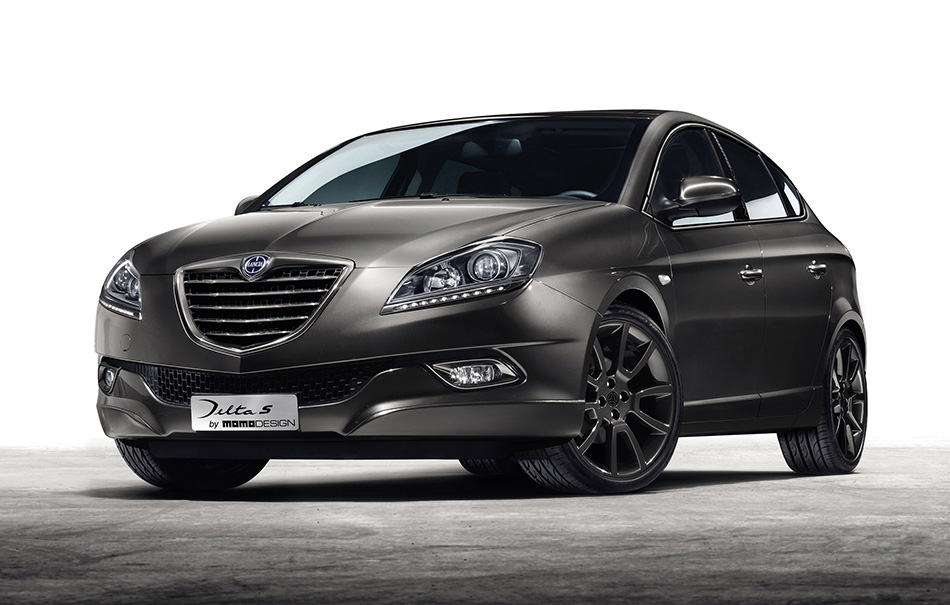 Customers can choose from three colour schemes – Zenit White, Magma Black and a two-colour Zenit White/Eclissi Black, soon to be joined by two new variants: metallic Antracite Grey and two-colour Antracite Grey/Eclissi Black. The same high level of refinement appears inside the car: the interior is characterised by a glossy black central console, tachometer with yellow graphics and special sports seats in mixed leather and fabric with blue stitching, repeated on the steering wheel, gear lever boot, handbrake and door panels.
A true expression of Italian style on the outside, the Lancia Delta S by MOMODESIGN comes packed with content too. The standard equipment list includes cruise control, automatic two-zone air conditioning, electric door mirrors, leather-covered steering wheel with audio controls and a front seat arm-rest.
Customers can choose from four engines: 1.4 TurboJet 120 HP, 1.4 TurboJet LPG 120 HP, 1.6 MultiJet 120 HP and 1.9 TwinTurbo MultiJet 190 HP, each with its own personality but all champions of performance and reliability.
The top performer is the 1.9 TwinTurbo MultiJet, an engine that embodies the true sporting spirit of this new special series and sets the standard for the segment with a maximum power of 190 HP and a maximum torque of 400 Nm at only 2000 rpm. The 1.9 TwinTurbo MultiJet takes the Delta S by MOMODESIGN to a top speed of 222 km/h and accelerates it from 0 to 100 km/h in just 7.9 seconds.
As its name suggests, the engine is fitted with two turbochargers. Specific power is around 100 HP/litre, a figure typical of high performance power plant. On top of this, the 1.9 TwinTurbo MultiJet puts out 300 Nm of torque at only 1250 rpm, giving instant response to accelerator input and delivering a high level of driving pleasure in all conditions. Thanks to a special promotion that has made it available in Italy for a list price of only 26,400 Euros (the same as the 1.6 MultiJet 120 HP), the Delta S by MOMODESIGN with 190 HP 1.9 TwinTurbo MultiJet engine offers the best price/power ratio of any car in its segment.
Source: Lancia
Gallery:
Lancia Delta S MOMODESIGN (2013)