The Elefantino name has been associated with the Ypsilon since 1997, when the version made its first appearance with an accessible price tag and bags of appeal to young people. Today, the Elefantino theme has been re-interpreted in a contemporary key. In terms of styling, the new Ypsilon Elefantino is designed to appeal primarily to young women drivers, thanks to fluorescent and glossy black details and new "urban look" interiors.
Continuing in the traditions of its name, this latest Elefantino special series comes with a highly accessible price tag. Though it sells for the same price as the current entry level version (the Silver), it nevertheless comes with all the content a young woman could possibly expect: air conditioning, radio with CD and MP3 player, remote central locking and a leather-covered steering wheel and gear lever knob are standard equipment. And on the subject of safety, the Elefantino boasts ABS + EBD, front and side airbags, and Isofix child seat attachments, again fitted as standard.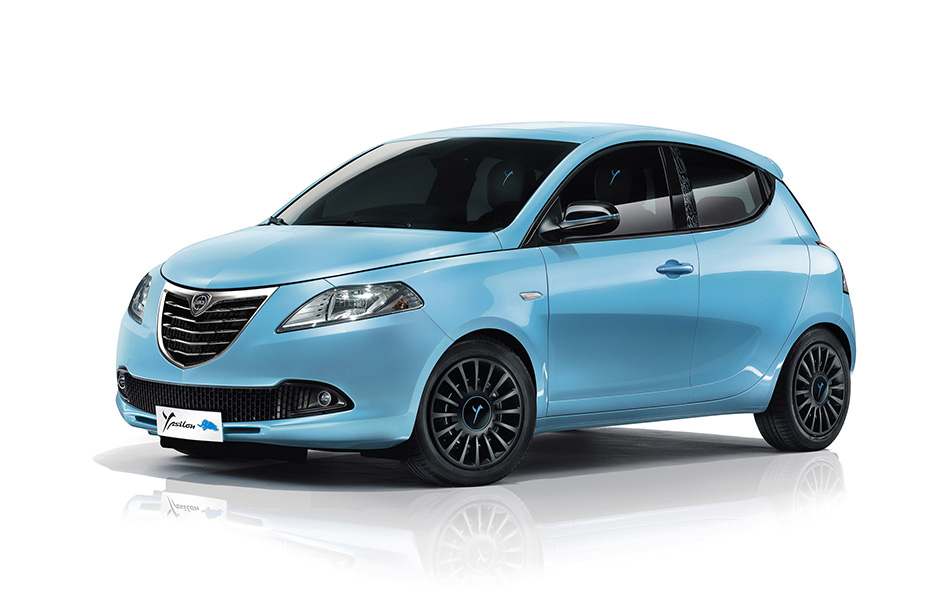 The Ypsilon Elefantino comes with a choice of engines with manual gearboxes: 1.2 69 HP, 0.9 Turbo TwinAir 85 HP, 1.3 MultiJet 95 HP, 1.2 69 HP LPG and 0.9 Turbo TwinAir Methane 80 HP. The TwinAir Methane was recently voted "Green Engine of the Year".
 
Since its introduction in April, the Elefantino has already accounted for 30% of the Ypsilon sales mix, and has proved particularly popular with young people. It has attracted double the number of customers between the ages of 18 and 25 than other Ypsilon versions, and 75% of its buyers are young women. To consolidate the Elefantino's success, Lancia has just introduced another new personal and exclusive colour scheme: a turquoise finish complete with turquoise fluorescent details and Elefantino badge.
The Elefantino special series is the epitome of city style, as demonstrated by its refined exterior colour schemes: Sabbia Beige, Neve White, Pietra Grey, Vulcano Black, Aurora Purple and, of course, the new Turquoise, all combinable, on request, with a glossy black tailgate.
To emphasise the Elefantino's glamorous soul, its exclusive colour schemes are enhanced by precious details like same-colour handles and fluorescent (fuchsia or turquoise) details on the mirror covers, dedicated black wheel hubs and Elefantino tailgate logo.
In keeping with its urban soul, the new Elefantino boasts a casual interior featuring a leather-covered steering wheel, chrome dashboard trim and black fabric seats with fuchsia or turquoise stitching. The same colour stitching also appears on the gear lever boot and headrests, matching the colour of the exterior details on the mirror covers, wheel hubs and Elefantino tailgate logo. Finally, tone on tone stickers on the central door pillars and the original designs of the dashboard and upholstery echo the car's urban spirit with graphics dedicated to Europe's trendiest cities.
Effective communication is one of the most decisive ingredients of any special series launch. For the Ypsilon Elefantino, Lancia has chosen a distinctively digital approach in the form of web campaigns, a presence on YouTube and various original on-line initiatives. In Italy, for example, Lancia has introduced the "Elefantino Driving School" (www.lanciaelefantinoscuolaguida.it) to help young, new licence holders and learners to try out their knowledge through entertaining tests designed to bring out the glamour of a correct and safe driving style. And for drivers wishing to improve their technique, the Elefantino Driving School offers a range of "Elefantips" – useful hints and suggestions on how to become a really classy driver. Registered users of the Elefantino Driving School who pass the quizzes automatically participate in a draw to win a brand new Lancia Ypsilon Elefantino.
Still on the subject of the Internet, Lancia has also organised two special initiatives in keeping with the Elefantino's market positioning. In Italy, the "Lancia and the City" on-line competition encouraged participants to post photos of the trendiest locations in their own towns and cities. The five winners joined the "Lancia and the City Fashion Tour" on board an Elefantino. Accompanied by an expert fashion blogger and provided with a generous shopping allowance, the lucky winners went on a journey of discovery through the coolest shopping streets and stores of Italy's top fashion locations. In Spain, Lancia has developed the "Fashion City Moms" web platform for fashion-conscious young urban mothers. This site is packed with photos, videos and blogs and also helps Spain's "fashion moms" discover essential facts about the Ypsilon – like how many baby's dummies, shoes and suitcases can fit in the boot – 853, 271 and 5 respectively!
Source: Lancia
Gallery:
Lancia Ypsilon Elefantino (2013)