The new Lexus IS 300h, making its European debut today at the Geneva motor show, is set to deliver unprecedented efficiency when it reaches Britain's roads this summer, its 2.5-litre full hybrid powertrain posting CO2 emissions from 99g/km.
The rear-wheel drive sports saloon benefits from the years of experience Lexus has gained in developing its Lexus Hybrid Drive system to achieve even greater environmental performance with no compromise in power or driving quality. As well as significantly lower carbon emissions, Lexus Hybrid Drive also reduces NOx and particulate to near zero.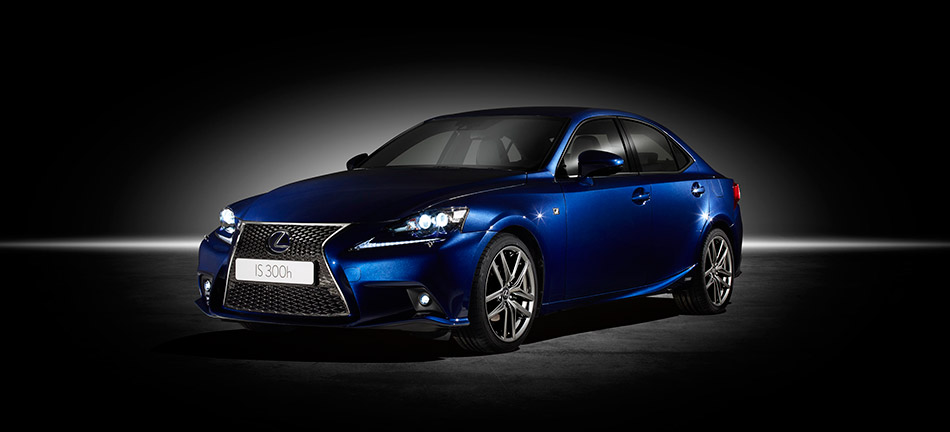 The key sub-100g/km CO2 figure is achieved by the IS 300h SE model, fitted with 16-inch wheels, which means no annual Vehicle Excise Duty (road tax) charge. Cleaner, cost-friendly performance is delivered by the other hybrid versions in the UK line-up as well, both delivering emissions below 110g/km for a Band B VED rating, thus qualifying for a zero charge in the first year of ownership.
The low emissions are not at the expense of performance. The IS 300h's powertrain achieves a total system output of 220bhp/164kW and gives the new Lexus a dynamic drive with quick and smooth acceleration. The homologated emissions figures for the European model confirm it will produce 99g/km in combined cycle driving, with 65.7mpg fuel consumption. In the UK these figures will apply to the IS 300h SE model, fitted with 16-inch wheels.
The system features a 141bhp/105kW electric motor and a newly developed 2.5-litre four-cylinder Atkinson cycle petrol engine that produces a maximum 178bhp/133kW. The engine benefits from a new D-4S fuel injection system, Dual VVT-i intelligent variable valve timing and a high-efficiency exhaust gas recirculation system.
The rear wheels are driven through the hybrid powertrain's E-CVT transmission. Total system output is 220bhp/164kW, enabling nought to 62mph acceleration in 8.3 seconds and a 125mph top speed.
The driver can modify the car's performance by selecting from three different drive modes: EV all-electric running, with the petrol engine switched off; Eco, for optimum fuel efficiency; Normal, and Sport, for sharper throttle response and a sportier steering setting.
The new IS range includes an F Sport model, which comes with sports-tuned suspension and electric power steering, as well as dedicated exterior and interior design features that distinguish it from the other models in the range.
Source: Lexus
Gallery:
Lexus IS 300h (2014)