Vanquish / S, tradition & high end associate to a breathtaking symbiosis, without a doubt we are talking about the admiral of the Aston Martin family.
The front spoiler comes with aerodynamic carbon fibre trims left/right and an adaptive 4-line grille element, that is similar to the new 6-line lightweight main radiator grille.
The MANSORY light alloy range for the Vanquish consists of the gigantic fully forged Aluminium lightweight performance wheels with dimensions of 9x20J with accordant 275/40/20 high performance tyres for the front and 10.5x20J with unbelievable 315/35/20 tyres for the rear.
Furthermore available is a sporty light weight alloy set with dimensions of 9x20J wheels with accordant 255/35/20 high performance tyres for the front and 10.5x20J with 285/30/20 tyres for the rear. Likewise the side skirts amend the aerodynamic and let the car look much deeper. Another typical detail are the integrated carbon flanks with air intakes behind them, identical to the complete modified range.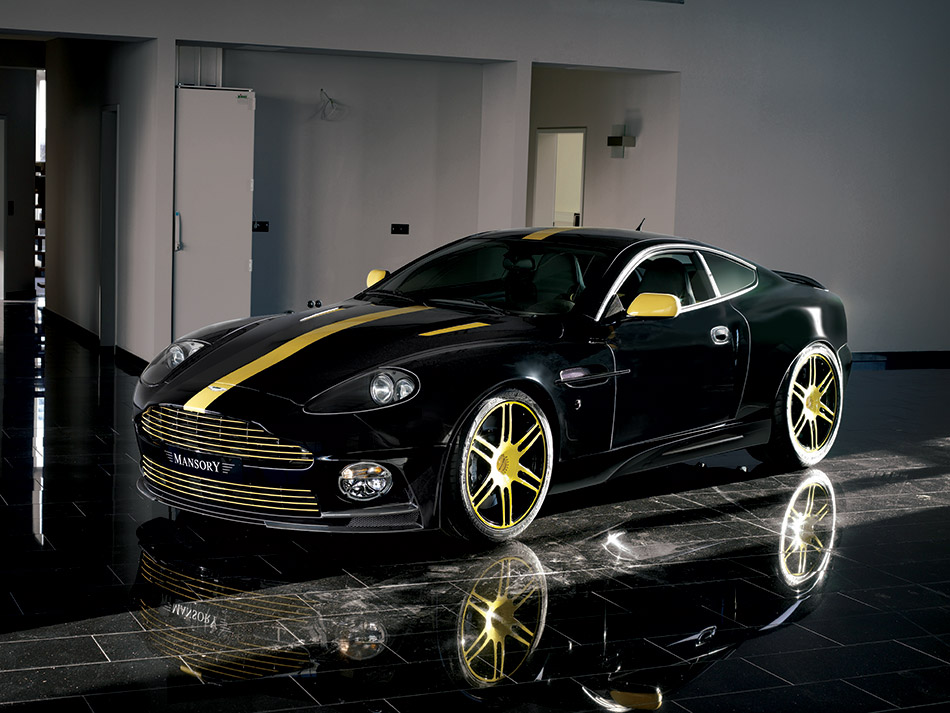 The rear design shows the apron with an gigantic integrated carbon diffuser and
also a step sportier the rear trunk lid spoiler which is supporting the dynamic contact pressure. Chromed details are the new designed exhausts, chrome stripes for the trunk and rounded fully chromed trims for the tail light rims. Like all models also new for the Vanquish are the extra large anodized aluminium air outtakes on the engine bonnet, they are topping the exterior off.
With  the suspension lowering with sport performance springs the complete vehicle comes down 25mm (approx.: 1 inch).
For the interior we offer sporty coloured leather combinations for seats, door covers and the dashboard. Furthermore available for your Aston Martin are a modified steering wheel, carbon fibre trim equipment and a 3-part set of aluminium pedals and brake handle.
Source: MANSORY
Gallery:
MANSORY Aston Martin Vanquish (2008)