MANSORY Switzerland is once again proving its special skill when it comes to the tuning of high-end cars by adding its touch of class to the Range Rover Vogue by way of a individualisation package that will turn heads wherever the SUV goes. Starting with a lift-reducing body design and a powerful performance boost right up to a lavishly designed interior, MANSORY pays attention to all aspects of the luxury offroader, realising the motoring dreams of its exclusive customer base in the process.
Using perfectly fitting aerodynamic components made of carbon, the body of the Range Rover Vogue is given a significantly more striking appearance than before. In addition to the redesigned front apron with built-in LED daytime running lights, the bodykit also includes new side skirts and veneers for the boot and the mirrors. The front view of the MANSORY SUV is rounded off perfectly by the redesigned bonnet. At the rear, the visible carbon diffuser insert of the new rear apron and a roof spoiler also made of carbon emphasise the SUV's dynamic look. Furthermore, the D-pillars of the vehicle's roof can be covered with carbon applications.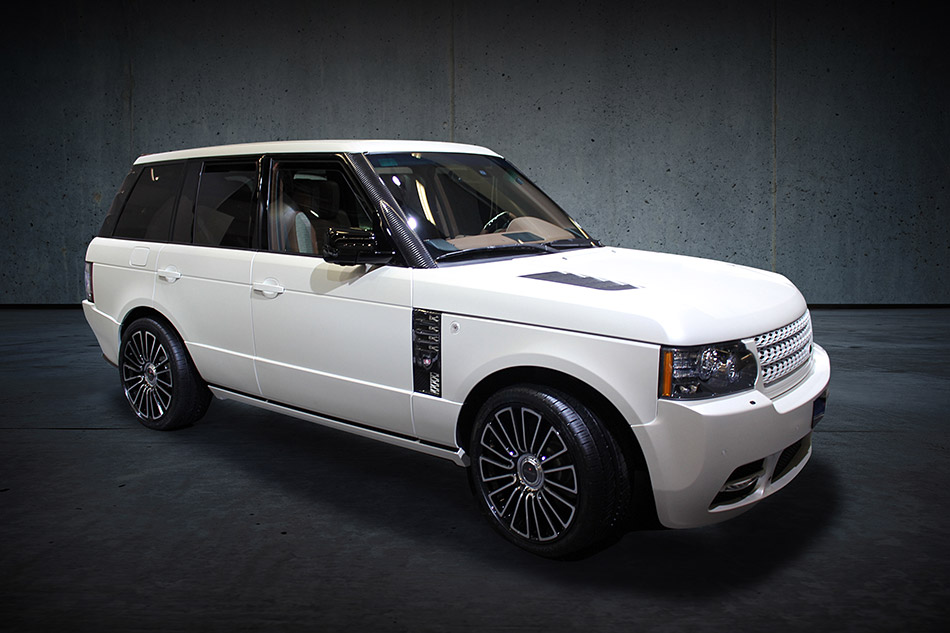 For the 4.4 litre diesel engine of the Range Rover Vogue, MANSORY offers a high-torque performance boost. Through the integration of a sports exhaust system, a sports air filter and an optimised engine control module, the 8-cylinder engine receives a vigorous performance boost to 376 hp / 277 kW while torque is increased to 840 Nm at  1500 – 3350 revs per minute.
Specially adapted to meet the changed needs of the MANSORY Vogue, the tuning specialist also presents varying wheel designs, ranging in size from 21 inches to 23 inches. One particular highlight in terms of styling and engineering is the ultra-light wheel model M-10/1 in XXL 23-inch format. The dynamic design of the filigree spokes results not only in a sporty, striking appearance; it is also responsible for an equal load distribution, thereby guaranteeing higher load capacities. MANSORY recommend the wheel in size 315/25 R23.
In order to draw attention to the wheels, the vehicle's centre of gravity can be lowered by up to 30 millimetres by way of a new air suspension module.
Inside, MANSORY has created a control centre that perfectly combines functionality and comfort. The sports steering wheel – designed specifically for the Range Rover Vogue – as well as the aluminium pedals guarantee drivers full control of the SUV. At the same time, the vehicle's interior exudes what can only described as pure luxury. Almost all the components of the SUV's interior trim are covered with leather and fine MANSORY Couture fabric and, if desired, can also be combined with fine wood applications. Accurately embroidered logos and illuminated door sill plates add the finishing touches to the upgrade.
Source: MANSORY
Gallery:
MANSORY Range Rover Vogue (2011)