The Mazda 626 is offered in two distinctive body styles; 5-door hatchback and 4-door sedans, each seating five people in superb comfort and carrying a large volume of luggage in its versatile compartment.
Overall length of the 5-door hatchback and 4-door sedan is 4,575 mm, 120 mm shorter than the previous 626. The wheelbase remains 2,610 mm. Overall width 1,710 mm, reduced by 40 mm. Overall height of the 5-door hatchback and 4-door sedan is 1,430 mm, representing an increase of 30 mm  and 40 mm, respectively.
Within the compact exterior are significant gains in all vital measurements of the passenger and luggage compartments. The 5-door hatchback now shares the 4-door sedan's cabin dimensions.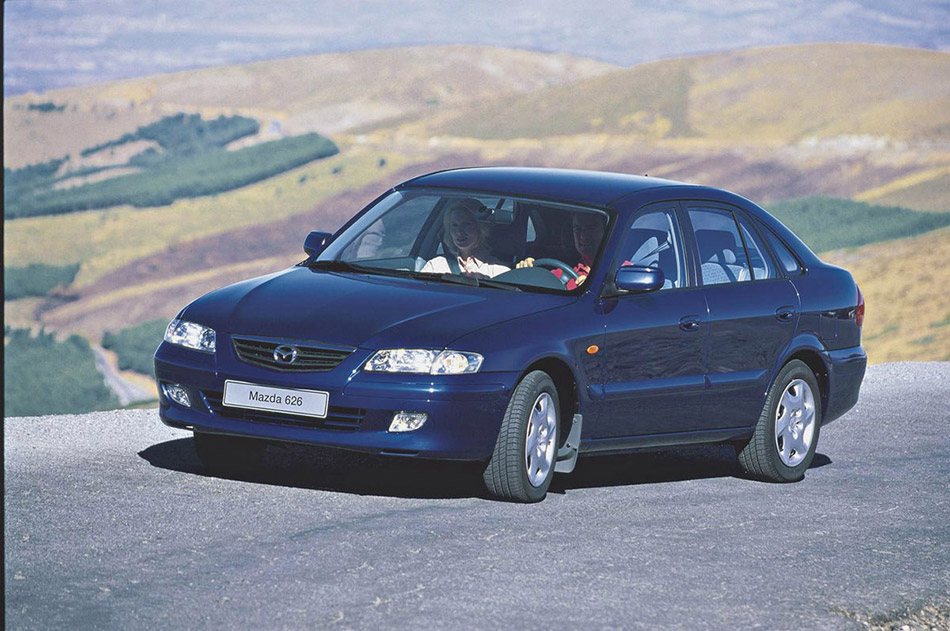 The Mazda 626 is a front-wheel-drive car, offering two gasoline engines in three stages of tune.The mainstream engine family is the enhanced F-series DOHC, 16 valve, electronically controlled, fuel-injected, inline 4-cylinder, available in two displacement sizes. The FPD is a 1.8-litre unit producing 67 kW (DIN) at 5,000 rpm and 147 Nm (DIN) maximum torque at 2,500 rpm. The FSD 2.0 litre version is rated at 86 kW (DIN) at 6,000 rpm and 173 Nm (DIN) maximum torque at 4,500 rpm.
The FSD 2.0HO (high output) is a high-performance version of the FSD unit, producing 102 kW (DIN) at 5,800 rpm and 181 Nm (DIN) maximum torque at 4,500 rpm. All engines require regular grade (minimum 95 RON) unleaded gasoline. All models in the 626 series also meet Europe's Step II exhaust emission standards.
Two transmission types are offered. The type G5 5-speed manual transax1e has refined internals and improved shift linkage, and its upper gear ratios are now more closely spaced. The type G4E 4- speed automatic transmission is the latest in Mazda's line of electronically controlled automatic transmissions. It incorporates a torque converter lockup clutch, and automatically alternates between "Normal" and "Power" shift modes. The popular and convenient "Hold" mode allows manual selection and holding of the lower three gears.
The 626's all independent suspension is a refinement of the front MacPherson strut, rear TTL (twin trapezoidal link)-located strut combination, Mazda's hallmark design for its front-wheel drive models. The suspension is, however, optimized with new components and geometry, attaining an outstanding balance in handling, stability and ride comfort.
Engine-rpm-sensing, variable-effort, rack-and-pinion power steering is standard on all 626 models.
Front ventilated disc and rear drum brakes with vacuum servo assistance provide ample stopping power for the FPD 1.8 litre models. Rear sold disc brakes replace the drums in the FSD 2.0 litre models. An advanced electronically controlled anti-lock brake system (ABS) and a sophisticated traction control system (TCS) are offered on all models.
The 626's all steel, welded integral body represents a significant milestone in Mazda's mastery of the art of designing and manufacturing exceptionally rigid automobile bodies. Each body possesses bending and torsional stiffness surpassing those of many competitors and that of the previous 626.
Mazda's advanced impact-energy distribution and absorption body structure is built around a strong passenger compartment and energy absorbing, deformable front and rear sections. The triple H construction of the central section offers protection against side impacts. Also, the latest in rust and acid corrosion preventive measures are applied to the 626 body.
Source: Mazda
Gallery:
Mazda 626 (2000)