The Mazda DEMIO is an owner-friendly, 5-door compact of the B-segment class. It has created a totally new genre in compact cars through its class-leading space utility, practicality, and versatility.
The Mazda DEMIO's outer dimensions are as follows: overallength - 3,808 mm; width - 1,670 mm (1,650 mm without side protector mouldings); and height - 1,535 mm (1,500 mm without roof rails). By using a compact powertrain and adopting a squarish design, a class-leading spacious interior is realized. These interior dimensions are: front seats have 1,022 mm of head room, 1,034 (997: right-hand-drive model) mm of leg room and 1,312 mm of shoulder room. Rear seats have 980 mm of head room, 894 mm of leg room (when the rear seat slide is at standard position) and 1,300 mm of shoulder room. (Models equipped with a sunroof have headroom of 990 mm in the front and 922 mm in the rear.)In particular, multi-function rear seats allow arrangements for more comfortable seating space or luggage space according to customers' needs. Setting the hip point of each seat, high results in a wider view and more comfortable ride. Coupled with wide doors, it is ceasy to get in and out of the Mazda DEMIO with the minimal body movements.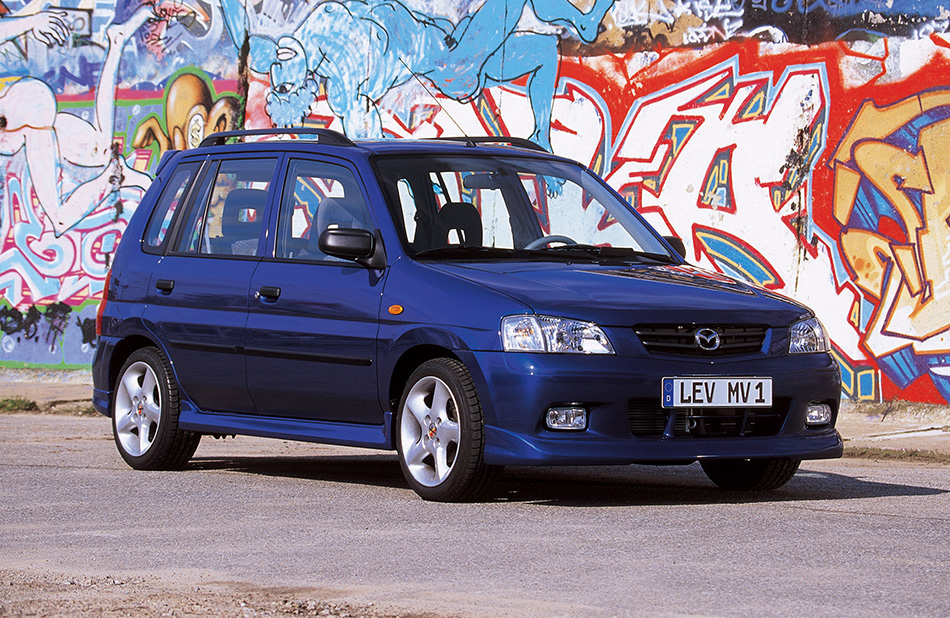 A newly developed, transversely mounted engine, the type B3 1.3-litre, achieves dynamic performance and low fuel consumption in daily use. This SOHC 16-valve water-cooled inline 4-cylinder engine with multi-port fuel injection is offered with two versions: one with a maximum output of 53 kW /5,500 rpm (EEC) and maximum torque of 105 Nrn/3,500 rpm (EEC), and the other with 46 kW/5,000 rpm (EEC) and 103 Nrn/3,000 rpm (EEC). The type F25-R 5-speed manual transmission is offered with the gear ratios suited tor performance and economy.
As tor the suspension, a light and compact MacPherson strut type in the front and a space saving torsion beam axle in the rear are used to realize handling that directly responds to the driver's will and assures a comfortable ride. Power assisted steering is a rack-and- pinion type with a minimum turning circle of 9.4 m (kerb to kerb). The braking system consists of ventilated discs in the front and leading trailing drums in the rear and is equipped with a vacuum servo assist of a large diameter. 4W-ABS is optionally provided.
The standard set of tyre and wheel is 165/70R13 79T tyre and 13 x 4.5J steel wheel with, full wheel cap. A combination 175/60R14 79H tyre and 14 x 5.5JJ steel or aluminium alloy wheel is available as an option.
The monocoque of the Demio has been effectively reinforced by the frames and members with large cross sections for highly rigid body structure. All of these features result in improved safety and a quiet interior. Extensive computer analysis was applied to design the front and rear crushable zones and side impact bars in order to build a body which securely protect the occupants in a collision. Also, a driver-side SRS (Supplemental Restraint System) airbag is equipped as a standard and optional on passenger's side.
Source: Mazda
Gallery:
Mazda Demio (2000)