The Mazda6 MPS, flagship model of the very successful Mazda6 range and the most powerful Mazda production sedan of all time, will be launched across Europe at the beginning of this year. It is Mazda's entry into the growing market for high-performance sedans. In developing the new Mazda6 MPS, the primary goal was to create a vehicle that takes Mazda Zoom-Zoom to a new level for spirited dynamic performance. And in this Mazda has succeeded. With its turbocharged MZR 2.3 DISI petrol engine, Active Torque Split All-Wheel Drive and a chassis optimized for the increases in power and torque, the 6 Mazda6 MPS is Zoom-Zoom driving enjoyment at its very best.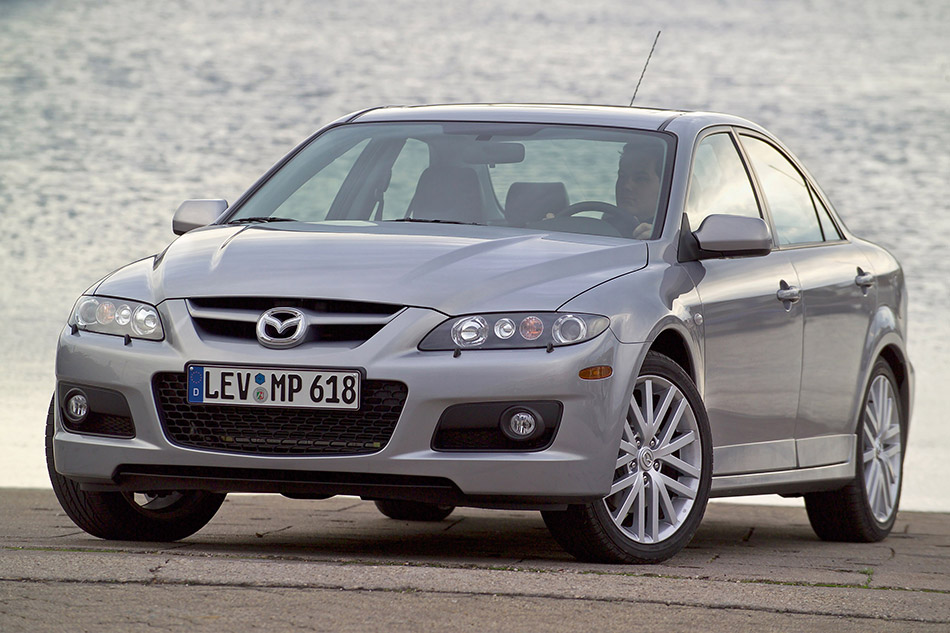 Petrol direct-injection and turbocharging are the primary power sources for the new four-cylinder engine from Mazda's MZR family of petrol powerplants. It produces a maximum of 191 kW/260 PS at 5,500 rpm and maximum torque of 380 Nm is available from as low as 3,000 rpm. As a result, the Mazda6 MPS accelerates from 0 to 100 km/h in just 6.6 seconds with a top speed of 240 km/h, making it one of the fastest sedans in the segment, and couples this with a combined fuel consumption of 10.2 litres per 100 km. A newly-developed six-speed manual transmission makes the MPS driving experience even more enjoyable. Its compact, three-shaft design has a wider gear ratio setting, which allows the driver to exploit the engine's power to the fullest.
Depending on road surface and driving situation, Mazda6 MPS's Active Torque Split All-Wheel Drive system applies up to 50 percent of engine power to the rear wheels . Using information about steering angle, yaw rate, lateral G-force and engine status, an electronically controlled active torque coupling mounted in front of the rear differential distributes power between the front and rear axles for just the right amount of torque in every driving situation. The system uses three different all-wheel drive protocols, chosen automatically by the car's engine control module so the driver can concentrate on the road ahead: "Normal," "Sport" and "Stability" for slippery driving surfaces like snow.
Local reinforcements to the body shell were made at sub-assembly level to deliver a stiffer body and chassis to handle the increase in power output of the new Mazda6 MPS. These new features resulted in a 50 percent increase in torsional stiffness compared to the standard four-door Mazda6 sedan. Besides giving the car a more rigid body, the engineers of the motor sports division Mazdaspeed tuned the chassis to be sportier without sacrificing Mazda6's already high levels of ride comfort. A double-wishbone front suspension system and a multi-link rear suspension are employed. Both are equipped with stronger dampers, coil 8 springs with higher spring rates and thicker stabilizer bars. In addition, the brake system has been enhanced with larger front and rear disc brakes installed in large 18-inch wheels with a unique design.
Discreet Design Enhancements Hint at Mazda6 MPS's High-performance Nature Modifications to the exterior and interior complement the sporty character of the new Mazda6 MPS. Mazda carefully refined the exterior design of the car with the goal of communicating its high-performance nature in a discreet, sophisticated way. Nevertheless, with a "power dome" for the bonnet, larger air intake, a rear bumper with a diffuser, integrated tailpipes and discreet boot lid spoiler that provides downforce, Mazda tailored the well-defined body of the Mazda6 with a sporty suit of MPS clothes.
On the inside, the Mazda6 MPS has special fabrics and even higher quality materials for an improved interior ambience. The cockpit is a harmonious synthesis of functional sportiness and sophisticated comfort. Special interior design features include a speedometer scaled to 280 km/h, a three-spoke leather steering wheel, semi-bucket front seats, a leather shift knob and aluminium pedals with rubber nubs. The Mazda6 line up's sporty flagship also benefits from all the new interior features introduced in the summer of 2005 with the Mazda6 facelift. Among these are thicker arm rests and new vertical interior door handles, along with a new surface for the centre stack (in dark titanium) and piano black audio system controls for an even higher quality interior look.
Source: Mazda
Gallery:
Mazda 6 MPS (2006)