The new Mazda 3 Sedan is perfectly positioned for the rapidly changing automotive market. It offers a mix of quality, styling, power, dynamics and fit and finish that meets the demands of today's customers. In typical Mazda fashion, this new Mazda 3 Sedan will offer standard and optional equipment not found on other cars in its class - exactly what buyers want when seeking compact cars providing outstanding value.
This model arrives with an impressive pedigree, for the first-generation Mazda 3 earned 90 major awards from expert critics and achieved 1.8 million sales around the world during the last five years. The Mazda 3 accounts for one third of Mazda's sales and even at the end of its build life, the first-generation version continued to earn accolades - a leading consumer magazine recently naming it as one of the most reliable compact sedans available.
Mazda 3 Programme Manager Yoshiyuki Maeda established ambitious goals for the latest embodiment of the company's most popular car line, "We were determined to advance the Zoom-Zoom driving experience to new heights because that unique feeling lies at the very heart of Mazda. On the heels of the original Mazda 3's success, we aimed to again exceed the expectations of customers all over the world by a wide margin. This meant providing drivers with a sense of exhilaration - whether they were in motion, seated in the Mazda 3, or enjoying its appearance from outside."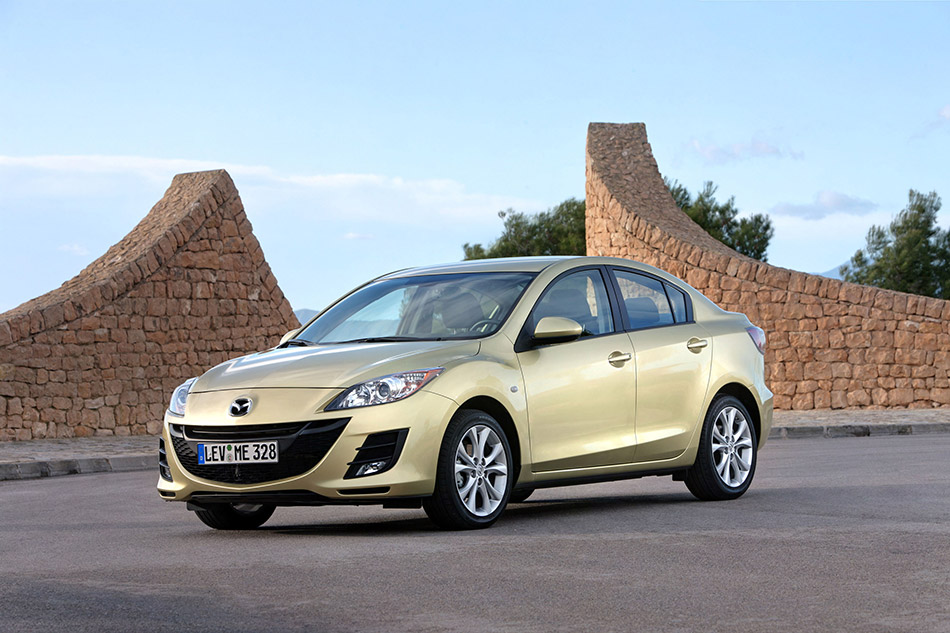 Describing what it takes to develop a true 'world car', Maeda added: "The development process began with careful study and identification of what features and performance qualities would be needed. That initial phase ended with my conclusion that every driving characteristic was eligible for improvement to reach our Zoom-Zoom goals. Mazda engineering and R&D departments in Japan, Europe, and the US all contributed to the Mazda 3's renewal effort and the development of the company's new world car."
EXTERIOR DESIGN
Chief designer Kunihiko Kurisu's mission was to remain faithful to the Mazda 3's existing visual identity while evolving its appearance with richer, bolder design strokes. Infusing each subsequent new model with more emotional aesthetics is a longstanding Mazda tradition. The key Mazda 3 exterior design highlights are:
A move toward a more unified Mazda global 'family face'
A reinforced frontal identity which integrates the lower air intake with a more emphatic and instantly recognizable five-point grille
Major design elements focus on, or flow toward, the vehicle's central axis, to stress power and dynamism. At the front, fascia lines converge on the centrepoint at the bottom of the grille. At the rear, the boot lid's surface has a distinctive centre crease
A compact cabin, high deck surfaces, and flowing C-pillar features, which were inspired by the classic coupe profile, as seen on the 2009 Mazda 6
Bonnet and side surfaces which are shaped to reflect light and physical surroundings
A subtle wedge-shape and curving side character lines which are shared with other Mazda models, giving the Mazda 3 Sedan a strong sense of impending motion - like a predator poised to strike
A new Adaptive Front Lighting System with self-levelling bi-xenon headlamps - added as standard on Grand Touring models. The Mazda 3 Sedan is the first compact offered for sale in the US with such an advanced lighting system
Exterior design elements which contribute to the car's function by minimizing aerodynamic drag and lift while providing the powertrain, chassis, and interior with adequate air flow for cooling and climate control
To supplement the four-door sedan introduced at the 2008 Los Angeles Auto Show, a five-door hatchback Mazda 3 will arrive later.
INTERIOR DESIGN
Inside, the new Mazda 3 Sedan offers a sporty yet highly refined cabin - the dash sweeping dramatically from its centre to the sides of the cabin. The large gauge instrument cluster and centre stack are positioned to tightly link the driver's limbs and senses to the car's instruments and controls.
Studies into the range of motion helped position all controls at an ideal reach, while the slant of the instrument panel optimises operating efficiency and provides an attractive focal point. Key knobs and switches are positioned at the same level as the steering wheel and the gear level as part of an interior design which is based on Mazda's Human Machine Interface concept.
All the information a driver needs is readily available in one concentrated area - thereby minimising distractions from the road ahead. A Multi-Information Display is positioned high on the centre portion of the instrument panel to further reduce distraction. Navigation, audio, and trip computer information is provided in this convenient and easy-to-view location.
The front seat cushions have been extended by nearly an inch (compared to the outgoing car), in order to provide improved thigh support. Backrests are 1.4-inches taller and re-contoured for improved driving posture. For the higher grade models, the upper side bolsters have been canted inward for heightened torso support during aggressive cornering. A three-position memory function has been added to cars equipped with power seats - another first for the segment, and not offered at any price on any competitor's compact car. Upon approach to the car, the driver's seat automatically adjusts to the settings chosen by up to three different drivers by recognising the code of the key fob.
To provide a top-quality interior appearance, the number of parting lines is minimized and soft-touch surfaces show an elegant grained texture. An interactive lighting system enhances the cabin's ambience and sense of tranquillity. Upon entry, illumination rises in intensity in a programmed manner. Occupants are welcomed by foot-well and door-handle lamps. Next, instrument cluster, centre stack, audio and climate controls brighten. When a driver or front seat occupant touches an audio or AC switch, a change in illumination acknowledges that the command has been received.
Dual-zone automatic air conditioning is an option. Other special features that distinguish this car include: a BOSE 10-speaker premium surround sound system, connectivity for cell phones and portable media players, a dock for iPods, and Sirius satellite radio. An advanced keyless entry system includes push-button engine starting. Other options include rain-sensing wipers, heated door mirrors, leather upholstery, and heated seats.
Overall, the details included in the new Mazda 3 Sedan all contribute to the sense of quality in the car. This is a vehicle that offers equipment, fit and finish not found in other vehicles in its class, and in the current economic climate helps to position Mazda 3 Sedan perfectly for buyers seeking a way to spend less but get more.
POWER TO GO
The MZR 2.0-litre four-in-line engine delivers 148 horsepower at 6500 rpm (PZEV = 144 @ 6500 rpm) and 135 lb-ft of torque at 4500 rpm (PZEV = 132 @ 4500 rpm). Aluminium block and head construction saves weight while, in the interests of power and efficiency, four valves per cylinder are operated by dual overhead camshafts.
The new MZR 2.5-litre four-cylinder engine is borrowed from the larger all-new 2009 Mazda 6. It shares the same construction features of the 2.0-litre engine while upping output to 167 horsepower at 6000 rpm (PZEV = 165 @ 6000 rpm) and 168 lb-ft of torque at 4000 rpm (PZEV = 167 @ 4000 rpm). Both engines employ advanced electronic throttle actuation. Mazda's exclusive torque base control technology provides a highly linear acceleration response to every change of throttle pedal pressure.
A slick-shifting five-speed or six-speed manual transmission, as well as a five-speed electronically controlled Sport-AT automatic transmission, are available depending on the model. Sport-AT offers enthusiastic drivers the control of manual gear engagement with the convenience and comfort of a conventional automatic.
Fuel economy is exemplary and was a key to the vehicle's development. The Mazda 3 Sedan with 2.0-litre engine achieves 25 mpg in city driving with the manual transmission and 24 mpg with the automatic. The highway mileage with the 2.0-litre engine is 33 mpg with either transmission. The Mazda 3 Sedan with 2.5-litre engine also tops 20 mpg in all conditions. Equipped with the six-speed manual transmission, its city rating is 21 mpg, rising to 22 mpg with the five-speed automatic. The highway rating is 29 mpg with either transmission. Even though the new Mazda 3 Sedan is larger in every dimension - meeting the requests and needs of customers - Mazda engineers achieved fuel economy on a par with the outgoing car.
To refine the acoustic qualities of the Mazda 3 Sedan powertrains, extra attention was paid to tuning each engine's intake and exhaust system. Resonance chambers were implemented to quieten certain sound frequencies while reinforcing others, achieving a well mannered yet sporty sound during acceleration. The Mazda 3 Sedan 2.5-litre engine is equipped with dual tailpipes and specially tuned mufflers to reduce mid-range boom and objectionable high-frequency noise at high rpm.
Mazda 3 models certified to U.S. Federal exhaust emission standards are equipped with catalytic converters employing advanced single nanotechnology. It is used to embed individual particles of precious metals, which are less than five nanometers in diameter, into the catalyst base material. This new development enables Mazda to reduce the amount of expensive precious metals such as platinum and palladium by 70 to 90 per cent without impairing catalyst performance. The catalyst is an important part of Mazda's efforts to reduce reliance on limited resources.
SOUND FOUNDATION
The 2009 Mazda 6 offers one of the stiffest unibody structures on any Mazda vehicle and the lessons learned in developing that larger car provided major strides in structural stiffness in the new Mazda 3 Sedan. A stiff unibody provides a smoother ride, more confident handling, and improved agility with virtually no increase in bodyshell weight.
Re-engineered unibody joints and increased metal gauges in key areas help diminish the transmission of road and powertrain noise into the passenger cabin. Suspension anchor points are more substantial to provide the solid foundation needed to absorb steering and suspension forces. In addition to welded attachments, suspension towers are bonded to the surrounding unibody areas with structural adhesives. A combination of welding and adhesives - also borrowed from the 2009 Mazda 6 - is also used to increase the rigidity and collision deformation resistance at door opening locations. The stiffer door design also improves the effectiveness of weather seals that block moisture and noise from the interior.
A Mazda engineering approach called Aero Flow Management was used to optimize the flow of air around and through Mazda 3 Sedan body openings. Even though the front grille appears larger than before, it is actually 20 per cent smaller to ingest only the amount of air needed for combustion and cooling. An air guide attached to the front bumper directs the flow through the radiator where it is most useful. At high speeds, a bypass flap opens to minimize cooling fan drag.
Air flow along the sides of the body was improved during wind tunnel testing by placing deflectors near the tyres and by carefully tuning the upper-forward corners of the cabin. Subtle refinements in the shape of the A-pillars, door mirrors, windshield wipers, and tail lamps also contributed to the six per cent reduction in wind noise levels. The 0.29 drag coefficient (Cd) achieved by Mazda engineers is one of the lowest available in the compact class and highly beneficial to highway fuel economy.
CLASS-LEADING CHASSIS DESIGN
There was no need to reinvent the Mazda 3's chassis design because the first generation achieved distinction as the best available in the compact class in terms of driving enjoyment, handling, and all-round poise. Subtle tuning changes were all that were required for the new Mazda 3 Sedan.
A rubber-isolated subframe in front supports the entire powertrain, the rack-and-pinion steering system, and the lower attachments of the coil spring MacPherson strut suspension. The independent multi-link rear suspension also uses coil springs with one trailing arm, two lateral links, and one toe-control link per side. Four-wheel power disc brakes with ventilated discs in front and solid discs in back are standard equipment. Dynamic Stability Control and Traction Control are available on all Mazda 3s, as standard on some trim levels.
To improve steering feel, the electro-hydraulic-assist rack-and-pinion steering gear is now secured at three attachment locations instead of two. The additional mounting point allowed a reduction in the stiffness of the bushings that support the steering gear to diminish the vibration transmitted over rough surfaces.
Resistance to body roll has been increased by recalibrating the monotube rear dampers for tighter control and by switching to a new, more substantial mounting arrangement for the front and rear anti-roll bars. At the front of the new Mazda 3, lower control arms, the subframe, and mount bushings are all stiffer to improve both steering response and cornering grip at the adhesion limit. A redesigned rear suspension crossmember is both lighter and significantly stiffer, also delivering improved handling.
The most notable change to the braking system is a new vacuum booster that provides a more reassuring response to light pedal efforts without disturbing the highly direct and linear feel inherited from the first-generation Mazda 3. Adjustments to the electronic brake force distribution programming enhance vehicle stability during mixed braking and cornering manoeuvres. The structural changes to the unibody help improve not only the rigidity of the brakes but also their linearity during high-g stops.
The Mazda 3 Sedan with 2.0-litre engine is equipped with 10.9-inch diameter front discs and 10.4-inch diameter rear discs while the more powerful 2.5-litre Mazda 3 Sedan is fitted with 11.8-inch front and 11.0-inch rear discs.
ACTIVE AND PASSIVE SAFETY SYSTEMS
Providing the Mazda 3 Sedan driver with a better ability to avoid a collision by steering or braking safely out of harm's way is a fundamental aspect of Mazda's product development. Mazda's engineers strongly believe that the best way to help protect occupants in a crash is to engineer control systems in such a way that the crash is avoided in the first place. Carefully tuned electro-hydraulic power steering, a highly agile suspension system, and powerful disc brakes are standard Mazda 3 features. ABS, Dynamic Stability Control, and traction control are offered as standard or optional equipment - depending on grade.
Also, a new Adaptive Front Lighting System with self-levelling bi-xenon headlamps has been added as standard on Grand Touring models. The Mazda 3 Sedan is the first compact offered for sale in the US with such an advanced lighting system.
But in rare instances, a collision cannot be avoided. To cover these circumstances, all Mazda 3 models are constructed with a Triple-H unibody design employing efficient H-shaped steel reinforcements in the floor, side structures, and roof. This approach to energy absorption provides crush zones that better protect occupants from the impact forces sustained during rollover, frontal, side, front-offset, angled, and rear collisions. Six airbags and active head restraints are standard equipment.
ENVIRONMENTAL STEWARDSHIP
Seemingly small changes can often deliver great gains. For example, the four-speed automatic transmission was switched to a five-speed unit in 2.0-litre Mazda 3 models, and subtle aerodynamic improvements were also made. These changes yielded a three-mpg improvement (10 per cent) in highway fuel economy.
To reduce consumption of hazardous materials, the new Mazda 3 Sedan uses no lead in its fuel tank, wiring harness, or undercoating. Hexavalent chromium and cadmium have also been eliminated from the list of materials. The toluene emissions from a new joint sealing compound are 90 per cent lower than before. Mazda's manufacturing plants adhere to the strictest environmental standards and contribute significantly to the many less obvious elements of Mazda's Sustainable Zoom-Zoom initiatives.
Efforts are under way to increase the scope of recyclable materials from 80 to 90per cent when a Mazda 3 Sedan reaches the end of its useful life. Moulded plastic parts are already labelled with ISO identification marks to facilitate sorting and recycling. Fascias, interior trim, and the instrument panel are made of polypropylene for easy reuse in those markets that offer it. Recycled material has been used to manufacture new plastic mouldings for the past four years at Mazda.
Source: Mazda
Gallery:
Mazda 3 Sedan (2010)