With its «number» – the 205 – Peugeot started a movement which in fifteen years became a genuine phenomenon. All over the world, the 205 epitomised the dreams of several generations of motoring enthusiasts.
Then, from 1998, the 206 «left its mark» with its three body styles – three and five door hatchbacks, SW and CC – becoming the car of choice of more than 5,000,000 men and women. For some the main car, for most a second car, the 206 became a «cult» car with a strong image.
With its innovative architecture and user-friendliness, both a result of being designed around its occupants, the stylish 206 is pleasing to the eye with its unique profi le creating a naturally dynamic single-compartment vehicle. Offering a high level of performance, it provides its owner with a safe driving environment and maximum driving pleasure at all times.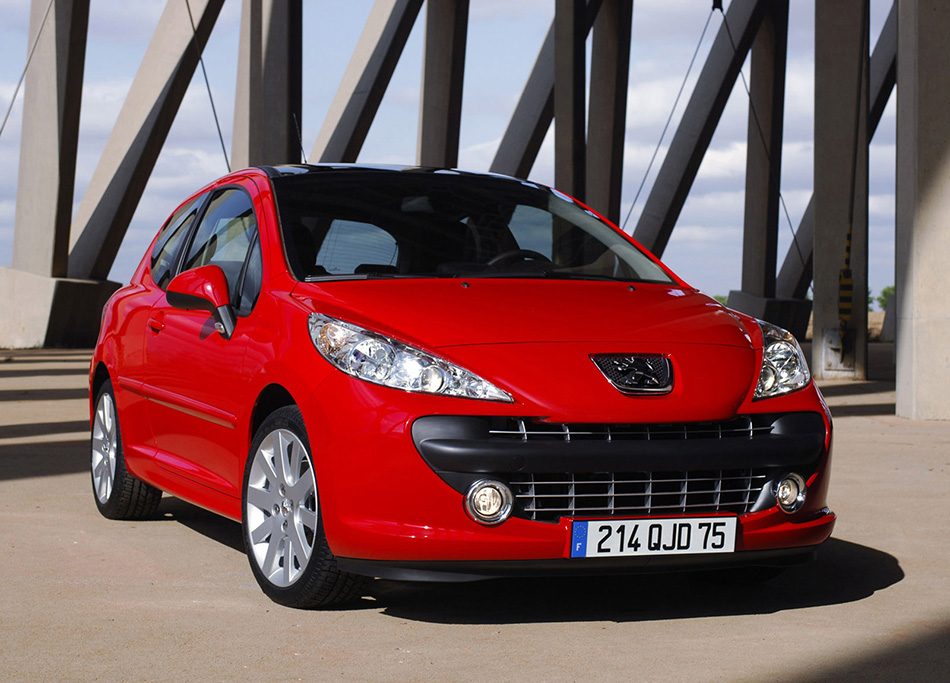 A different car, the 206 paved the way for new, emerging expectations that have come increasingly to the fore among small car owners. The latter demand a strong stylish vehicle that refl ects their personality, a car to support their image, a true focal point of freedom to be shared, a spacious but compact car, a car that likes being of service and that can cleverly transform «time spent» into «time saved».
The 207, ready to turn the need for mobility into real driving pleasure ... Combining the three strong points of visual appeal, personality and technical ability, the 207, which will succeed but not replace the 206, is the genuine forerunner of a new generation. With a power of attraction that will leave no one indifferent, the 207 has been designed to offer clear and appealing advantages that turn the need for mobility into genuine driving pleasure.
The fi rst of a range that stays true to the analogy of the "daisy" and its numerous "petals", both the 3 and 5-door versions embody the new «motoring logic» of the 207 by revealing:
A sporty and strong style

An original design with two different front styling looks, but both with large headlamps, one with a «classic» styling look, the other more «sporty», featuring a distinctive «triangular» profi le that reveals a large glazed surface area, characterised by sculpted wheel arches and a powerfully curved rear design, the 207 naturally continues one of the key values of the Peugeot Marque... Visual appeal ...
Generous proportions

A length of 4.03 m, a wheelbase of 2.54 m, a width of 1.72 m and a height limited to 1.47 m create a balance, a sense of dynamism and security, reinforced by wide tracks and large wheels. The 207 wears its heart on its sleeve...
Dynamic handling

Precise control and durability are the hallmarks of the 207's suspension, which is "assisted" by power steering that feels effi cient and comfortable both in town and on the open road... A must for any driver ...
Modern, high performance engines

Petrol versions come with three engines: 1.4 litre 54 kW (˜ 75 bhp), ˜ 1.4 litre 65 kW (˜ 90 bhp) and 1.6 litre 80 kW (˜ 110 bhp), soon to be supplemented by new high-tech engines, a result of the cooperation between PSA Peugeot Citroën and the BMW Group. The Diesel range features three HDi engines and a diesel particulate fi lter system (DPFS): 1.4 litre 50 kW (˜ 70 bhp), 1.6 litre 66 kW (˜ 90 bhp) and 80 kW (˜ 110 bhp). They share a liking for economy and driving pleasure, as well as respect for the environment, with CO2 emission values ranging from 120 g/km to 126 g/km. Thanks to its power and a torque of 240 Nm (or 260 Nm with overboost activated), the 1.6 litre engine offers a level of performance close to that found in sports cars....
Welcoming interior

Its contemporary and dynamic passenger compartment with an instrument panel design more often seen in the world of motorbikes invites you to get seated behind the steering wheel or simply creates a sense of enjoyment and well being.
In the 207, interior space suggests that normally found in a higher segment car, especially with its length of 1.675 m. Numerous large storage areas (12.2 litre glove box with air conditioning) and a regularly shaped boot with a capacity of 270 dm3 VDA housing the spare wheel under the fl oor, bears witness to a meticulously designed layout. With new accessories that fl atter the senses, such as automatic dual-zone air conditioning, fragrance diffuser, static directional lighting, and not forgetting the JBL hi-fi system and its refi ned acoustic environment, the passenger compartment of the 207 deserves to be sampled and experienced...
Peace of mind

The 207 combines a rigid structure with dual impact absorption structures, 6 air bags and 5 seat belts with force limiters to protect its passengers. Protection for pedestrians is also integral to the design of the front of the vehicle – structure and bodywork –. Choice of colours and trims Fourteen body colours, two interior ambiences in black or light beige, ten main fabrics, two leather trims, four instrument panel designs ... as well as many other features, allow the seven versions that make up the 207 range to express their personality in different ways... a rich and varied range.
Source: Peugeot
Gallery:
Peugeot 207 (2006)