Since more than 10 years the Krumm-Performance company at Bruehl, south of Cologne, Germany, is occupied with the optimization of so called New-MINIs in all directions and established itself thanks to many years of experience in fields of motorsports and car tuning as respected partner in the MINI-scene. Besides the two main competences performance uprating and chassis engineering, the Rhinelanders became famous because of the systematic refitting of several R53 engines by means of tuning packets "Powered-by-Krumm". After intense optimization works and extensive stableness tests on racing courses, the team offers also performance-packets for R56 series.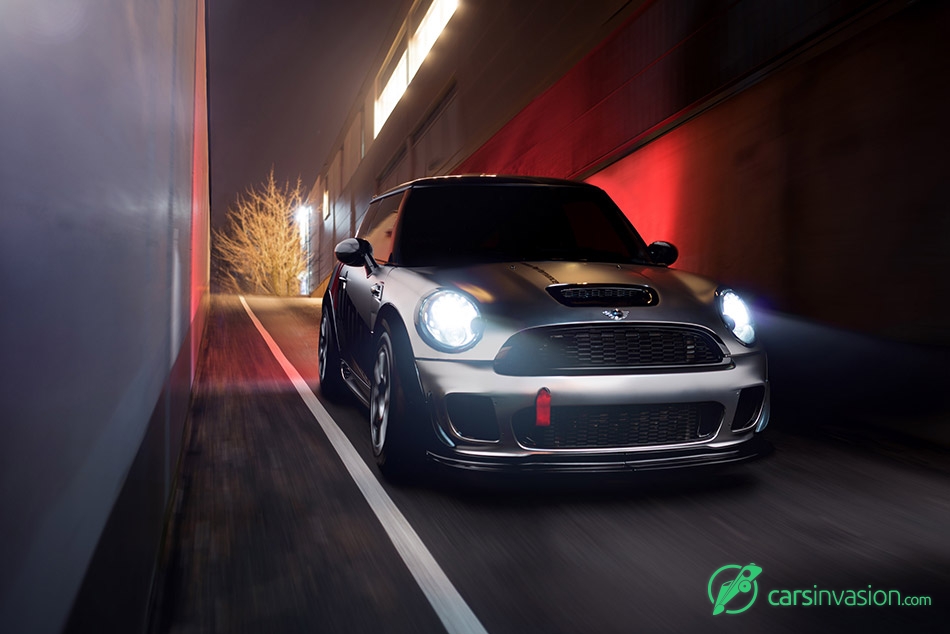 At this point let us speak about a MINI John Cooper Works (JCW), catapulted by Krumm-Performance Stage III kit for 4,999.00 Euro including mounting up to 300 HP (= 213 kW) of performance with 400 Nm of max torque. The mentioned kit contains the following components: - Hybrid Turbo (compressor gap optimized and enlarged, bigger turbine, CNC finished termination assemblies, high-speed precision balanced and reinforced motorsports bearings set), - diverse heat protection shields, - Akrapovic downpipe with 100 cells metal cat incl. clamps and seals (optionally also with HJS 200 cells cat with E-certification mark), - racing intercooler with E-certification mark, - Pipercross air filter element (not oiled!) coming from racing sports, with obviously boosted up air passage, - even the spark plugs have heat value and air gap adapted to the performance uprating, - something very special is the software optimization of the most recent generation (not even a matter of course).
 
Most tuning specialists change only data area for performance optimization. Sometimes, this is even the reason why competing firms have to open the control unit of the N18 engine. That is not so in case of Krumm-Performance. Any software optimization is made by OBD and fine tuning is made "on the road". That makes the fine difference between the possibilities – to change only the data in a table or, as it is possible for the professionals from Bruehl, to change the whole table. Thus, a lot of enhancements can be programmed, like: - Linear gas pedal. (the serial programming gives mostly 60 % of acceleration at 30 % of pedal path, 100 % at 90 % etc. With "sports knob" it looks still more dramatic. In case of a linear gas pedal gas dosing is much more simple at the end of bend, and the wheel spin in 1st and 2nd gear can be much better controlled) – Lowering of coolant temperature. (the serial MINI needs 104°C [219°F] of coolant temperature in partial load to reach the indicated for emission values. Krumm-Performance reduces this value sensibly, which means of course a thermal discharge of the engine. Thanks to these modifications, the oil temperature is likewise being reduced! When programming, this value is spread over the whole rpm range, pointed towards maximal driving capacity, longevity and optimal performance. Only to reach peak values – that is not the top theme for the Bruehl crew.
In addition to Stage III the MINI engine contains: - diverse intercooler air tubes without resonators, - a custom exhaust system and - custom intake.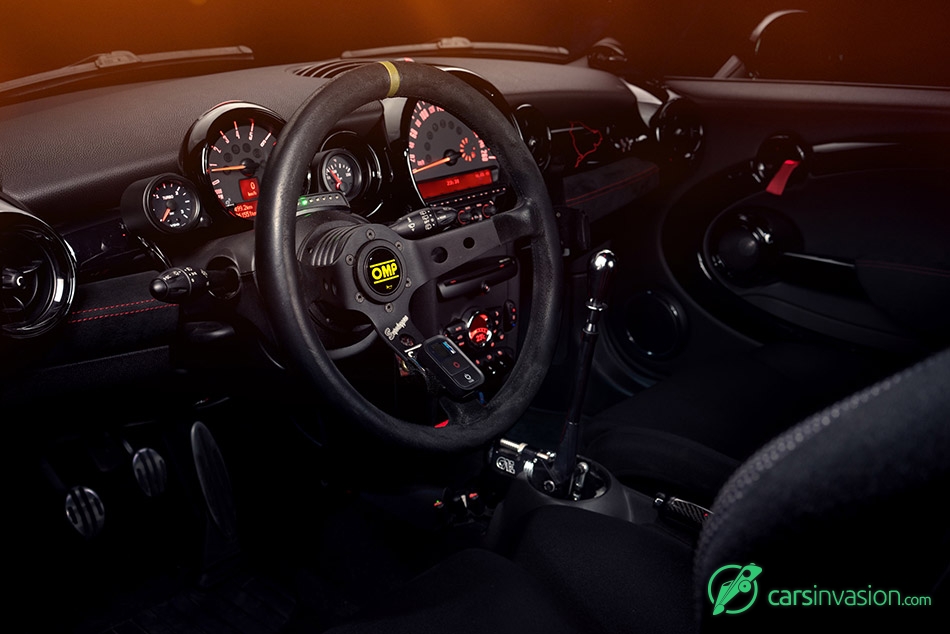 The gear box is equipped by Drexler LSD with Krumm-Performance setup (for 2,150.00 Euro plus mounting). The Sachs racing clutch with sinter pads and single mass flywheel is available for 1.620,00 Euro + mounting.
 
The powered by AP-Racing Krumm-Performance racing brake system demands another 3,300.00 Euro + mounting. It has AP 4-piston calipers (only2.6 kg each!), 330x32 mm floating wave brake discs with optimized sharp airing, PFC 01 brake pads and steel flex tubes. Brackets and pots are custom made. The masterpiece can be MOT-certified.
 
Concerning the driving part, the KW-Clubsport-2-Way has got a Krumm-Performance Northloop setup for 2,550.00 Euro + mounting, setup, measuring, MOT and Powerflex bushings all around. The ATS-GTR rims in 8x17 inches have been equipped by Dunlop Direzza 03G tires in 215/45 R17. Furthermore, there are to be mentioned the Challenge front lip, the rear diffusor (600.00 Euro) and the special wrapping by Camshaft Wrapping. Besides Recaro SPG XL, in the interior are installed a CAE-Ultra shifter, OMP Ultraleggero steering wheel, Schroth Profi 3FE 6-point belts and Wiechers Clubsport rollover bar.
Source: Krumm-Performance
Gallery:
Krumm-Performance MINI John Cooper Works (2015)