It has finally arrived. Mitsubishi Motor Sales of Canada Inc. (MMSCAN) today unveiled the long awaited 2008 Lancer Evolution at the Montreal Auto Show. This introduction was the first public showing in Canada of the all new Lancer Evolution, a high performance, 291 hp, all wheel drive, four door compact sport sedan that is absolutely bristling with cutting edge drivetrain technology and comes with an impressive heritage of World Rally Championship competition.
 
The 2008 Lancer Evolution is the tenth generation – the newest and most sophisticated version – of the legendary Lancer Evolution, a high performance sports sedan that has been available in the USA and many other countries for the last 16 years, but has never before been sold in Canada. Remaining true to the core values that have made the Lancer Evolution brand synonymous with performance, this tenth generation Lancer Evolution showcases several new technologies, including an all new 291 hp, 2.0 litre DOHC, intercooled-turbocharged engine and Super All Wheel Control (S–AWC), a vehicle dynamic control network that provides an extraordinary level of control at individual wheels, going well beyond the capabilities of other all wheel drive systems.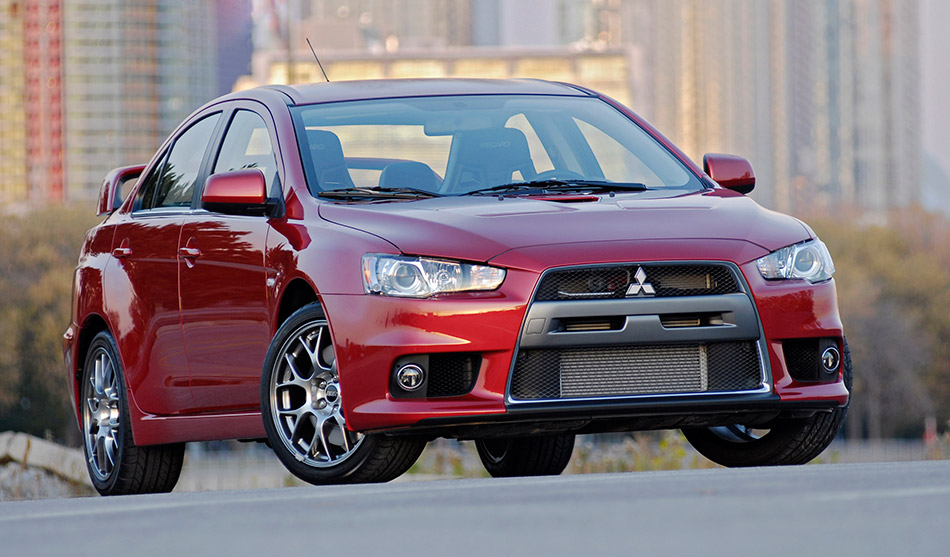 Three Canadian models: Lancer Evolution GSR, MR and MR Premium
Three strikingly styled Lancer Evolution models will be offered in Canada for 2008: The Lancer Evolution GSR features a 5-speed manual transmission. The Lancer Evolution MR and Lancer Evolution MR Premium both feature the 6-speed Twin-Clutch Sportronic® Shift Transmission (TC-SST), a new generation automated manual transmission which allows drivers to rapidly and smoothly shift up and down through the gears. Lancer Evolution MR models are also equipped with Bilstein® shock absorbers and Eibach® springs, two-piece Brembo® brake rotors for better heat dissipation, BBS® forged-alloy wheels, HID headlamps and additional interior features.
 
The Lancer Evolution GSR model will be in Canadian showrooms in February. Lancer Evolution MR and MR Premium models will follow by March or early April.
 
"Today is a special day in the history of Mitsubishi Motor Sales of Canada", said Koji Soga, President and CEO of Mitsubishi Motor Sales of Canada Inc. (MMSCAN), "Canadian car enthusiasts have been waiting many years to experience the Lancer Evolution and we are proud to introduce to them the tenth version, the most sophisticated and technologically advanced Lancer Evolution ever offered to the public."
A bold new look consistent with a World Rally Championship heritage
Specially prepared Mitsubishi Lancer Evolution rally cars have successfully competed in major international rally events and the World Rally Championship for many years, and every street legal Lancer Evolution shares this same competitive spirit and much of the same advanced technology.
 
The 2008 Lancer Evolution makes a strong visual statement, blending concept car designs and sound aerodynamic principles while still conveying its rally heritage. A shark nosed front end inspired by jet fighter air intakes, a distinct wedge like profile and crisp, taut lines highlight the basic new generation Lancer design. Building on those themes, the 2008 Lancer Evolution looks the part of the street wise sports machine with its unique front end, aggressively sloping hood with integral air scoop and engine heat outlets, boxed fenders and 18-inch alloy wheels with Brembo® brakes.
 
Inside, the Lancer Evolution presents a more refined approach and shows a new international flair. Available user technologies, including high end Rockford Fosgate® audio and navigation systems, reflect the taste of a broadening customer base.
291 horsepower: an all new 2.0 litre intercooled-turbocharged engine
The 2008 Lancer Evolution's new 4B11 engine is an intercooled-turbocharged 2.0 litre DOHC, 16 valve, MIVEC, inline 4-cylinder. Beyond that description, it differs greatly from the legendary 4G63 it replaces. The 4B11 is built with a reinforced cast aluminum cylinder block versus the cast iron block used in the 4G63, and aluminum is also used for the cylinder head and cover and the timing chain case. Unlike the 4G63, the new 4B11 does not use a balancer shaft, made possible by its inherently lower noise and vibration and the use of hydraulic engine mounts.
 
This new engine produces more power than its predecessor: 291 hp at 6,500 rpm (vs. 286 hp at 6,500 rpm) and 300 lb-ft of peak torque at 4,400 rpm (vs. 289 lb-ft at 3,500 rpm). The new engine also has a broader torque curve, and the revised turbocharger yields up to 20 percent quicker response at lower engine speeds.
 
A major change from the previous engine is the use of a direct acting valvetrain in place of the roller rocker arm configuration, for reduced weight. A timing chain replaces the belt, and MIVEC variable valve timing is used on both the intake and exhaust camshafts (the most recent 4G63 had MIVEC on the intake only). The rear located stainless steel exhaust manifold helps improve weight distribution, and the freer-breathing exhaust system features a larger volume main muffler with dual tailpipe outlets.
The TC-SST: A brilliant automated manual transmission
Exclusive to the Lancer Evolution MR models for 2008, the 6-speed Twin Clutch Sportronic® Shift Transmission (TC-SST) is an automated manual transmission capable of executing lightning quick upshifts with no drop off in engine power. The TC-SST features both a console-mounted shifter and magnesium steering wheel paddle shifters and offers manual and fully automatic modes.
 
Essentially, the TC-SST is a manual transmission that can select two gears at a time: one gear is engaged by one of the two wet multi-plate clutches, and the other is pre-selected, waiting to be engaged by the second clutch. The gear change is made – either manually or automatically depending on mode selected – when the electro-hydraulically operated clutches are "swapped," which occurs simultaneously, with no perceptible lag time.
 
The TC-SST offers three drive modes – Normal, Sport and S-Sport – and within each, the driver may choose automatic or manual shifting. Sport mode uses higher shift points (in automatic mode) and quicker shifting to deliver instant throttle response for better performance feel. Sport mode is also useful for driving in mountainous areas or when engine braking is required. The S-Sport mode can be selected for performance driving situations, such as track events (S-Sport mode can be engaged only with the vehicle at a complete standstill, with the transmission in "PARK". Pull the mode selector switch back as far as possible for three seconds and S-Sport will engage).
 
Allowing drivers of all abilities to shift rapidly up and down through the gears, the TC-SST delivers satisfying acceleration while also returning superior fuel mileage, thanks to its high efficiency power transmission mechanism.
Super All Wheel Control (S-AWC)
In the 2008 Mitsubishi Lancer Evolution, Super All Wheel Control (S–AWC) is not simply the name of a new all-wheel drive system, but an advanced vehicle dynamics control network that reads and reflects driver intent in real time. This brilliant new system regulates drive torque at each wheel by controlling a network of dynamic handling technologies. These technologies include: Active Center Differential (ACD) 4-wheel drive; Active Yaw Control (AYC) rear differential; Active Stability Control (ASC); and Sports ABS brakes; all of which provide feedback to the SAWC system.
 
S–AWC is the culmination of more than 20 years of Mitsubishi road and rally four-wheel drive innovation and experience. By introducing S–AWC to the 2008 Lancer Evolution, Mitsubishi is continuing to advance four-wheel drive performance technology. As a result, the new Lancer Evolution offers an extraordinary level of dynamic control at each wheel, going well beyond the capabilities of other all-wheel drive systems. The benefit of S–AWC is that it helps the driver maintain control of the vehicle during acceleration, deceleration and cornering, under all driving conditions, at all times.
 
Below is a short description and benefit for each technology. (Note: A separate S–AWC technical release contains more detailed descriptions of each technology)
ACD – Active Centre Differential
The ACD splits torque up to 50:50 between the front and rear wheels using an electronically controlled hydraulic multi-plate clutch. With constant input from the S–AWC computer, ACD regulates the differential limiting action to optimize the front/rear wheel torque split. The S–AWC computer continually takes data input from the steering wheel angle, throttle opening, wheel speeds, and the vehicle's longitudinal and lateral movements to determine the vehicle's path of travel and continually sends instructions to the ACD. The 2008 Lancer Evolution offers three driver selectable traction modes for the ACD, changeable while the car is moving: Tarmac, Gravel and Snow. In each mode, S–AWC adjusts the center differential locking behavior to suit the road conditions. An information monitor, located between the tachometer and speedometer, displays the selected ACD mode and also provides status indicators for ACD and AYC operation. The driver can see at a glance how each differential is acting. The benefit of ACD is improved steering response and better traction.
AYC – Active Yaw Control
The innovative AYC rear differential uses a torque transfer mechanism to control rear wheel torque differential for different driving conditions, which enhances cornering performance by limiting the yaw moment (rotational forces) acting on the vehicle. The AYC differential in the 2008 Lancer Evolution model adds yaw feedback control using a yaw rate sensor and also gains braking force control via ASC. Like ACD, AYC is controlled by the S-AWC computer, using inputs from the steering wheel angle, throttle opening, individual wheel speeds, and longitudinal and lateral movements. By controlling the amount of torque transmitted to the rear wheels when there is less or more traction, or a difference in grip on the road surface, AYC helps to improve acceleration and stability on slippery roads.
ASC – Active Stability Control
Integrated management of the ASC and ABS systems allows S-AWC to effectively and seamlessly control vehicle dynamics when accelerating, decelerating or cornering. The ASC system, which includes stability control and traction control, helps to maintain optimum traction by regulating engine power and the braking force at each wheel. ASC helps the driver follow a chosen line more closely by comparing the car's path (as determined from yaw rate sensor data) to the desired path (as determined from steering inputs) and applies individual wheel braking or throttle control to correct any divergence. ASC also enhances vehicle stability by helping to prevent wheel spin on slippery surfaces, and helping to prevent sliding as the result of sudden steering inputs.
Sport ABS – Sport Anti-lock Braking System
With Sport ABS, the ECU (Electronic Control Unit) uses information from a steering angle sensor that detects steering inputs as well as from lateral g-force and vehicle speed sensors to apportion pressure to each of the four wheels independently. Electronic Brake Distribution (EBD), an integral part of Sport ABS, optimizes allocation of braking force between the front and rear wheels. By increasing the pressure applied to the rear wheels when braking close to the limit, EBD reduces the load on the front wheels, to realize better anti-fade performance. The result is improved steering response under braking. The system also compensates for changes in surface and vehicle load conditions to ensure predictable and consistent stopping performance.
Chassis, Suspension & Brakes
The 2008 Lancer Evolution is built on the latest global performance platform. This is essentially the same platform used for all new Lancers, which is already stiffer than the previous generation Evolution, and which gains further structural enhancements to the front and rear suspension areas to become the Lancer Evolution.
 
The super-stiff structure, optimized chassis systems, wider use of aluminum for the engine, body, and chassis components, as well as greater use of high-tensile steel, all play important roles in the Super All Wheel Control concept. The roof, hood, front fenders and both the front and rear bumper beams are aluminum. And for better weight distribution, the vehicle battery and the windshield washer fluid tank have been moved to the trunk area. (Note: the roof of the MR Premium is made of steel, due to the inclusion of the power sunroof)
 
The 2008 Lancer Evolution features its own unique suspension system, including inverted struts in front and a rear multi-link configuration. Race-proven forged aluminum components help reduce unsprung weight. Both MR models substitute Eibach® springs and Bilstein® shock absorbers for even better handling. And due to the high rigidity of the new global C-platform, the Lancer Evolution suspension can be tuned to provide a more compliant and stable ride than before without compromising handling performance.
 
The standard 18 x 8.5-inch wheels (Enkei® cast-alloy on GSR and BBS® forged-alloy on MR and MR Premium) carry 245/40R18 Yokohama® ADVAN® asymmetrical performance tires. All models employ the same size Brembo® rotors, 351 mm (13.8 in.) diameter in front and 330 mm (13.0 in.) diameter in the rear, and the MR models use a new two-piece rotor construction to reduce weight. The 2-piece disc is 1.3 kg. (2.9 lbs.) lighter per wheel. All models use 4-piston calipers in front and 2-piston calipers in the rear.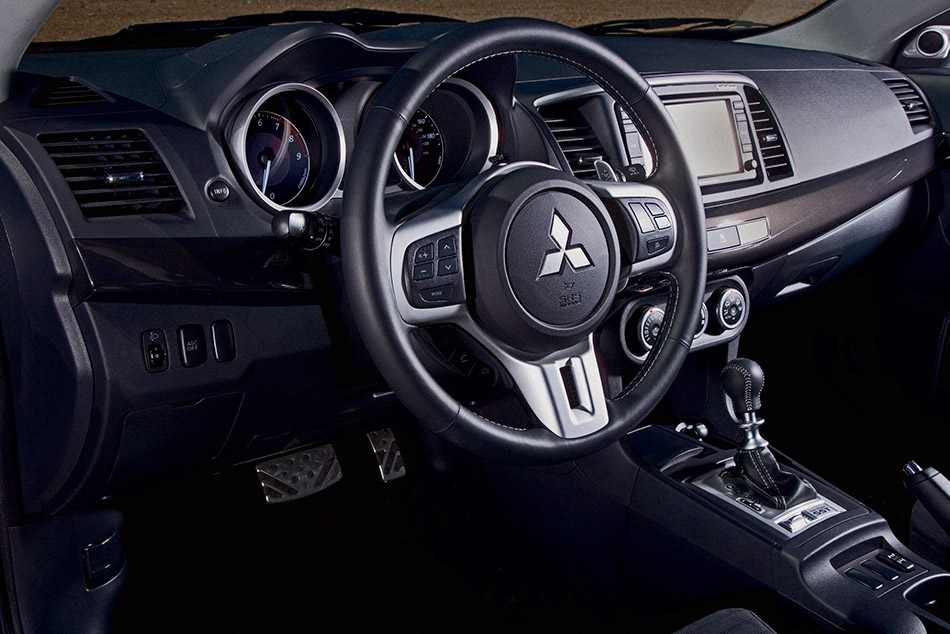 A lot more convenient, a lot more comfortable
With brilliant performance assured, Mitsubishi has equipped the 2008 Lancer Evolution with a host of standard comfort and convenience features including: Recaro® front seats • colour keyed door handles & mirrors • fog lamps • rear spoiler • sport leather wrapped steering wheel • leather wrapped gear knob • aluminum pedals • tilt steering • power windows • central locking • variable intermittent wipers • remote trunk release • cruise control • automatic climate control • keyless entry • steering wheel mounted ACD controls • AM/FM/CD stereo with 6 speakers • and more.
 
MR and MR Premium models also feature or substitute: HID headlamps • large rear spoiler • body colour hood and fender vents • leather/cloth upholstery • FAST-key entry system • extra sound insulation • and more.
 
MR Premium models feature or substitute: Steering wheel mounted radio controls • 650 watt (max) Rockford Fosgate® AM/FM/6-disc CD changer stereo with 9 speakers including a subwoofer • Sirius® Satellite Radio with 6 months complimentary service • HDD Navigation system with music server function • Bluetooth® Hands-Free system • power sunroof with sunshade • and more.
Safety
The 2008 Lancer Evolution is built around Mitsubishi's next generation Reinforced Impact Safety Evolution (RISE) unibody design. The RISE body structure disperses energy loads during side and rear crashes and controls distortion, enhancing occupant protection and also helping to protect the fuel system during a rear impact.
 
The 2008 Lancer Evolution's safety package is one of the most comprehensive in the segment and includes an advanced dual front air bag supplemental restraint system (SRS) with occupant sensors; standard front seat-mounted side-impact air bags and side curtain air bags; a driver's knee air bag; height adjustable front seatbelts with pretensioners and force limiters; LATCH system for CRS; Sport ABS with electronic brake-force distribution (EBD); plus all Lancer Evolution models feature a tire pressure monitoring system.
Source: Mitsubishi
Gallery:
Mitsubishi Lancer Evolution (2008)