The Mitsubishi Concept GC-PHEV ("Grand Cruiser") is a futuristic next-generation full-size crossover that combines the capability and energy efficiency of a dynamic plug-in hybrid electric vehicle (PHEV) powertrain in a muscular-looking yet highly refined vehicle.
Every bit as capable off-road as its brawny sheetmetal suggests, it features a supercharged V-6 engine paired with a high-output electric motor/high-capacity lithium-ion battery, a sophisticated 8-speed automatic transmission and Mitsubishi Motors' advanced full-time Super All-Wheel Control (S-AWC) all-wheel drive for outstanding performance and tractability in even the most daunting terrain and road conditions. This eco-friendly PHEV drivetrain offers high performance (335 bhp/250 kW) with exceptional fuel economy because of its Mitsubishi innovative Electric Vehicle (MiEV) technology.
Inside you'll find a sophisticated and modern cabin that has been designed to offer an exceptional degree of comfort for all its occupants. It also has an array of innovative next-generation safety and convenience technologies including Mitsubishi's signature augmented reality technology AR Windshield and touchscreen-based Tactical Table connected car information system.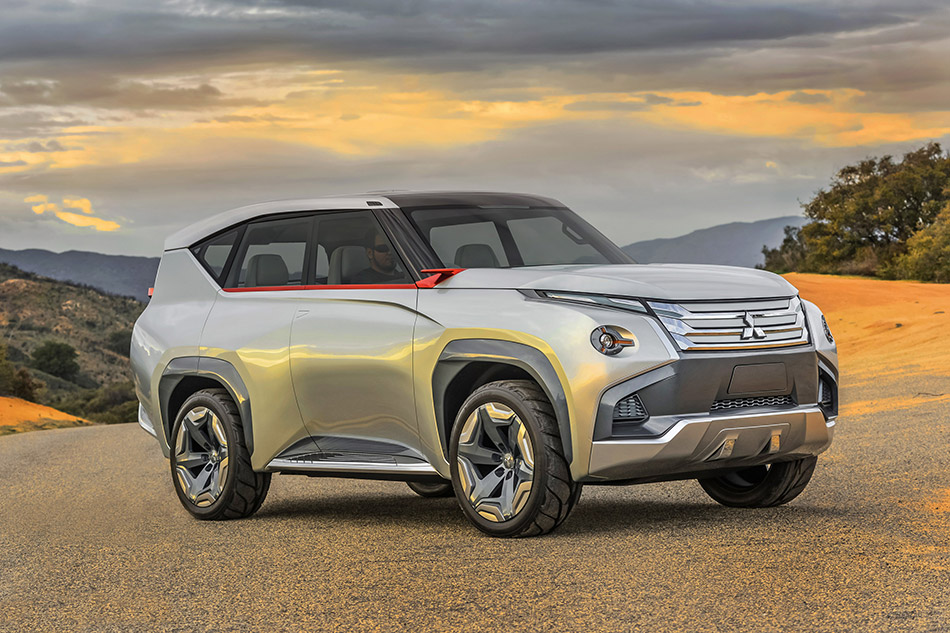 Exterior Design
The exterior design of the Concept GC-PHEV is marked by the carefully placed angular creases in the sheetmetal that when combined with the overall imposing dimensions and muscular silhouette of this vehicle, express a sense of performance, capability and safety.
The powerful exterior composition makes it look as though a master craftsman chiseled it by hand out of a single block of granite. Paradoxically, the Concept GC-PHEV's form was carefully designed to include aerodynamic enhancing features throughout its exterior to minimize energy wasting parasitic drag.
Up front, the sleek, narrow headlights perched atop the daytime running lamps have been positioned as high as possible for maximum effectiveness and visibility. The front grille cascades from the hood down to the lower section of the front fascia. Active variable louvers have been placed within the grill to enhance engine cooling when the engine management system deems it necessary.
At the rear of the vehicle, the large tailgate marries aesthetically appealing crisp and contemporary lines with outstanding functionality, providing exceptional rearward visibility to the driver. The exterior aesthetic of the Concept GC-PHEV embodies a spirit of adventure and rugged capability and hints at the exciting design language for future Mitsubishi production vehicles.
Interior Design
Mitsubishi Motors focused on a new direction for the interior of the Concept GC-PHEV that places equal importance on comfort, functionality and technology for all of the vehicle's occupants.
All four of the Concept GC-PHEV's occupants get their own ergonomically-designed bucket seat and everyone in the vehicle has access to an exciting new Mitsubishi technology - the Tactical Table.
A technologically advanced new feature for the driver is Mitsubishi's new AR Windshield (see "Safety" on page 12 for more info) that utilizes augmented reality to relay critical information in the driver's line of sight across the windshield.
Access to the spacious interior is made even easier for all four occupants thanks to the Concept GC-PHEV's reinforced body construction that allows for the traditional B-pillar to be removed altogether.
Tactical Table
A new vehicle technology incorporated in the Concept GC-PHEV is the Tactical Table. Located in the center of the cabin between the four seating positions, the touch-screen Tactical Table is an innovative new information system that makes connected car technology an interactive experience available to everyone inside the vehicle.
The Tactical Table provides an advanced means of two-way communication between the vehicle's occupants, whether assimilating information for a road trip or having fun through its advanced infotainment features.
When the driver or one of the passengers places their smartphone atop the Tactical Table they can create, collect, exchange and/or share information with others using the Concept GC-PHEV's onboard communication system.
Next-Generation PHEV with MiEV Technology
The highly advanced and powerful plug-in hybrid electric vehicle (PHEV) drivetrain featuring Mitsubishi innovative Electric Vehicle (MiEV) technology is a perfect complement to the "go anywhere, do anything" attitude of a rugged yet refined vehicle like the Concept GC-PHEV.
MiEV technology is the name given to Mitsubishi Motors' proprietary EV- and PHEV-based drivetrain systems and features components and software that have been engineered to deliver outstanding capability, safety and reliability. MiEV technology powers production vehicles including the 100-percent electric-powered Mitsubishi i-MiEV and the plug-in hybrid Mitsubishi Outlander PHEV.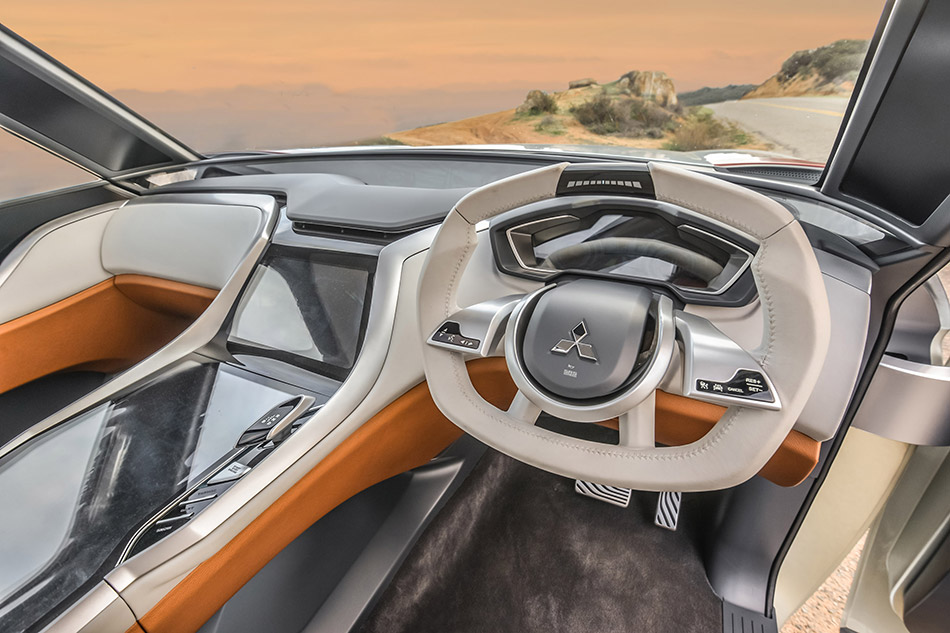 Mitsubishi Motors' very successful EV- and PHEV-focused motorsports endeavors - including multiple electric vehicle class wins at the famous Pikes Peak International Hill Climb and the grueling FIA-sanctioned Asia Cross Country Rally continue to advance Mitsubishi Motors' plug-in electric vehicle development.
The MiEV PHEV drivetrain powering the Concept GC-PHEV consists of a gasoline-powered supercharged 3.0-liter V-6 engine paired with a lightweight, compact and high-output electric motor that together produce a maximum of 335 horsepower/250 kW and a main drive lithium-ion battery pack with storage capacity of 12 kWh (which is located behind the rear axle and beneath the rear cargo area floor). This energetic yet extremely efficient powertrain combination makes for exciting acceleration with plenty of torque while offering excellent fuel and energy efficiency - the best of both worlds.
For additional power optimization with reduced exhaust emissions, the 3.0-liter supercharged V-6 engine benefits from the latest iteration of Mitsubishi Innovative Valve timing Electronic Control (MIVEC) variable valve timing.
Another welcome feature of the Concept GC-PHEV's advanced plug-in electric vehicle drivetrain is that the system's high-capacity main drive lithium-ion battery pack can act as a mobile power source. The 100 volt AC onboard electrical outlet is capable of delivering an external power supply of up to 1500 watts of electrical energy, ideal for acting as an emergency power source for home appliances in the event of a power outage. Using the energy stored within a fully charged lithium-ion battery pack alone, the Concept GC-PHEV can supply the equivalent of a day's worth of electrical power consumption to the average household. With a fully charged battery pack and a full tank of gas to recharge the battery when necessary, this advanced PHEV drivetrain can provide nearly two weeks (13 days) of emergency power to the average household.
When driving, the PHEV system automatically switches operation between pure EV mode (all-electric) and hybrid mode (engine and electric motor) depending upon driving conditions, remaining energy within the lithium-ion main drive battery pack, and other factors. In EV mode, the transmission allows the engine's output efficiency to be maximized at all vehicle speeds. When driving in hybrid mode, the 8-speed automatic transmission extracts power from the engine while the high-output electric motor kicks in to provide additional power, if required.
Whether driving in EV or hybrid mode, the Concept GC-PHEV's drivetrain always delivers outstanding performance, excellent response and smooth acceleration with quietness and sophistication comparable to that of a high-end luxury vehicle - even when pulling a trailer or driving off-road.
Connected Car Technology
The Concept GC-PHEV has been equipped with Mitsubishi Motors' advanced "connected car" technology that makes use of next-generation information systems. The connected car systems not only provide an additional level of information and driving-related logistics in a convenient and easy-to-use system, but they can potentially reduce the risk of accidents involving other drivers as well as pedestrians/cyclists by keeping the driver better informed about traffic signal status as well as other vehicles and objects within the vicinity of their vehicle.
While still in the early stages of research and development, connected car technology as developed by Mitsubishi Motors will have a significant impact on the way we utilize our vehicles, as well as how we interact with our cars through the "Internet of Things."
By linking to a vehicle information network, the Concept GC-PHEV's connected car system uploads real-time vehicle status information to the network while simultaneously downloading external data. Information received includes traffic within the area, the status of the traffic signal ahead (currently red, yellow or green), and other information to help the driver operate their car more economically and efficiently than ever before.
Another important role for connected car technology is in the area of vehicle diagnostics. For example, the system can detect if there is a mechanical issue with the car, alert the driver to the severity of the problem, then provide information so that the driver can drive to the closest Mitsubishi Motors service center in the area (if deemed necessary). Furthermore, should the vehicle be involved in an accident, the connected car system can immediately contact emergency responders as well as provide them with important information (severity of the crash, alert first responders that the vehicle has a high-voltage system if the vehicle is an EV/PHEV, etc.).
Looking further down the road, future technologies to be incorporated into the connected car system could be novel interfaces such as the AR Windshield, which makes use of augmented reality technology that would allow the driver to collect and process data more safely and efficiently without having to take their eyes off of the road ahead (see "Safety" on page 12 for more information).
Connected car technology has the potential to greatly improve driving convenience, efficiency, comfort and safety. Safety is of immense importance to Mitsubishi Motors as the company continues in its never-ending endeavor to earn the highest safety scores for its production vehicles, like the Insurance Institute for Highway Safety (IIHS) "Top Safety Pick+" for the 7-passenger Outlander and "Top Safety Pick" for the 5-passenger Outlander Sport.
Source: Mitsubishi
Gallery:
Mitsubishi GC-PHEV Concept (2015)