Nearly 18 years ago, Jeep invented the premium SUV segment with the introduction of the Jeep Grand Cherokee. More than 4 million sales later, Jeep improves the formula and hits the sweet spot of real-world capability and on-road refinement with the all-new 2011 Jeep Grand Cherokee.
The all-new Jeep Grand Cherokee delivers premium on-road performance while maintaining the Jeep brand's legendary four-wheel-drive, torque-on-demand two-speed transfer case and towing capability. It also offers improved fuel economy (up to 11 percent) and a world-class interior cabin.
"We listened carefully to our customers and the market," said Scott Kunselman, Vice President - Jeep/Truck Product Team, Chrysler LLC. "Our all-new Jeep Grand Cherokee hits the sweet spot of premium on-road performance and legendary class-leading Jeep capability."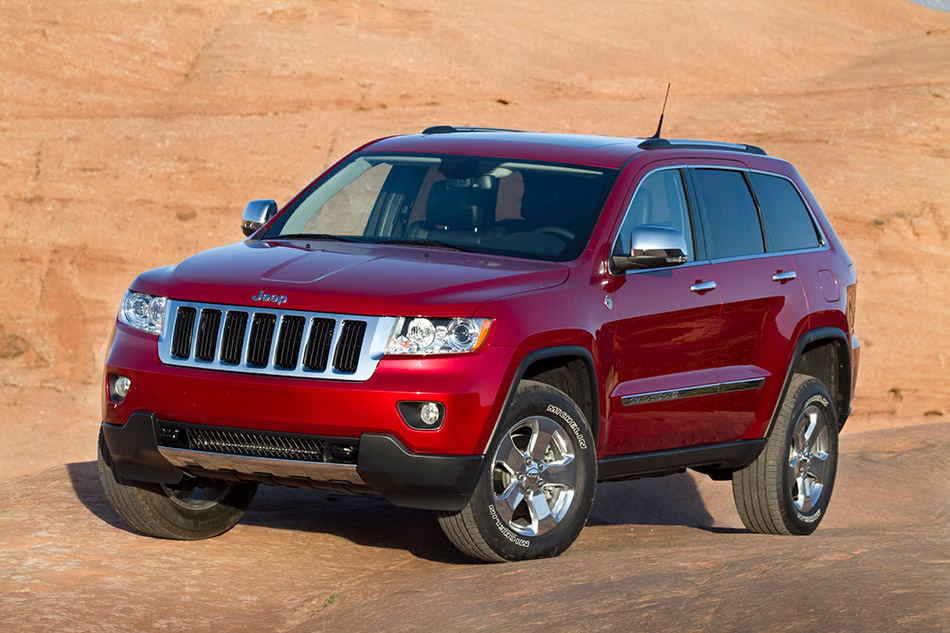 The all-new Quadra-Lift air suspension system delivers legendary Jeep off-road capability along with the new Selec-Terrain system that allows the driver to choose the drive system that best matches on- or off-road driving conditions. New front and rear independent suspension systems deliver premium on-road handling and comfort.
The all-new 2011 Jeep Grand Cherokee is built on a proven rear-wheel-drive unibody platform sharing the same underpinnings as the Mercedes-Benz ML.
"Jeep invented the SUV segment and our all-new Jeep Grand Cherokee is the next step in the evolution of the SUV," said Mike Accavitti, Director - Jeep, Chrysler and Dodge Brands. "Jeep innovations including Quadra-Lift air suspension and Selec-Terrain traction control separate us from the crowd."
Legendary Capability
The all-new Jeep Grand Cherokee offers the new Quadra-Lift air suspension system. The Quadra-Lift system features five height settings for optimum ride performance:
Normal Ride Height (NRH): 8.1 inches of clearance offers improved fuel economy and improved aerodynamics during on-road driving
Off-road 1: Lifts the vehicle an additional 1.5 inches for added height in clearing obstacles (9.6 inches)
Off-road 2: Delivers legendary Jeep off-road capability and provides an additional 3 inches of height for 11.1 inches of ground clearance
Park Mode: Lowers the vehicle 1.5 inches from NRH for easy ingress/egress. NRH and Park mode are driver-selectable giving the driver control over vehicle ride height
Aero Mode: Lowers the vehicle .6 inches from NRH. Aero Mode is controlled by vehicle speed and adjusts for optimal performance and fuel economy
Quadra-Lift adds up to 4.5 inches of lift span that is supported by four-corner air springs that provide a cushioned, premium ride. Quadra-Lift operates automatically, or may be controlled manually via console controls.
In addition to the Quadra-Lift air suspension, the all-new Selec-Terrain™ traction control system lets customers choose the off-road setting for the optimum experience on all terrains. This feature electronically coordinates up to 12 different powertrain, braking and suspension systems, including throttle control, transmission shift, transfer case, Traction Control and Electronic Stability Control (ESC).
The Selec-Terrain's control dial allows the driver to choose from five driving conditions in order to achieve the best driving experience on all terrains:
Sand/Mud: Traction control and Quadra-Lift operate with sensitive response to wheel spin, and torque is tuned for optimal performance
Sport: Provides enhanced on-road "fun-to-drive" capability
Auto: Automatically adapts to any on- or off-road situation
Snow: Vehicle traction and Quadra-Lift adjust for ultimate performance over snow-covered roads
Rock: Quadra-Lift suspension raises to maximum height (11.1 inches) and the transfer case, differentials, and throttle coordinate to provide low-speed control
Selec-Terrain, coupled with the all-new Quadra-Lift air suspension, offers drivers an adjustable suspension span that delivers legendary Trail Rated® performance.
With the front air dam removed, and the available Quadra-Lift air suspension, the all-new Jeep Grand Cherokee features a 35.9-degree approach angle, (compared to 32.3 on current model), a 29.2-degree departure angle (compared to 27.5 on current model) and 25.1-degree breakover angle (compared to 20.4 on current model).
The all-new independent front and rear suspension features isolated front and rear suspension cradles. Variable-rate rear springs deliver improved on-road handling and comfort that complements the vehicle's off-road capability. The new rear suspension allows the spare tire to be stored inside the vehicle as opposed to underneath.
Go-Anywhere 4x4 Systems
The 2011 Jeep Grand Cherokee offers three 4x4 systems (Quadra-Trac I®, Quadra-Trac II® and Quadra-Drive® II).
Quadra Trac I delivers full-time four-wheel drive without any switches or levers to pull. The system provides smooth operation over a variety of road conditions. This light-weight single-speed case is both proven and highly efficient for enhanced fuel economy.
Quadra Trac II's two-speed transfer case uses input from a variety of sensors in order to determine tire slip at the earliest possible moment and take corrective action. The system uses Throttle Anticipate to sense quick movement in the throttle from a stop and maximizes traction before slippage occurs. When tire slippage is detected, as much as 100 percent of available torque is instantly routed to the axle with the most traction.
Quadra Drive II, with a rear Electronic Limited-Slip Differential (ELSD), delivers industry-leading tractive capability. The system instantly detects tire slip and smoothly distributes engine torque to tires with traction. In some cases, the vehicle will anticipate low traction and adjust in order to proactively limit or eliminate slip.
Selec-Terrain is standard with Quadra Trac II and Quadra Drive II.
Jeep Trail Rated®
All 2011 Jeep Grand Cherokees equipped with either the off-road or the Quadra-Lift group are Trail Rated®. The Jeep Trail Rated badge on the 2011 Jeep Grand Cherokee indicates that the vehicle has been designed to perform in a variety of challenging off-road conditions identified by five key consumer-oriented performance categories: traction, ground clearance, maneuverability, articulation and water fording.
Jeep Trail Rated is a unique methodology used by Jeep Engineering to measure and predict off-road performance for all Jeep vehicles. Through a combination of natural and controlled field tests, Jeep Trail Rated provides a consistent measurement of off-road performance for all Jeep vehicles. Only Jeep vehicles are Trail Rated.
Powertrains
The all-new 2011 Jeep Grand Cherokee is available with two leading engine options for North American markets.
The 2011 Jeep Grand Cherokee's standard engine is an all-new flexible fuel 3.6-liter Pentastar V-6 engine. The 3.6-liter V-6 engine is an all-new design featuring double overhead camshafts (DOHC) and a high-pressure die-cast aluminum cylinder block in a 60-degree configuration. It features Variable-Valve Timing (VVT) and delivers 280 horsepower (209 kW) and 260 lb.-ft. of torque (353 N•m) @ 4,800 rpm. This all-new Pentastar V-6 engine improves fuel economy up to 11 percent compared to the previous Jeep Grand Cherokee equipped with a V-6. It is coupled with the proven W5A580, a five-speed automatic transmission that delivers smooth shifts and optimum fuel economy. The five-speed W5A580 transmission includes adaptive electronic control or Electronic Range Select (ERS) driver-interactive manual control and an electronically modulated torque converter clutch.
The all-new 2011 Jeep Grand Cherokee's larger fuel tank, with a 24.6 gallon capacity, combined with the Pentastar V-6 engine's improved fuel economy, delivers a range of approximately 500 miles on one tank of gas.
The available legendary 5.7-liter HEMI® V-8 engine delivers 360 horsepower (268 kW) and 390 lb.-ft. of torque (520 N•m) @ 4,250 rpm. The HEMI also features VVT, which delivers performance and towing capability, as well as fuel efficiency with the fuel-saving Multi-displacement System (MDS). The 5.7-liter HEMI V-8 engine is mated to the 545RFE multi-speed automatic transmission.
The all-new Jeep Grand Cherokee offers unsurpassed trailer tow capability of up to 7,400 lbs. on 4x2 models when equipped with the HEMI V-8 engine.
For international markets, the all-new 2011 Jeep Grand Cherokee will be available in left- and right-hand drive with either diesel or petrol powertrains.
World-class Interior Refinement
The all-new interior is elevated to that of its European competition and features rich materials and elegant appointments, as well as more room for both passengers and cargo.
"Following in the footsteps of our all-new 2009 Dodge Ram, our all-new Jeep Grand Cherokee is another proud graduate of our Advanced Interior Design Studio," said Ralph Gilles, Vice President - Design. "We achieved a world-class interior by using fine materials and maintaining a laser-attention to details."
An available all-new CommandView® dual-pane sun roof provides twice as much glass surface than a standard sun roof and extends from the windshield to the rear of the vehicle. The front panel can be opened rearward, providing additional light and fresh air to first-row passengers. The rear panel, which is fixed, allows light and open viewing for second-row passengers and comes standard with a power sun shade.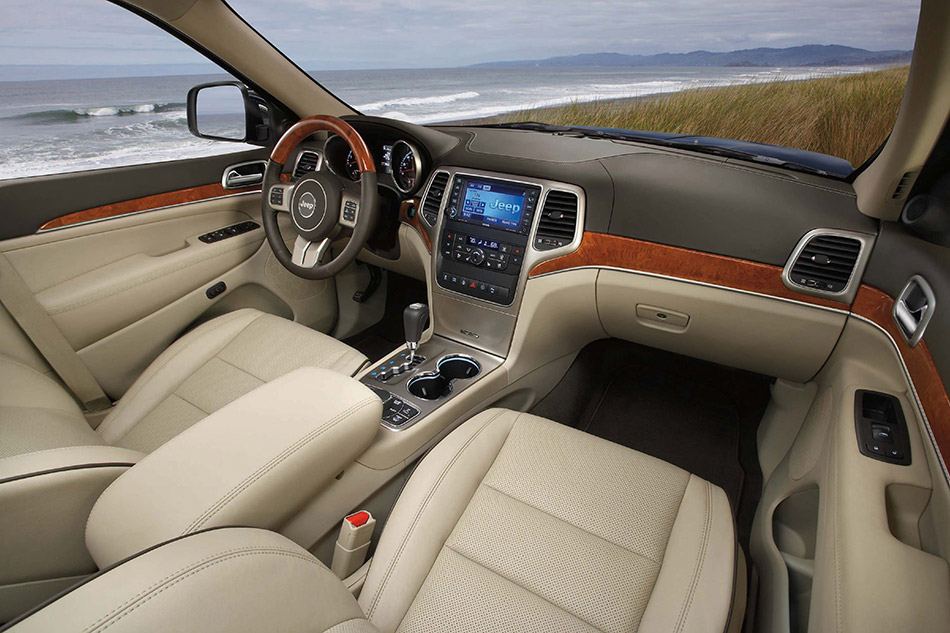 Right-sized Packaging
The vehicle's 114.8-inch wheelbase is 5.3 inches longer than the model it replaces and contributes to an overall vehicle length that is 1.8 inches longer than the prior model. The longer wheelbase creates more interior room and gives passengers an additional 4 inches of rear-seat knee and leg room. The vehicle also is 3 inches wider for improved handling and packaging.
Larger front door openings (1.9 inches wider; 2 inches higher) and rear doors open 78 degrees compared to current models (67 degrees) for better access to the interior.
Inside, premium seating includes room for five passengers. An available fold-flat front-passenger seat provides improved cargo storage room (Laredo models).
For added passenger comfort, rear seats recline 12 degrees. There also is a 12-degree forward angle to allow 24 degrees of variation.
Cargo volume behind the second-row provides an additional 6.8 cubic feet of room (36.3 cubic feet total) compared to the previous model. The well-appointed rear cargo area includes a storage unit with a rechargeable flashlight and new and improved grocery hooks on both sides. The spare tire compartment includes removable dual storage bins for secure storage of muddy gear or other items.
An all-new power rear liftgate is available for effortless remote up/down convenience.
Classic Exterior Design
Every surface of the all-new Jeep Grand Cherokee is new and treated for aerodynamics. This improves fuel efficiency and puts more fluidity into the design while delivering a 7- percent improvement in drag compared with the current model. The all-new 2011 Grand Cherokee Cd is approximately 0.37 compared with the 2009 Cd of 0.404.
"Our all-new 2011 Jeep Grand Cherokee is much more refined, focused and sportier than the model it replaces," said Gilles. "It has classic Jeep Grand Cherokee styling with sculpted athletic exterior refinements for 2011."
The front includes Jeep's classic seven-slot grille, round headlamps and trapezoidal wheel arches. The removable lower front fascia delivers improved fuel economy, on-road performance and off-road capability. The lower front fascia features a large chromed appliqué (Limited and Overland models) that showcases available tow hooks.
From the side, Jeep Grand Cherokee features an athletic, muscular profile. Black appliqués on B-pillars give the day-light opening (DLO) an aerodynamic, modern appearance and a sleek profile. Available chromed mirrors and door handles add to the profile and complement the full-chromed DLO surround on all models.
Seventeen-inch wheels are standard and deliver off-road capability, with optional 18-inch and all-new to Jeep, 20-inch wheels for 2011.
Taillamps wrap from the rear quarter panel to the back of the vehicle and create a solid form which achieves more of an upscale appearance. The treatment complements the front-end design and resonates with the rest of the exterior.
Jeep Grand Cherokee models equipped with a HEMI V-8 engine have 3.5-inch dual chromed exhaust tips, and those with the Pentastar V-6 engine have a 3-inch single exhaust.
Premium Performance
Continuing to build on the Jeep brand's legendary off-road capability, the all-new 2011 Grand Cherokee adds premium on-road performance to complete the package.
The all-new 2011 Jeep Grand Cherokee's premium SUV on-road manners and legendary Jeep ruggedness is achieved with more than 5,400 welds in the body alone. Torsional stiffness is 146 percent more than the current Grand Cherokee and stiffer than the BMW X5 and Toyota Highlander for improved durability and reduced noise, vibration and harshness (NVH).
With more than 3,700 mm of arc welding and 100 m of structural adhesive to augment welding, this marks a 53-percent increase in spot welds, a 42-percent increase in arc welds and a 38-percent increase in structural adhesive.
More than 45 Safety and Security Features
The all-new 2011 Jeep Grand Cherokee includes more than 45 safety and security features.
Standard safety features include Electronic Stability Control (ESC), Electronic Roll Mitigation (ERM), four-wheel Anti-lock Brake System (ABS) with rough-road detection, four-wheel Brake Traction Control System (BTCS), Passive Entry/Keyless Go, Remote keyless entry, express up/down windows for driver and front-seat passenger, seat-belt pretensioners, Trailer-Sway Control and Remote-Start which is standard on Overland and available on Limited.
Other standard safety features include full-length side-curtain air bags which extend protection to front and rear outboard passengers, seat-mounted side thorax air bags that enhance protection for the driver and front passenger and active head restraints which deploy in the event of a rear collision.
The body structure is all new and designed to achieve expected safety performance in global markets (new roof-crush standards, side-impact standards and Euro pedestrian impact).
Connectivity and Infotainment Features
The all-new 2011 Jeep Grand Cherokee will feature uconnect guardian as a standard feature on all models (services provided by Hughes Telematics).
uconnect guardian provides customers with the top five requested security features. uconnect guardian customers can access the following:
Automatic Crash Notification - In the event of an accident, a call is placed and a request for assistance is dispatched to the vehicle's location
Emergency Call - With a push of the emergency button, customers are placed in contact with a trained emergency response specialist during an emergency situation
Roadside Assistance Call - Connects customers to a uconnect customer care specialist who can connect them to Chrysler's road-side assistance for towing or jump starts
Remote Door Unlock - Remotely unlocks doors with a simple phone call
Stolen Vehicle Location Assistance - Works with local authorities via on-demand tracking to provide the current location of the vehicle if it is stolen
The 2011 Jeep Grand Cherokee also features SIRIUS Travel Link. Giving drivers up-to-the minute information about, gas prices, weather conditions, sports scores and movie listings. In addition, the all-new 2011 Grand Cherokee features SIRIUS Traffic, which monitors traffic in 78 markets across the U.S. and continuously displays those conditions through the vehicle's nav system. Together SIRIUS Traffic and Travel Link connect Jeep Grand Cherokee drivers and passengers to the information they need while on- or off-road.
Manufacturing
The all-new 2011 Jeep Grand Cherokee will be built at the 2.7-million-square-foot Jefferson North Assembly Plant (JNAP) in Detroit, which has been the site of Jeep Grand Cherokee production since its introduction in 1992.
In preparation for production of the all-new Jeep Grand Cherokee, Jefferson North Assembly is undergoing a 285,000-square-foot expansion to replace the existing body shop, which is part of Chrysler's investment of approximately $1.8 billion in new vehicle programs.
In addition, changes throughout paint and assembly operations will give the facility an all-new level of manufacturing flexibility for multiple product capability.
Source: Jeep
Gallery:
Jeep Grand Cherokee (2011)