Even in its standard version, the 300 hp Golf 7 R 4Motion is cut from a different cloth than the stable of Golf variants conceived and confected for the mainstream German car buyer. But be careful: once MTM has worked its magic, Germany's most popular car effortlessly operates on a different plane otherwise dominated by very much more illustrious marques. Namely those which, like this, are capable of sprinting from nought to 100 km/h in 4.2 seconds, and which reach their top speed of 250 km/h – in the seventh gear of the standard DSG gearbox.
The MTM-modified Golf 7 R 4Motion's engine pushes it to 250 km/h. The two litre engine owes this power, generated by 360 hp and 450 Nm of torque, to MTM's M-Cantronic module, fitted in 90 minutes and which comes with an all-up price tag of around 2,055 euros.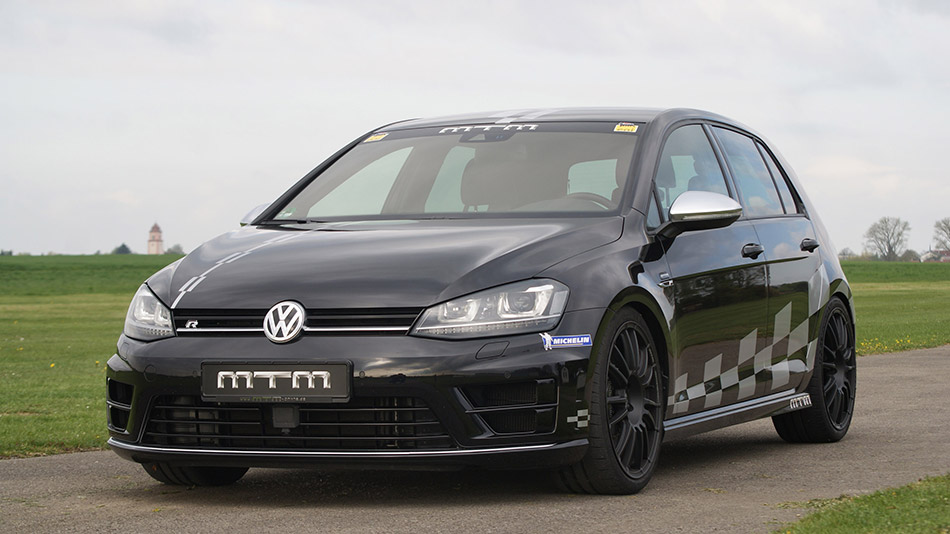 The front wheels are held in check by MTM's 380x34 mm eight-piston brakes to ensure continuing unmarred pleasure in this feisty forward momentum. The rear axle is served by the ideally sized standard brake system. The motor sport-proven brake system is your's for 5,115 euros, with fitting costing another 367 euros.
As the outward manifestation of its special talents, the MTM Golf 7 R sports the company's trademark wheels: Nardo 8.5 x 19s with Michelin Pilot Sport Cup 2 (235/35 ZR 19) tyres providing the road grip.
Most European motorists will encounter this Golf at a handicap: typically only getting to see it from behind. And even this perspective reveals this to be no off the peg variant: four tailpipes proclaim that MTM's ideally matched exhaust system doesn't just look good but also exudes the good taste cultivated among Golf fans.
This sporty package is available for 54,875 euros - all in.
Source: MTM
Gallery:
MTM Volkswagen Golf 7 R 4Motion (2014)