Jikoo is a small, prestigious open-top two-seater that expresses the spirit of challenge and sporty tradition that have distinguished Nissan since its establishment. The design motif was inspired by the Datsun Roadster that was rolled out in 1935 soon after Nissan was founded. In the course of creating Jikoo, Nissan participated in the Tokyo Metropolitan Government's project to celebrate the 400th anniversary of the Edo Shogunate and focused attention on the tangible and intangible assets represented by traditional industrial arts handed down over the years to the present. Jikoo design boldly draws upon the techniques and materials passed on continuously from the traditional artisans of Edo (Tokyo's former name).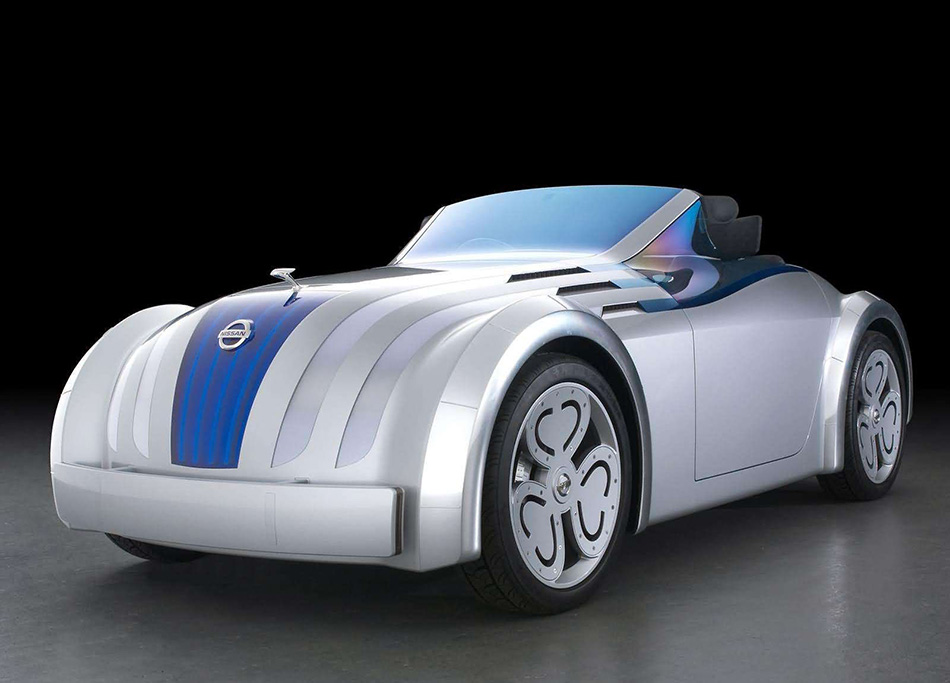 Challenge of rediscovery and creation in an exterior form symbolic of history and time Jikoo has been executed in a minimal body size, with a dash of modern practicality added to the original form of the Datsun Roadster that debuted in 1935. Jikoo inherits the high and long nose, short deck, two-seater layout and open-top silhouette that distinguished the original model. Jikoo also continues the Datsun Roadster's jump seat, which was a unique feature of roadsters in those days. On Jikoo it is called the 'Karakuri Seat' after the concept of an ingenious mechanism that was developed as an Edo Period technology. In addition, the space afforded by the long nose is utilized for the 'Karakuri Box,' a two-level storage compartment that can be opened separately from either side of the car. On the inside, the upper and lower levels of the storage compartment are finished in ebony and an Edo fine pattern, respectively.
A cockpit loaded with advanced technologies in a stylish, urbane interior hinting at a new age Inspired by the dashboard in the original Datsun Roadster, the instrument panel is rendered in a simple fan-shaped surface construction that incorporates cylindrical instruments. Composed of three layers arranged longitudinally, the monitor is capable of displaying lots of information efficiently in a three-dimensional, easy-to-understand format. The monitor also incorporates new methods of expression, including the use of laser pointers for the meter needles. In addition to showing information related to driving, this multi-layer display also has an entertainment navigation function. Besides showing maps of Tokyo from the Edo Period to the present, the display also presents information about historical events, culture and traditions to provide a driving experience resembling a type of virtual time machine.
Source: Nissan
Gallery:
Nissan Jikoo Concept (2003)