"The new Titan is Nissan's biggest vehicle and biggest statement yet," said Ghosn. "There's much on the line – a major financial investment, an extension of our growing brand and reputation, and our longstanding heritage of innovation and performance. Titan delivers on all accounts."
The all-new 2004 Nissan Titan King Cab brings an exceptional combination of powerful performance, bold styling and a new level of innovation -to the full-size pickup market.
Among Titan's unique design features are the King Cab's Wide-Open rear doors that open nearly 180 degrees for almost unlimited interior access, an industry-first factory-applied spray-in bedliner, a lockable water-resistant bedside storage compartment and Nissan's exclusive Utili-track™ bed channel tie-down system that provides ultimate cargo hauling flexibility. The Titan is scheduled to go on sale at more than 1,100 Nissan dealers nationwide in late 2003.
The introduction of the Titan is the highlight of one of the biggest and most exciting years in Nissan's history. In 2003, Nissan is scheduled to launch five vehicles, three of which are all-new models. The new Maxima and 350Z® roadster are scheduled to go on sale in the spring, Quest and the full-size SUV will launch over the summer and the new Titan full-size truck will be available late 2003.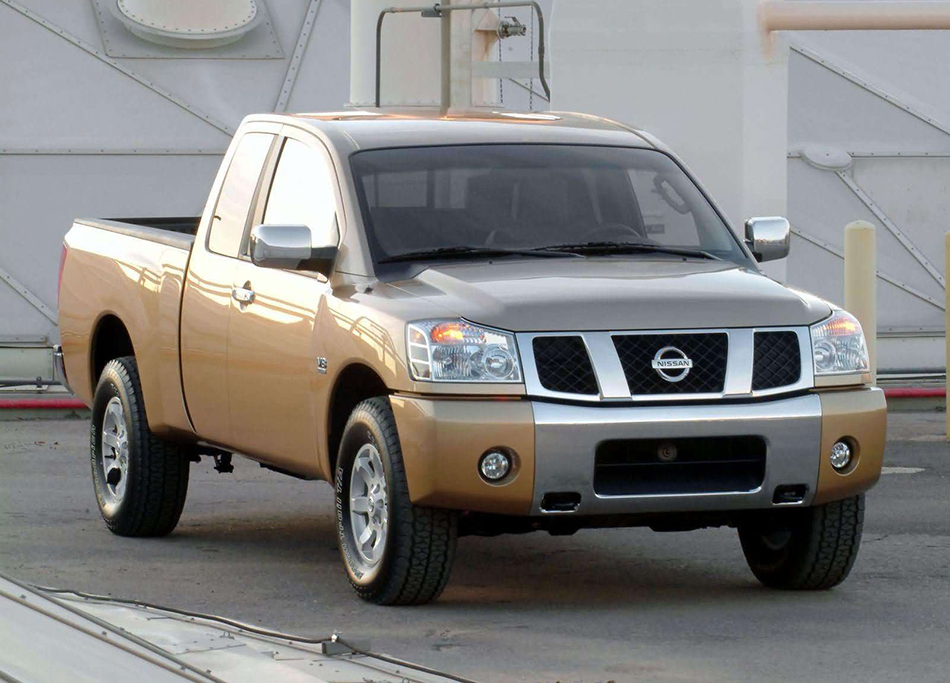 "With the quality and innovation of the new lineup, Nissan is proving its desire to set new industry standards," said Ghosn. "Every Nissan vehicle that is scheduled to debut in 2003 brings originality and imagination to its class."
Nissan's product blitz is driven by the success of NISSAN 180, which has accelerated the investment in product research and development efforts around the globe. In the first half of this fiscal year, Nissan reported an 84% increase in revenues, global sales are up 7.5% and an industry-leading operating margin over 10%.
The Titan is built on an all-new rugged truck platform, featuring a newly designed Nissan Endurance 5.6-liter DOHC V8 with over 300 horsepower and more than 375 lb-ft of torque, standard 5-speed automatic transmission and a towing capacity of up to 9,400 pounds. The Nissan Titan will be available in both King Cab and Crew Cab models, with a choice of 2-wheel and 4-wheel drive.
Source: Nissan
Gallery:
Nissan Titan (2004)