The Opel Agila, a mini-monocab with five doors and five seats, combines versatility and eye-catching design in a very compact space. Its small-car exterior means the Agila is easy to park, yet its interior roominess gives occupants a big-car feeling: even in the rear, adult passengers enjoy plenty of space. Moreover, thanks to the comfortable, slightly elevated seating position, visibility is excellent, especially in the driver's seat. Together this makes the Agila the perfect car for the city.
This year the 1.2-liter engine has been given a make-over, adding variable valve timing and an advanced alternator while reducing engine friction, so that it offers nearly 10 percent increased performance while at the same time using more than eight percent less fuel. The 1.2-liter 69kW/94 hp offers 118 Nm torque at 4800 rpm. It requires only 5.1 liters per 100 kilometers, emitting only 119 g/km.
The 1.2-liter is also the basis for the ecoFLEX variant which offers Start/Stop technology and is the first Opel to offer this fuel-saving innovation on a gasoline engine. Emissions are then reduced to 116 g/km CO2.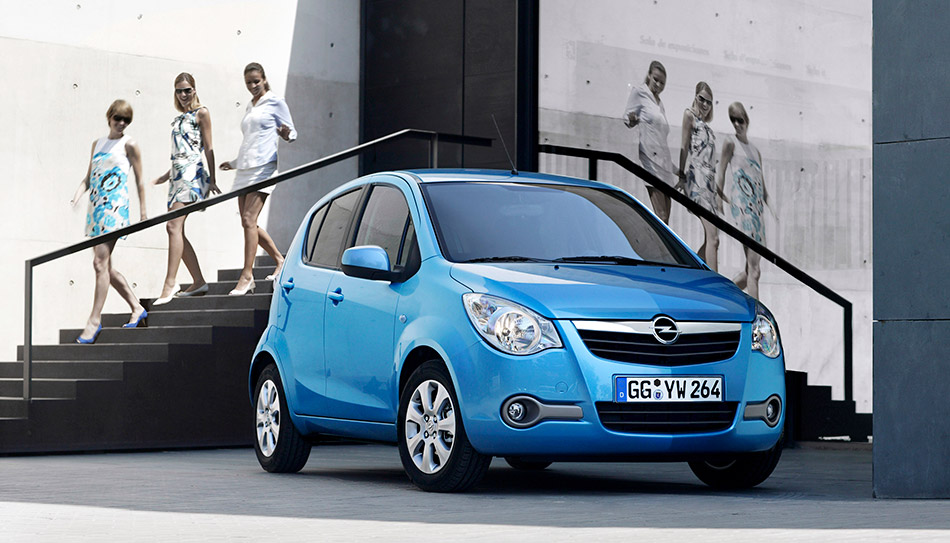 New fresh interior color and fabric  
On the exterior, the Agila now offers a new pearl effect to its exterior colors and has added Oregano Green to the already existing palette. Also new this model year is a Lemontree trim offered on the Enjoy trim level, adding a new, fresh green hue. In addition to the yellow-green upholstery, the interior also has matching door inserts and on the cover around the center stack. A new five-spoke pattern is optionally available on the 15-inch alloy wheel covers.
The luggage compartment capacity remains a top value in its segment, at 225 liters, and with the rear seat backs folded forward, it increases to 1050 liters. With favorable aerodynamics (Cd value of .32) the Agila is nicely proportioned.
Its almond-shaped lighting units and the integrated round headlamps lend it a smart and friendly face. The slender, vertical tail lights allowed a tailgate design that makes loading and unloading very easy. Fresh colors and attractive shapes create a friendly interior atmosphere which is underlined by generous headroom.
The versatile five-seater features a high seating position for excellent visibility and the gear shift lever is located higher up for easy operation. The rear seat backs and bench are available in a 60:40 split on the Enjoy trim level. When one side of the seat back is folded down, the corresponding cushion also swings down so that a perfectly level load area floor is created. A cargo liner is a perfect accompaniment to keep the trunk area clean.
For those rare moments when more space it needed, purpose-built Opel Agila accessories add solutions. A front armrest, for instance, adds comfort and convenience. The armrest mounts securely on the tunnel console. It contains a storage compartment, and can also be swiveled away when not needed.
Passive safety
The Opel Agila's body boasts a sophisticated combination of rigidity and superb energy absorbing and energy distribution characteristics. Additional safety is provided by two front and two side airbags, safety belt pretensioners and belt force limiters for the safety belts in front. The Opel Pedal Release System protects the driver's feet from serious injury in the event of a head-on collision. Mountings for the child safety seat system ISOFIX and Top Tether are integrated into the outer rear seats.
Chassis and active safety
The Agila's chassis – with A-arm and McPherson struts in front and a twist beam rear axle – is set up for optimal driving dynamics. The front subframe aids precise handling and high riding comfort, and carries the lower A-arm, suspension stabilizer and steering. The Agila's wide track (front 1470 mm, rear 1480 mm) also contributes to its stable handling characteristics. Instead of a rigid axle like its predecessor, the mini monocab features a torsional pivot pin in the rear, which also does its part to optimize the agile and easy-to-control self-steering properties. ESP is available as an option.
The rack and pinion power steering varies according to driving speed. The steering wheel with a diameter of 370 mm is as much an indication of the Agila's sporty steering layout as its 3.2 turns lock-to-lock. Turning clearance has been reduced from 10 meters to 9.6 (curb to curb). All Agila models are fitted with newest-generation ABS with integrated brake assist, which shortens braking distance in emergency situations. Internally ventilated disk brakes in front and drum brakes in rear ensure powerful deceleration.
Engines and transmissions
Two frugal gasoline engines are used in the Agila. Both have an aluminum cylinder block and head as well as twin overhead camshafts and are Euro 5 compliant.
The entry-level engine is the 1.0-liter three-cylinder unit with 48 kW/65 hp and a top speed of 160 km/h. Fitted with a five-speed manual gearbox it requires 5.1 l/100 km and emits 119 g/km CO2.
The 1.2-liter four-cylinder engine with 69 kW/94 hp sprints from zero to 100 km/h in 12 seconds and reaches a maximum speed of 175 km/h. It is offered in both a standard five-speed manual gearbox and an optional four-speed automatic transmission.  
With the fuel-saving Start/Stop technology, the Agila 1.2-liter ecoFLEX (69 kW/94 hp) with five-speed manual gearbox emits just 116 g/km CO2 and has combined cycle fuel consumption of only 5.0 l/100 km.
Source: Opel
Gallery:
Opel Agila (2013)