With accentuated exterior design, new engines, newly tuned chassis and an upgraded interior, the Opel Antara combines sporty off-road flair with high utility value and urban chic in the 2011 model year.
The fully re-worked engine line-up consisting of two diesel units and one gasoline variant meets Euro 5 emissions standards and guarantees improved driving performance with significantly reduced consumption and emissions. The two available transmissions – a six-speed manual and an automatic – have also been completely newly developed.
The 2.2 CDTI diesel engine comes in two output levels. The 120 kW/163 hp entry level unit develops maximum torque of 350 Nm and is available combined with front or all-wheel drive and manual or automatic transmission. With fuel consumption of 6.3 l/100 km (CO2: 167 g/km), acceleration from zero to 100 km/h in 9.9 seconds and a top speed of 189 km/h (all for front-wheel drive manual gearbox variant), this powertrain offers a balanced union of efficiency and dynamics.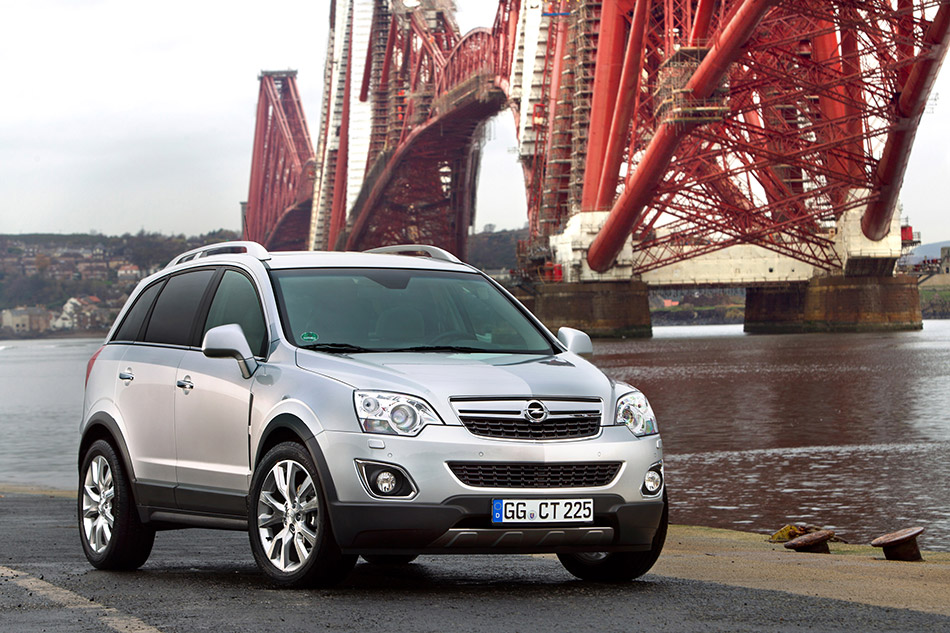 The 135 kW/184 hp top-of-the-line diesel (maximum torque 400 Nm) comes standard with all-wheel drive, is available with both transmission choices and impresses with excellent driving performance (zero to 100 km/h in 9.6 seconds; top speed 200 km/h). At the same time, this engine boasts high economy and environmental compatibility with fuel consumption of 6.6 l/100 km and CO2 emissions of 175 g/km).
Alternative to the diesel engines, the 2.4 ECOTEC gasoline engine with 123 kW/167 hp and 230 Nm maximum torque is available with front-wheel drive and manual transmission or all-wheel drive coupled with manual or automatic gearbox. Featuring acceleration from zero to 100 km/h in 10.5 seconds, a maximum speed of 190 km/h, fuel consumption of 8.8 l/km and CO2 emissions of 206 g/km (manual front-wheel drive version), it leaves virtually nothing to be desired.

Intelligent all-wheel drive system with variable power distribution
The Opel Antara's electronically controlled all-wheel drive system combines the advantages of a front-wheel drive – such as low fuel consumption - with the traction benefits of an all-wheel drive. While the engine normally powers the front wheels, prevailing driving conditions are continuously monitored by the control electronics.
If inadequate traction threatens to cause front-axle slippage, the system seamlessly redistributes power. Depending on the driving situation and outside conditions, the power distribution range spans from 100 percent front-wheel drive to 50 percent on both front and rear axles, and all variations in between.

New chassis fine-tuning with dynamic character
To match its lively engines, the updated Opel Antara now features a completely newly tuned chassis that combines driving fun and agility with high travelling comfort. The speed-dependent power steering has also been enhanced and now offers even more direct road contact.
Refinements to the chassis and active safety include improvements to the ABS system and the standard fitting of Hill Start Assist (HSA) which prevents roll-back when driving away on grades. Depending on model variant and equipment, distinctive alloy wheels in 17, 18 or 19 inch format contribute to refined handling and the eye-catching looks of the sporty crossover.
Refreshed design with clear brand identity
The new Opel Antara's accentuated exterior design sports an updated front grille with chrome bezel, characteristic brand chrome cross bar and a bold logo. The chic crossover also boasts new fog lights, rear lights with new graphics and a distinctive underride protection panel in front and rear.
The refreshed interior offers new, upscale trim and upholstery, instruments with new graphics, a re-designed center console with extra storage solutions and the elegant leather trim option Light Titanium. Improved safety and comfort features include electric parking brake, a gear display for manual operation in the automatic variants, deactivation of front and side airbags on front passenger side to enable mounting of a child safety seat, seat-belt pretensioners and belt force limiters in front as well as a tire repair kit.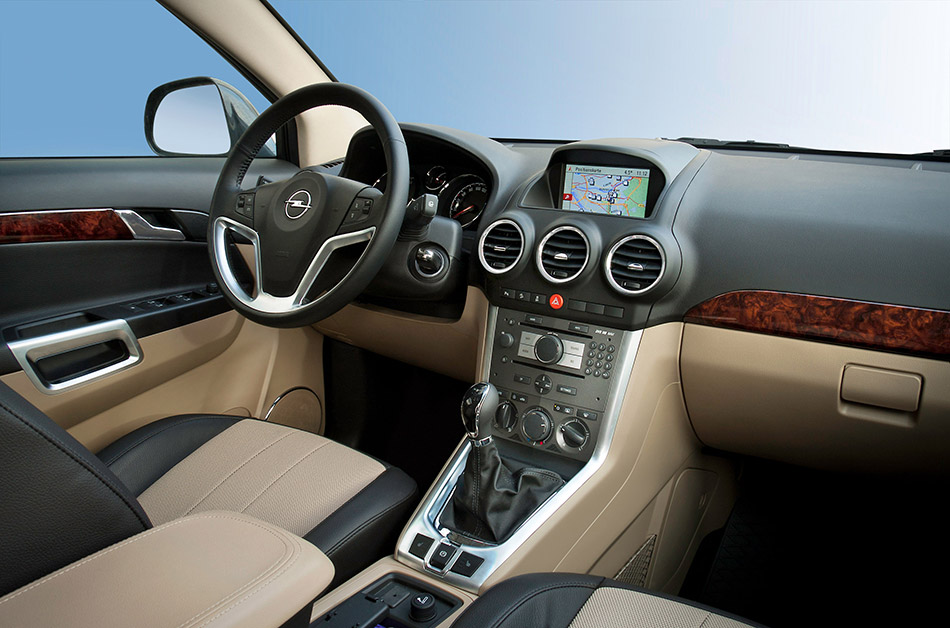 Strong alternative in European mid-size SUV segment
With its attractive looks, state-of-the-art powertrain line-up, active chassis tuning and upscale interior, the Opel Antara is a strong contender in its segment. The sporty crossover also offers excellent value for money: the 123 kW/167 hp 2.4 ECOTEC gasoline unit in the Selection version with front-wheel drive is a very affordable entry level into the Antara model line for a base price of 26,780 euros.
The Antara's all-around update showcases Opel's strategy to put more focus on existing traditions, potential and expertise and to revitalize them with attractive products. In this case the tradition is based on the Frontera that was built between 1991 and 2003, with the upgraded Antara marking a fresh start. The SUV and crossover segment will play a more important role in the brand's product portfolio with the goal of strengthening Opel's position in the European automotive market. The next step in this direction is the compact SUV planned for 2012.
The European market strategy for the Antara foresees sales of more than 15,000 units in its debut year 2011; thereafter annual sales of 20,000 are planned. Around 80 percent of sales are expected in the British, German, Italian and Russian markets. The 163 hp diesel variant is expected to be the biggest seller, accounting for around 75 percent of sales.
Source: Opel
Gallery:
Opel Antara (2013)