Pagani Automobili is proud to unveil the Roadster F, a new jewel in the Zonda family: fast open top motoring at its best. Hand built at the Pagani Atelier in a limited run of 25, the Roadster F offers the outstanding driveability and performance of the F Coupè, enhanced by the pleasure of driving with a gentle breeze in your hair. Thanks to an original roof made out of carbon fibre and cloth (removable in a few seconds) and due to the use of carbon fabrics for the construction of the central chassis, bodywork and interior, it was possible to maintain the dry weight of 1230kg, which translates in a weight/power ratio of 1,89kg/hp for the Clubsportversion.
Now think about this; a light and rigid vehicle body, pushed by the mighty 7.3Litre Mercedes-AMG V12, with a power of 650hp and a torque of 780Nm…..!!!! The 0 – 200kph time takes just 9.8 seconds and a few instants later you exceed the 300kph mark... all topless.The Roadster F travels along the boundary where beauty and power merge together forming something special; it's sinuous and aerodynamically shaped bodywork gets its prominence from sharp edges and elegant lines, which show at first glance its extraordinary potential.
From the cockpit you enjoy a magnificent view, unusual for a supercar. With your hands on the steering wheel you enjoy an environment that far exceeds most expectations, with a mixture of carbon fibre, soft leather and polished Aluminium lighting up your senses.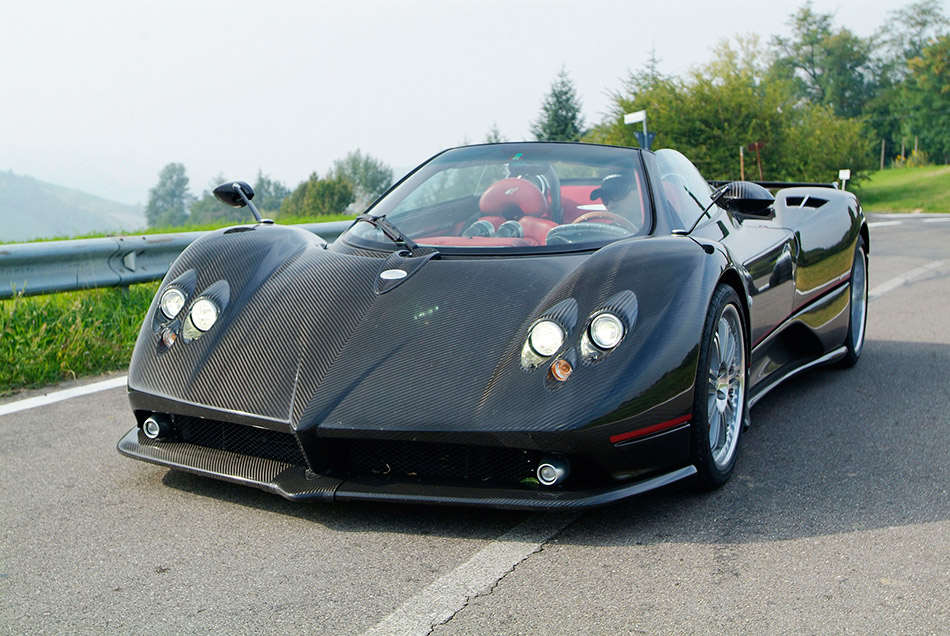 The precious instrument cluster looks like the handiwork of a watchmaker. It reveals the pure-breed of an Italian GT car: thanks to its personality, mixing sensuality, aggressiveness and magnetic beauty, you can easily imagine it driving along the sea front in Monte Carlo or screaming down a straight at Le Mans. All this, supported by handling that is unbelievably efficient and sincere and that monitors constantly what is happening to every single wheel; creating the feeling of the power behind you and the precise response in front.
The Roadster F is not a racecar; it is rather a jewel handcrafted in Italy, a whirl of emotions, a masterpiece for the connoisseur who cares to drive fast. Very fast. Like the heart beating within its soul.
The fastest, most exclusive, most powerful and most expensive Roadster in the world. The Pagani Roadster F.
Source: Pagani
Gallery:
Pagani Zonda Roadster F (2006)