Pontiac celebrates 35 years of Firebird Driving Excitement today with the 2002 Firebird Trans Am "Collector Edition" high-performance specialty vehicle. Elements unique to the Collector Edition include a special paint scheme, detailed interior appointments, special edition emblems and the raw power of Trans Am's WS6 performance and handling package. Just under 2,000 Collector Editions will be offered to enthusiasts during this special milestone year for the storied American musclecar.
"Few vehicles come close to matching the power and attitude of the now legendary Firebird and Trans Am names," said Bob Kraut, Firebird brand manager. "What started out 35 years ago as the definitive answer on speed and performance has grown into a cultural experience, and we're proud to be a part of that.
"Firebird and Trans Am have always represented Pontiac's mission with confidence. Firebird owner's challenge the status quo and they look good while they're doing it. The 2002 Collector Edition follows this rich tradition by offering enthusiasts a hot car with the guts to match the looks. This is tomorrow's classic musclecar."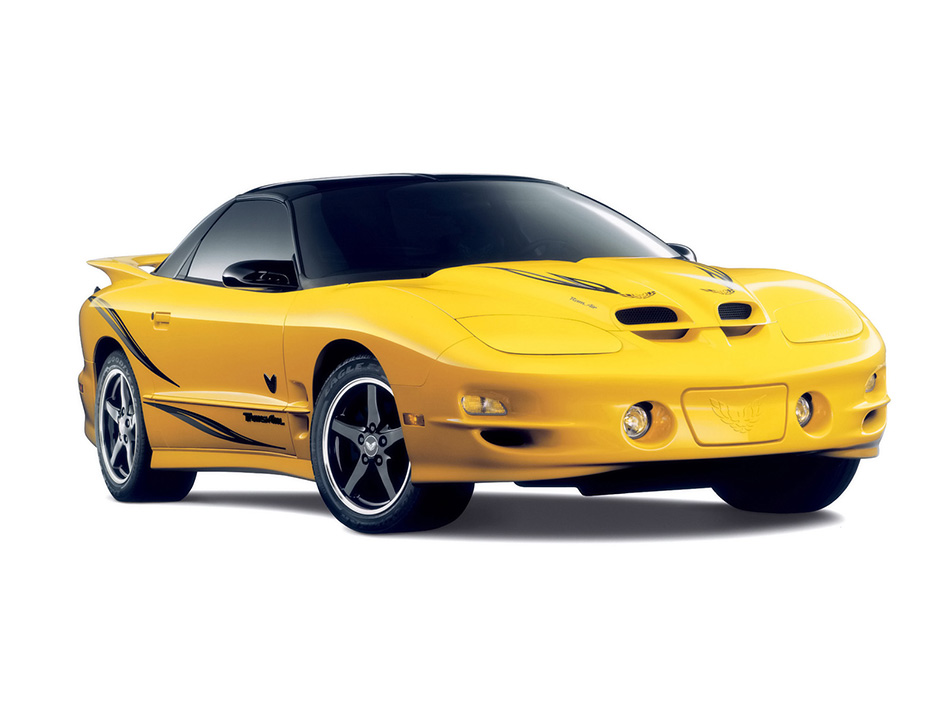 Coupe or Convertible, Exterior Graphics Package Screams Performance
Outfitted in its exclusive Pontiac "Collector Yellow" paint scheme, the Collector Edition features a special "screaming chicken" graphic package that puts a contemporary spin on the eye-catching hood designs of the '70s and '80s Firebird and Trans Am models. Two black "racing stripe" designs adorn the hood of the vehicle and continue on to wrap themselves around the car's doors and rear quarter panels. The rear fascia also gets special attention with a two-tone Collector Yellow and black treatment while both Collector Edition and Trans Am nameplates accent the lower doors.
The Collector Edition will be offered in Trans Am Coup with hatch tops and a black roof halo or Convertible with a black top.
Staying true to the tradition of the WS6 performance and handling package's exterior appointments, the Collector Edition includes black painted WS6 wheels with a machined face surface, black anodized front and rear brake calipers and black painted axles. Goodyear Eagle F1 performance tires are standard.
Interior Details Celebrate Legendary Lineup
Inside the 2002 Collector Edition, owners will find exclusive interior trim appointments that highlight the now famous design cues of Firebird and Trans Am through the years. Seats are wrapped in ebony leather with headrests featuring embroidered Collector Edition logos. Also sporting the Collector Edition logo are front floor mats and a trophy/shelf mat. A special issue Collector Edition owner's portfolio provides the finishing touch to the vehicle's interior.
Ram Air WS6 Performance and Handling Package - Need We Say More?
The Ram Air WS6 performance and handling package is standard on the Collector Edition. Highlighting the features is the LS1 5.7L V8 churning out 325 horsepower at 350 lb-ft. of torque (with WS6 package refinements).
The 5.7L LS1 introduced leading-edge technologies to the grand tradition of the GM small-block V8, including all-aluminum construction and a thermoplastic intake manifold. Measured by mass, package size, performance or cost to the customer, the 5.7L LS1 matches the world's best overhead cam V8s. With this new small block, those who claimed cam-in-block engines could not meet the demands of a new decade - or increasingly stringent emissions standards - were proven patently wrong.
Available transmissions for the LS1 include a six-speed manual or four-speed automatic.
Pontiac's exclusive WS6 Ram Air performance and handling package features functional air scoops, ram-air induction, low restriction dual outlet exhaust, and a suspension specifically tuned for maximum handling performance.
Standard and Optional Equipment
Standard equipment on the Collector Edition includes:
Power antenna
Power windows
Power door locks
Remote keyless entry
Theft-deterrent alarm system
Driver 6-way power seat
Monsoon Series AM/FM radio with CD player
Hatch roof (T-Tops) on coupe model
Optional equipment on the Collector Edition includes:
Traction control
Trunk-mounted 12-CD changer
Hurst "Short-Throw" shifter (six-speed manual transmission only)
 Source: Pontiac
Gallery:
Pontiac Firebird Trans Am Collector Edition (2002)