In the Rhineland-Palatinate city of Stetten one can find, as generally known, the KAEGE GmbH company. Here, automobile wishes of any kind are in competent hands. The team around the always bubbly Roger KAEGE, head of the company, has made its business to materialize 1 : 1 all kind of customer's wishes, no matter how outrageous they are, which warrants for that clients will come again and again.
This time, the object of desire was a Porsche 997 GT3 with 3.6 liters of engine capacity, clubsport packet and 415 HP (= 305 kW) of performance. The KAEGE team has succeeded in modifying the sports version of the Porsche eleven into a perfect track tool with extraordinary optics and according to it engine sound. Already the M+M noise reduction system, the racing header, the 200 cells catalysts and the modified air filter increase the engine power by 8 HP, lowering the car weight by 7 kg and grant the bolide an extraordinary sound.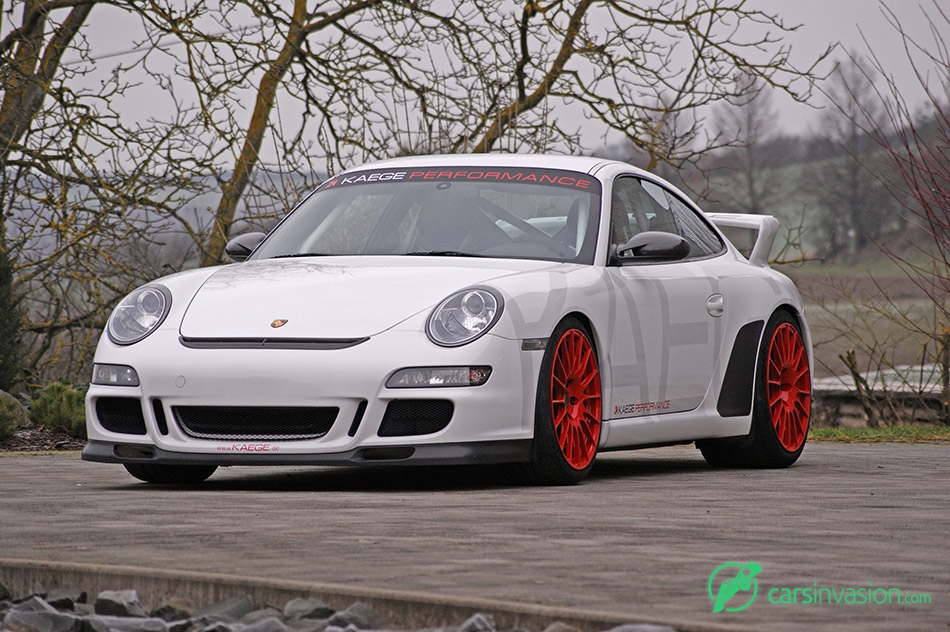 Thanks to the changing of the hydraulic pump by an electric power steering pump, the weight is distributed from rear into front, improving the response characteristics and increasing the performance per wheel by another10 HP. The mounting of a single mass flywheel including Sachs sports clutch lightens flywheel mass and thus also car weight by 8 kg, which renders additional power of about 5 HP. The refitting of the gear shift to CAE shifter shortens the way from steering wheel to shift lever, thus additionally shortening the gear shift operating travel. The installed lithium-ions battery means weight economy by another 12 kg. Furthermore, the car weight has been lowered by another 20 kg by RS rear window, demounting of the navigating unit and divers modifications on the vehicle.
The bewitching wheel-tire-combination consists in 9x19 or 12x19, respectively, extra red coated ATS superlight rims with Michelin Pilot Cup2 tires with Porsche-specific N-label, from which results apart total weight economy by 13.5 kg also the necessary racing optics. Triple KW clubsport running gear with completely uniball bearing mounted and especially for KAEGE trimmed wishbones as well as tie rods warrant for appropriate road holding. By the way, the measures mentioned above allow in sum about 60 kg of weight economies and 23 additional HP (= 17 kW).
Of course, it couldn't be else, the Stetten professionals provide also for correspondent optics in the interior. Thus, the lightweight seats have been covered by a retro-checkered fabric, the central console, the rollover cage and different interior parts have been painted in car color, the steering wheel was newly covered and the trunk was cleaned.
The highlight at the end: The KAEGE crew adds travel and helmet bag made of identical to the seats cover fabric and matching to the car for the trip to the racing course!
Source: Kaege
Gallery:
Kaege Porsche 997 GT3 (2015)