Twenty-eight years after the launch of the original, New Renault Espace continues the model's success story which has seen sales exceed 1.2 million units.
New Renault Espace's front-end styling features Renault's new identity for even more dynamic and status-enhancing appeal.
More environmentally-respectful engines for significant fuel consumption and CO2 emissions savings, plus an appreciable reduction in the 'eco-surtax' applicable in France.
The MPV's pioneer still stands out as the best travelling experience for seven occupants and the model continues to be perfected with the addition of even more technology, including a new reversing camera.
"It was important to restore Espace's appeal and CO2 credentials in what is a very competitive segment," says Laurent Bernard, the Espace Programme's Deputy Director. "The aim is to keep our customers loyal and prepare a smooth build-up to the introduction of the next-generation Espace."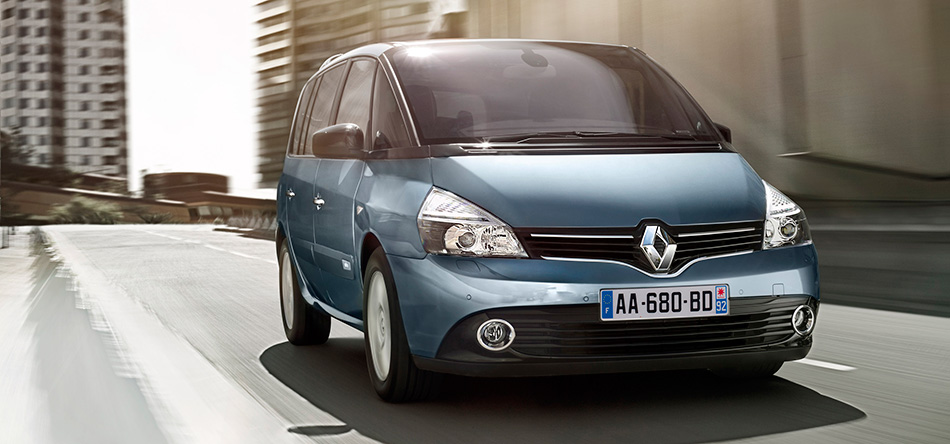 A new styling identity which respects the Espace's inherent iconic appeal
New Renault Espace features Renault's new styling identity which reasserts the model's personality by ensuring an even more dynamic stance. As is the case with all the brand's new vehicles, the Renault logo is more prominent, more upright and stands out even more clearly against a broad black grille bar which is itself picked out by chrome strips.
Other details which accentuate New Espace's more dynamic, status-enhancing looks include new 'Hurlingham' wheel trims and new 'Monterey' and 'Dark Eptius' alloy wheels.
Meanwhile, the elegantly-appointed cabin of the Initiale Paris version has been embellished with visible stitching for the model's hallmark dashboard. The sensation of comfort and wellbeing for all occupants is further emphasised by the leather and Alcantara® upholsteries.
Even greater respect for the environment: CO2 emissions reduced by 20g/km (equivalent to a fuel consumption saving of 0.8 litres/100km) for the diesel version, and by 6g/km (0.3 litres/100km) in the case of the petrol version.
Coupled to a six-speed manual gearbox, the 130hp, 150hp and 175hp versions of the 2.0 dCi engine (M9R) emit just 150g of CO2/km* (a saving of 20g/km), equivalent to fuel consumption of 5.7 litres/100km* (down 0.8 litres/100km). The state 'eco-surtax' applicable in France has come down accordingly by €550.
Mated to automatic transmission, the same engines emit 169g of CO2/km* (a saving of 20g/km), equivalent to fuel consumption of 6.4 litres/100km* (down 0.8 litres/100km). Here again, the 'eco-surtax' applied by the French state has been reduced by €550.
The 175hp version with manual gearbox delivers the segment's lowest CO2 emissions for its power output.
With the 2.0 dCi engine under the bonnet, fuel consumption and CO2 emissions have come down by 1.7 litres/100km and 27g/km respectively over a period of six years since this powerplant became available for Espace in 2006.
In the case of the 2.0-litre turbocharged petrol engine (F4Rt), CO2 emissions have fallen to 198g/km* (a saving of 6g/km), equivalent to fuel consumption of 8.5 litres/100km* (down 0.3 litres/100km).
These results were achieved by the engineers' work on:
Evolutions to the diesel engines: introduction of ESM technology (braking and deceleration energy recovery), a variable displacement oil pump, advanced cooling management and cold loop EGR (exhaust gas recirculation).
Chassis and running gear improvements: a three-percent improvement in CdA thanks to revised underbody shielding, plus new low rolling resistance tyres and electro-hydraulic power steering.
The MPV's pioneer continues to be perfected
All the strengths that have helped forge Renault Espace's success have been carried over to the latest version, including vast cabin space and a modular layout, as well as a level of comfort and visibility that all occupants will appreciate.
New Renault Espace continues to propose the large seven-seat MPV segment's most occupant-friendly cabin, including seven real seats and a brightly lit interior thanks to a large opening sunroof.
New Renault Espace's upholstery features an innovative textile which repels water- and oil-based liquids. Renault is the first carmaker to propose Teflon® Automotive High Protection textile which protects individual fibres without affecting their appearance, comfort or feel. This innovation is particularly ideal for family vehicles since it prevents stains from becoming incrusted and facilitates the cleaning of upholsteries to ensure they maintain their 'new' feel durably.
To facilitate manoeuvring and parking, New Renault Espace is available with a reversing camera. The driver benefits from precise indications thanks to a graphic overlay of the vehicle's volumes on the colour image displayed on the screen of the navigation system's screen which is positioned centrally and high up on the dashboard.
Also available for Espace, irrespective of equipment level, is a DVD player complete with two seven-inch screens built into the back of the front head rests. This multimedia feature will delight children and is a factory-fitment in order to ensure an irreproachable quality finish and less risk of theft.
New Renault Espace's equipment list continues with a range of technologies designed to take the stress out of motoring and make life easier for occupants. Standard features for all versions include connected Carminat TomTom Live® navigation system, a hands-free card, an electronic parking brake and comprehensive connectivity (Bluetooth® audio streaming, AUX and USB sockets).
Last but not least, New Renault Espace's cabin layout is as modular as ever thanks to seat rails which enable the seats to be positioned exactly according to the needs of the moment. New Renault Espace's interior can be rearranged at will to guarantee the highest level of comfort for up to seven occupants.
New Renault Espace, which is manufactured at Renault's Sandouville factory (France), comes with the guarantee of Renault's design, build and dynamic quality, as well as carefully selected materials to maintain the model's status as a modern incarnation of French-made, high-end luxury.
Source: Renault
Gallery:
Renault Grand Espace (2012)