In keeping with its values, Renault manufactures vehicles that match the brand's exacting standards in the fields of design, innovation and quality. Following its first public airing at the 2010 Paris Motor Show in October, Renault Latitude, the brand's latest high-end saloon model, delivers a high number of unprecedented comfort and journey enhancing features.
Renault Latitude's poised, elegant styling is underpinned by its balanced proportions, with a front end that expresses power, and robust, dynamic lines for the rear. Its generous dimensions permit a spacious, convivial cabin, inside which rear passengers benefit from segmenttopping kneeroom (251mm).
Aimed at customers who value quality and comfort in every sense of the words, Renault Latitude places the accent very much on the wellbeing of its occupants. Features include a brand new, relaxing air-purifying ioniser, as well as a new four-mode massage driver's seat.
Thanks to the availability of touring engines like the new V6 dCi 240, as well as a multi-link rear suspension arrangement engineered to deliver a perfect compromise between comfort and handling, Renault Latitude takes the strain out of longer-haul journeys.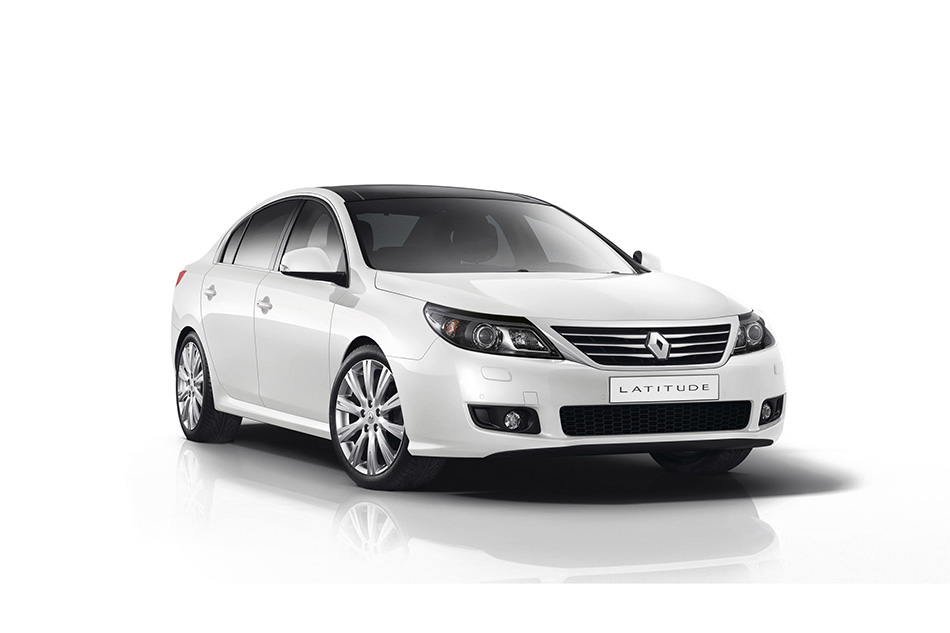 Developed within the framework of the Renault-Nissan Alliance, Renault Latitude uses technical solutions acclaimed for their reliability and efficiency to offer outstanding safety performance, with a specification that includes ABS, emergency brake assist, ESC, adaptive airbags, twin side-impact sensors, cruise control with speed limiter, a tyre pressure monitoring system and bi-Xenon cornering headlights.
Next May, as the official car of the 2011 Cannes Film Festival, Renault Latitude can look forward to carrying stars and personalities from the world of cinema.
AN ELEGANT SALOON
Renault Latitude is a generously-dimensioned saloon car. Its nicely balanced proportions and elegant lines point to the exceptional comfort and wellbeing occupants can look forward to onboard. This promise is confirmed by the refinement and high quality finish of the cabin, as well as by the interior's carefully selected materials and occupant-friendly layout.
Renault Latitude is a new addition to the Renault range. It is a large saloon, with a length of 4,897mm, a width of 1,832mm, a height of 1,483mm, a 2,762mm wheelbase and front and rear overhangs of 1,035mm and 1,100mm respectively.
At the front, the bi-Xenon cornering headlights set either side of the chrome grille contribute to the model's unmistakable poise. The lines of these lights extend rearward via a waistline that sweeps around the body and across the boot to produce a particularly elegant stance. The sculpted wheel arches and long bonnet accentuate the model's highend status.
Modern styling details include the rear lighting signature which employs a blend of LED and conventional technologies. The panoramic electric glass sunroof provides a brightly lit cabin, while its gloss black finish gracefully prolongs the rake of the windscreen to the rear window. Renault Latitude's style is further asserted by the smart chrome arch which frames the side windows.
AN INVITING INTERIOR
As the doors open, the instrument panel's centrally-located TFT (Thin Film Transistor) colour screen gradually lights up to welcome the driver onboard. Then, when the engine is fired up, the LED backlit instruments come to life as the needles sweep across the two gauges and the graduations appear.
The spacious, extensively-equipped cabin of the cars marketed in Europe is equipped with a specific, luxurious dashboard made from quality materials. The curvaceous lines of this dash's upper structure combine harmoniously with the vertical forms of the broad centre console. The controls for the driver aids and travelling comfort features fall readily to hand and are clustered either around the steering wheel or on the console.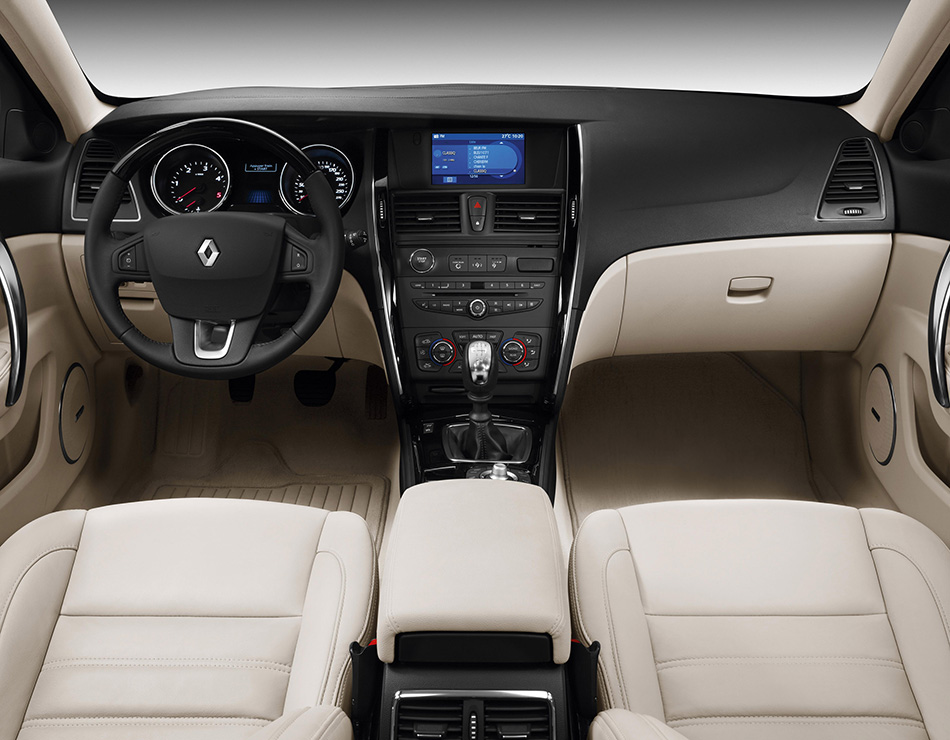 The same attention has been paid to the quality and finish of the rest of the interior. Depending on version, the cabin comes with a number of slush-moulded parts and chrome details, including the door handles and gear lever knob, as well as a choice of light or dark leather upholstery. Similar care has gone into the trim itself in order to obtain distinct ambiances for the different equipment levels, allowing customers to choose between an elegant, light-hued interior which places the accent on the wellbeing of occupants, or a darker trim.
OCCUPANTS PAMPERED BY RENAULT LATITUDE'S COMFORT-ENHANCING APPOINTMENTS
Passengers benefit from a spacious cabin, with those at the rear enjoying a remarkable 251mm of kneeroom, as well as an elbow room of 1,474mm.
This sensation of wellbeing is accentuated by the cabin's carefully engineered acoustics. The design, quality and seal of the doors and windows, the inserts employed for the body's hollow sections and the use of single-piece soundproofing for the front bulkhead all contribute to minimising cabin noise. The twin-mass flywheel damper that equips the dCi 150, dCi 175 and V6 dCi 240 engines, and the balancer shafts of the 2.0 16V 140 and dCi 175 engines also play a part in ensuring a particularly silent ride.
Other features designed to enhance travelling comfort include:
A 9.6-litre lit, chilled glovebox,
2.4 litres of compartmented stowage space in the front part of the centre console,
Front and rear door bins, • A cubby underneath the steering wheel,
Sunglasses case,
Map pockets on the front seat backs,
Folding table incorporating two cup-holder over the middle rear seat and two cup-holders in the front console.
The 511dm3 (VDA / ISO) boot (477dm3 with spare wheel) is amongst the biggest to be found in Renault Latitude's class. Loading is facilitated by the low sill (723mm), while the incorporation of part of the rear light clusters on the boot lid ensures a particularly broad aperture (993mm).
The 60/40-split rear benchseat enables carrying capacity to be adapted to meet the owner's needs of the moment and notably permits long or bulky items to be transported.
A RANGE OF EXCLUSIVE, HIGH-END APPOINTMENTS GEARED TO THE WELLBEING OF OCCUPANTS
A great deal of thought went into ensuring that Renault Latitude's quiet and comfortable cabin provides the driver and passengers alike with a reassuringly relaxing ride. Premium features include a four-mode driver's massage seat, a new dual-mode air ioniser and a double scent diffuser. The list continues with a comprehensive choice of audio systems, including the core-range 3D Sound by Arkamys® system and the high-end Bose® Sound System, plus the integrated Carminat TomTom® Live or Carminat Bluetooth® DVD navigation systems, as well as Bluetooth® telephony and Plug&Music digital connectivity.
A MASSAGE DRIVER'S SEAT WHICH TAKES ITS INSPIRATION FROM LUXURY SALOONS
The five pneumatic rollers located in the driver's seat back provide up to four different massage modes (continuous, intermittent, soft and firm).
The quiet, precise, synchronised soothing action of these supple rollers across the driver's back delivers a relaxing experience that is especially appreciated on longer journeys or when caught up in congested traffic.
The controls fall readily to hand, enabling the driver to activate the function, concentrate on one of three zones (shoulder blades, mid back, lumbar region), choose between the four available modes and/or switch on the seat warmer.
CABIN-AIR PURIFICATION SYSTEM: A FIRST FOR THE RENAULT RANGE
Significant attention has also been paid to thermal comfort. For optimal efficiency, especially in markets where strong sunshine and/or humidity can be a problem, Renault Latitude is equipped with triple-zone automatic climate control incorporating a unique airquality control system comprising a dual-mode ioniser and a double scent diffuser.
This system enables occupants to select the temperature and fan speed they prefer using the front-mounted 'Soft', 'Auto' and 'Fast' switch:
The 'Auto' mode optimises thermal and acoustic comfort and swiftly adjusts the system to an appropriate setting,
The quiet 'Soft' mode places the emphasis on effective distribution,
The 'Fast' mode ensures rapid ventilation of the whole cabin.
This feature combines with the unique, relaxing air-purification system which functions in conjunction with the activated-carbon air/pollen filter and toxicity sensor. Renault Latitude uses a Samsung Super Plasma® air ioniser based on the same climate control unit as Renault Laguna and developed in association with Samsung Electronics Co., a world leader in this field.
The dual-mode ioniser's contribution to the wellbeing of occupants is enhanced by its purifying function which significantly reduces the amount of bacteria and allergens that are found naturally in confined cabin air. The air recycling mode is automatically triggered when the toxicity sensor detects an excessive quantity of harmful gases.
The driver and passengers also benefit from the diffusion of scents by two interchangeable cartridges situated in the dashboard. Two cartridges (Blue Ocean and Mango) are delivered with the vehicle, while replacements are available from Renault dealerships where customers can choose from six different fragrances: Blue Ocean, Mango, Red Berries, Green Nature, Herbal Tea and Precious Flowers.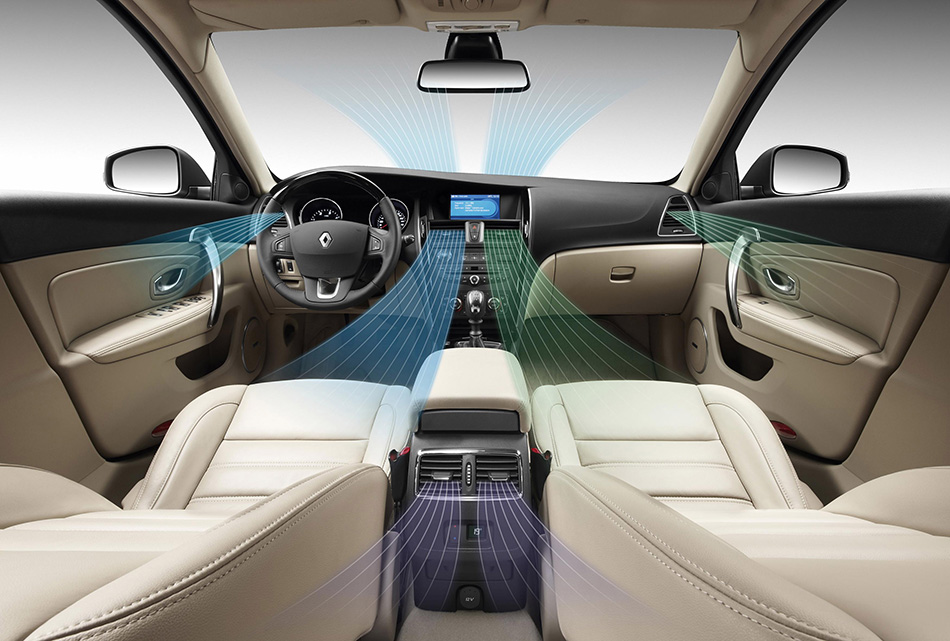 In addition to the type of fragrance, the strength of the scent can also be selected (three modes), while the diffusion frequency, and the use of a bespoke fan and air vents make this system unique in the car's segment.
NEW INTEGRATED SMART NAVIGATION CARMINAT TOMTOM® LIVE
Renault's latest integrated, connected navigation system – Carminat TomTom® Live – is as affordable as ever (less than €500), precise, easy to use and perfectly suited to everyday motoring. For even smarter guidance, the previously existing software – IQ Routes® (which proposes routes based on real-world traffic flow statistics), Advanced Lane Guidance® (advanced views of junctions and lanes) and Mapshare® (map updating via the TomTom® community) – is now joined by the four innovative services provided by TomTom® Live:
HD Traffic®: Europe's best real-time traffic information service. In less than three minutes, Europe-wide traffic information is fed to the system, processed by TomTom®'s servers and made available to warn drivers of the extent of upcoming jams and the likely delay. If necessary, Carminat TomTom® Live recalculates an alternative itinerary to the user's destination. One million European motorists currently benefit from this service every day.
In certain countries, advanced warning of mobile speed checks is provided. Carminat TomTom® Live is the only integrated satnav that provides real-time warning of speed camera locations based on information supplied by the market's most efficient data bases, including CSDB (Coyote Safety Data Base) in France and Road Angel in the United Kingdom.
The Local Search with Google® function uses search words to provide access to 11 million points of interest and associated information (telephone numbers, descriptions, Google community opinions).
Last but not least, long range, five-day weather forecasts covering the itinerary and destination are available anywhere in Europe.
These four Carminat TomTom® Live services are free of charge for a three-month trial period, after which an annual prepaid subscription of €59 – or a three-year pack costing €149 – can be taken out via the TomTom® HOME application.
CARMINAT BLUETOOTH® DVD
The other navigation system available for Renault Latitude is Carminat Bluetooth® DVD which includes:
A radio-CD with an MP3-compatible six-CD multichanger,
A seven-inch 16/9 display with 3D Birdview function,
Europe-wide mapping,
Voice recognition for navigation and Bluetooth® telephony functions
Speed check information (depending on country).
AUDIO SYSTEMS THAT PLACE THE EMPHASIS ON QUALITY AND CONNECTIVITY
For customers looking for a high performance surround-sound experience and accurate sound reproduction, Renault Latitude can be ordered with an audio system developed in association with Arkamys®.
The 3D Sound by Arkamys® system incorporates:
Eight loudspeakers (four mid-range speakers and four tweeters),
Arkamys® digital sound processing for accurate, threedimensional sound-surround reproduction,
Dual aerial for optimal audio reception,
Bluetooth® connectivity gives drivers access to the functions of their telephone via the car's steering wheelmounted controls,
Plug&Music connectivity enables music stored on a USB key, portable player, iPod® or smartphone to be played through the car's own audio system. Menus and playlists are displayed on the dashboard.
A CAREFULLY-ENGINEERED BLEND OF COMFORT AND PERFORMANCE, AND A CHOICE OF MODERN ENGINES
Renault Latitude's chassis incorporates an efficient multi-link rear suspension for enhanced ride comfort and driving pleasure. This arrangement combines rigorous steering precision with efficient filtration of vibrations and road noise. The available powertrains, which include the V6 dCi 240, count among the range's best performing engines.
A CAREFULLY-ENGINEERED BLEND OF COMFORT AND DYNAMIC PERFORMANCE
Renault Latitude employs the same front suspension as Renault Laguna and is widely acclaimed for its precision. It uses a MacPherson-type layout with a rectangular lower arm and a 21.5mmdiametre antiroll bar.
Based on a Nissan development, the rear suspension employs a multi-link arrangement which was selected for its remarkable efficiency and ride comfort thanks to its ability to soak up irregularities in the road surface and isolate the cabin from vibrations.
The combination of springs calibrated at 16mm/100DaN and 19mm/100DaN at the front and rear respectively and work on damping ensures outstanding vertical suspension performance and optimised body roll without detracting from ride comfort.
Renault Latitude's big brakes ensure durable stopping power. Thanks to its 296mm or 320mm-dameter ventilated front discs (depending on engine) and 300mm-diameter rear discs, the car comes to a halt in just 39.5 metres after repeated stopping from 100kph. Five tyre sizes are available depending on engine and equipment level: 195/60 R16, 215/55 R16, 225/50 R17, 225/45 R18 et 235/45 R18.
For enhanced driving enjoyment along twisty roads, Renault Latitude's precise, low-ratio power steering comes with a stiffened column. Thanks to a ratio of 16:1 (i.e. a 16-degree turn of the steering wheel turns the wheel by one degree), manoeuvring is facilitated and the car's handling is nimbler. The stiffer feel and reduced play allow motorists to benefit from a more direct feel and more precise feedback from the road by reducing the response time between the moment an instruction is given via the steering wheel and the moment the car turns. Versions powered by the V6 dCi 240 engine are equipped with variable-rate hydraulic power steering. The other versions feature an active electric pump unit which allows the amount of power assistance to be fine-tuned as a function of the rate of the electric pump, which itself is dictated by the driving conditions. This rate depends on the speed and required level of power assistance (speed, steering wheel angle), a solution which benefits fuel consumption by electrically optimising the input of the pump. .
A COHERENT RANGE OF ADVANCED ENGINES
Petrol
The efficient engine E85-compatible 2.0 16V petrol (M4R) delivers peak power of 103kW (140hp) at 6,000rpm. Mated to a manual six-speed gearbox, it is particularly responsive at low engine speeds, with maximum torque of 195Nm available at 3,750rpm. It permits the 1,000-metre standing start to be covered in a little over 30 seconds.
Diesel
The diesel versions of Renault Latitude are powered by one of three benchmark engines:
The quiet, efficient 2.0-litre dCi (M9R) comes in a choice of two power outputs: 110kW and 127kW (150hp and 175hp). Mated to a manual gearbox (PK4), they deliver peak torque of 340Nm and 380Nm respectively at 2,000rpm, while the particularly fuel-efficient 150hp version emits less than 140g of CO2/km (combined cycle, with manual gearbox). Driving through automatic transmission (AJ0), the responsive dCi 175 returns combined cycle fuel consumption of just 6.5 litres/100km and boasts maximum torque of 360Nm at 2,000rpm.
The Renault Latitude range also includes the Alliance's latest Renault-developed six-cylinder engine, namely the 3.0 V6 dCi (V9X) which develops 177kW (240hp) at 3,750rpm. Maximum torque (450Nm) is available from 1,500rpm to combine energetic performance (1,000-metre standing start in 28.2 seconds) with contained combined cycle fuel consumption (7.2 litres/100km, equivalent to 188g of CO2/km).
SAFETY PERFORMANCE ENGINEERED TO MATCH CUSTOMER EXPECTATIONS AND REAL WORD SITUATIONS
Like all the vehicles that make up the Renault range, Latitude's benefits significantly from the work carried out by LAB[1], as well as from the brand's own engineering expertise which was used to develop the most efficient response to the real world situations encountered in the different markets where Latitude will be sold:
ABS with electronic brakeforce distribution,
Emergency brake assist and automatic activation of hazard warning lights,
ESC (Electronic Stability Control) with CSV understeer control,
Cruise control with speed limiter,
Tyre pressure monitoring system,
Adaptive bi-Xenon cornering headlights,
Adaptive driver and front passenger airbags, two dual-chamber thorax-groin lateral airbags (combined with twin side-impact sensors) and two curtain airbags,
Three-point seat belts with pretensioners and load limiter for all occupants,
Driver/front passenger Seat Belt Reminder and 'seat belt fastened' light for the three rear seats,
Three-point Isofix anchorage for outer rear seats,
A STRONG COMMITMENT ON THE ENVIRONMENTAL FRONT
Thanks to its carefully-honed aerodynamics, contained weight for its size (average for the model: 1,550kg) and the availability of two versions which qualify for the Renault eco² signature, Latitude provides further evidence of Renault's ongoing efforts in favour of the environment.
The 2.0 16V 140 E85 and manual dCi 150 versions of Renault Latitude qualify for the Renault eco² signature which means they comply with the three following criteria:
CO2 emissions must be less than 140g/km, or the engine must be capable of running on biofuel,
Renault eco² cars must be manufactured in an ISO 14001-cerified factory (in this case: Busan, Korea),
Renault eco² cars must be 95 percent end-of-life recoverable, while at least five per cent of the plastic they contain must be sourced from recycling.
Renault Latitude is 95 per cent end-of-life recoverable (by weight), and more than five per cent of the plastics it contains (average for the model: 11kg) are sourced from recycling.
LATITUDES HIGH AND LOW
Renault Latitude stands out as an eloquent symbol of Renault's internationalisation. Designed jointly in France and Korea, and with assemblies developed by Renault and Nissan, it provides owners with the best of the Renault group's and the Alliance's know-how.
Renault Latitude is manufactured at Renault-Samsung-Motors' Busan plant in Korea. This environmentally respectful, ISO 14001-certified factory boasts long experience of the production of quality, high-end cars (SM5, SM7, QM5, Renault Koleos). Meanwhile, all the diesel engines and manual gearboxes that feature in the range are made at Renault's Cléon plant in France.
Designed for a global market, essentially outside of Europe, Renault Latitude joins Renault's international line-up of saloons at the very top.
Source: Renault
Gallery:
Renault Latitude (2010)