Renault has chosen the Twizy manufacturing plant in Valladolid, Spain, to present its new Twizy Renault Sport F1 concept car. This fun take on the brand's small electric car features muscular styling and impressive performance credentials to serve as a bridge between the world of F1 technology and that of production cars.
Twizy Renault Sport F1 sits on the wheels of a single-seater race car and is equipped with a front splitter, side-pods, a rear wing and a diffuser complete with an F1-style rain light which forcefully express the concept car's ties with motor racing's premier category.
Twizy Renault Sport F1 is much more than eye catching concept car, however. In addition to its spectacular look, it delivers genuine high performance thanks to its Kinetic Energy Recovery System (KERS) which is identical to the solution used by Renault-powered Formula 1 race cars. The system instantly boosts power output six-fold to reach almost 100 horsepower and is capable of catapulting the car from standstill to 100kph as quickly as Renault's highest-performing road car, Mégane R.S. This technological gem is the fruit of close collaboration between engineers at Renault Sport Technologies and their colleagues at Renault Sport F1.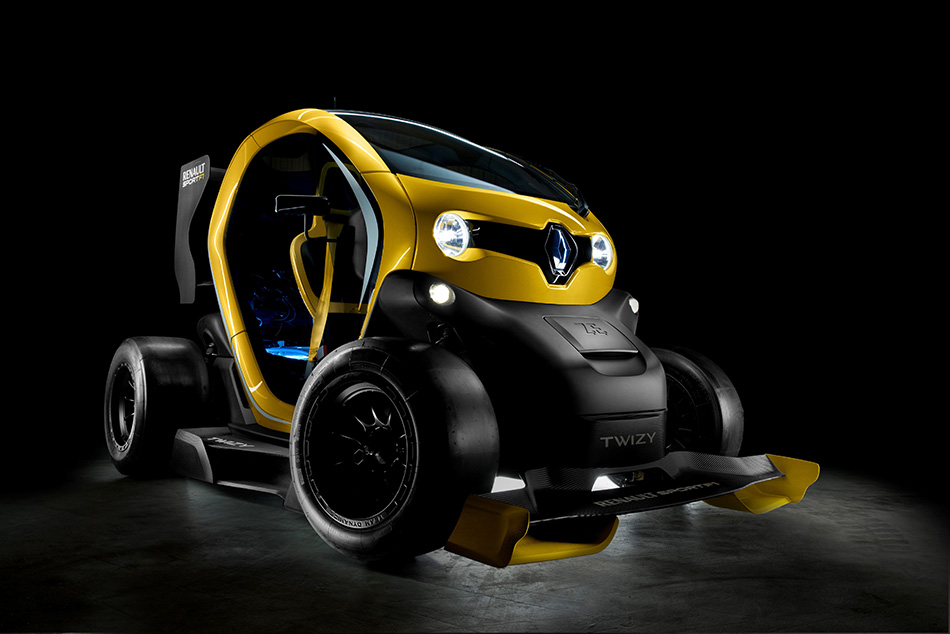 This extraordinary vehicle showcases Renault's advanced expertise of the electrical technology employed in F1, notably in the field of KERS in which it was one of the precursors in 2009. Renault's long-standing commitment to motor racing's blue ribband category provides it with a unique technological laboratory, giving it an advantage not only in the world of race cars but also in that of road cars.
Twizy Renault Sport F1 will be shown at major events throughout the year, beginning with its first public appearances at the World Series by Renault meeting at Aragon, Spain (April 27-28), and at the Barcelona Motor Show.
SMALL BUT TOUGH: A SPECTACULAR LOOK INSPIRED BY FORMULA 1
Twizy Renault Sport F1's calling is immediately apparent through its slick tyres (the same as those fitted to the Formula Renault 2.0 single-seater), as well as through its carbon splitter, side-pods and rear wing. Its unique proportions give it the appearance of a beast that is about to pounce yet which is still fun to drive. Other features derived from the world of racing are its single-seater type mirrors and diffuser, which incorporates the rain light of a Formula Renault 3.5 car. At the same time, the bulbs of the lights have been replaced by LEDs which, again mirroring the world of motor sport, consume less energy. Meanwhile, Twizy's rear seat has made way for the KERS which is visible inside a transparent housing.
Last but not least, Twizy Renault Sport F1 is equipped with an F1-type steering wheel from the Renault Sport Technologies catalogue. "Twizy Renault Sport F1 is a simple yet smart vehicle which combines original lines and advanced technology derived directly from Formula 1. Our objective was to reinforce Twizy's 'fun' side by using F1 cues to express its personality. In terms of both its look and performance, the result is quite simply spectacular." Eric Diemert (Design Director, Renault Sport Range) In order to express the link with Formula 1 and the Renault Sport race car range, both Renault Sport F1 and Renault Sport Technologies contributed to Twizy Renault Sport F1's design. "As far as styling was concerned, we wanted to avoid falling into the trap of simply producing a steroid-fed Twizy.
We therefore worked closely with Renault Design to find a way of incorporating Formula 1 cues on a vehicle of this size. Although Twizy's forms clearly distinguish it from a single-seater race car, you can see numerous echoes of the world of grand prix racing." Tarik Ait Said (Project Coordinator, Twizy Renault Sport F1).
SIX TIMES THE POWER OUTPUT!
Twizy Renault Sport F1 is consequently equipped with two electric motors, i.e. Twizy 80's original motor (17hp/13kW) onto which an F1-style KERS has been grafted to turn the concept car into a genuine pocket rocket with exceptional performance credentials. When the KERS is activated, Twizy Renault Sport F1's power output climbs instantly by a factor of six, from 17 to 97 horsepower (72kW). This boost is available for approximately 14 seconds, just as it is in the case of a Formula 1 car. Thanks to this additional power, the concept car is capable of accelerating from standstill to 100kph in the same time as Mégane R.S.
ADAPTING KERS FOR TWIZY
It goes without saying that Twizy Renault Sport F1 isn't as fast as a single-seater race car. As a consequence, the kinetic energy produced under deceleration is insufficient to charge the KERS' battery. To get round this problem, the experts at Renault Sport Technologies and Renault Sport F1 developed a system that enables the battery to be charged by siphoning power from the main motor. This solution gives the driver total independence over how the KERS is used. The driver can choose between two modes for the KERS used for Twizy Renault Sport F1, using the controls located on the steering wheel. 1/ Recovery mode: with this mode activated, the electric motor functions like a conventional generator, drawing power like a dynamo to convert the mechanical energy produced by Twizy main motor into electrical energy.
Up to 4kW can be siphoned off in this way to charge the battery while on the move. 2/ Boost mode: the energy recovered using the Recovery Mode can be re-employed whenever the driver wishes by pressing on the button located on the steering wheel. This reverses the process. Instead of serving as a generator, the KERS' motor-generator unit (MGU-K) now functions as a motor to bring a power boost to the principal motor to which it is directly linked via the driveshaft. The maximum power output of the MGU-K is 60kW (approximately 80hp). The charging process and the way the stored energy is delivered are controlled by a control unit which is itself linked to Twizy Renault Sport F1's ECU (Electronic Control Unit).
When the system is triggered, the maximum revs of Twizy's motor rise to 10,000rpm for a top speed of 110kph. The fruit of advanced technology, the MGU-K fits inside a 10cm-diameter cylinder and can rev to as high as 36,000rpm. The KERS is equipped with its own battery capable of very short charge/discharge cycles.
Derived directly from F1 technology, the package weighs barely 30kg, battery included. Given that the peak revs of the KERS and Twizy's principal motor are 36,000rpm and 10,000rpm respectively, the connection between the two was one of the chief challenges of the project. Synchronisation is ensured by a 1:3.6 reducer gear which uses the same drive gear as that of the F1 V8 engine.
The KERS uses a pressurised lubrication system to enable the bearings to withstand peak revs of 36,000rpm. Meanwhile, in order to prevent the KERS battery from overheating despite the constraints to which it is exposed, Twizy Renault Sport F1 is equipped with water cooling. Both these systems are existing Renault Sport Technologies solutions.
AN F1-TYPE STEERING WHEEL DERIVED FROM RENAULT SPORT TECHNOLOGIES' RACE CAR RANGE
Twizy Renault Sport F1's steering wheel is derived directly from that of the Formula Renault 3.5 race car. Its functions have been adapted for use on an electric vehicle equipped with KERS, while the rim is of a wider diameter. The amount of energy recovered while the Recovery mode is activated can be adjusted using the four-position rotary knob. Another rotary knob enables the power boost to be set at one of six pre-set levels, ranging from 10 to 60kW.
The driver releases the energy stored by the KERS by activating the two steering wheel-mounted paddles at the same time. To show spectators that the system has been activated, the rain light incorporated in Twizy Renault Sport F1's diffuser is switched on. The concept car comes with its own data logging system, with information displayed on a multi-page screen situated on the steering wheel. This display can be personalised to show information concerning both Twizy's and the KERS F1 electronic systems.
A wide range of parameters can be displayed in real time, including the main battery's level of charge, the KERS battery's level of charge, oil pressure, water temperature, etc. Twizy Renault Sport F1 is also equipped with an 'RS Monitor' data logging system similar to the one available for Mégane R.S. and New Clio R.S. 200 EDC. This allows the driver to monitor a number of performance-related parameters in real time (0-50kph time, 0-100kph time, 50-metre standing start time, 100-metre standing start time).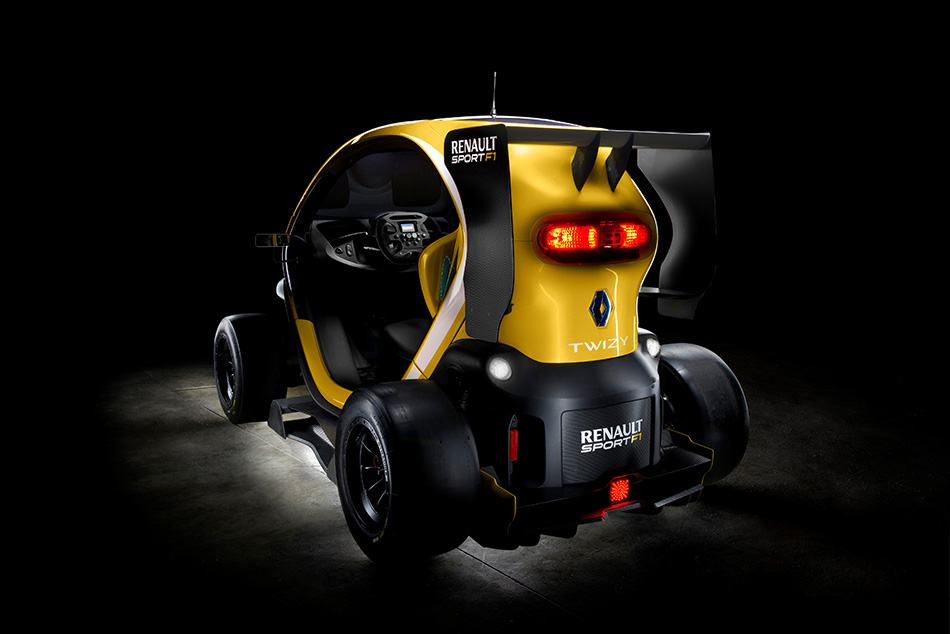 THE COMBINED TECHNOLOGICAL EXPERTISE OF RENAULT SPORT F1 AND RENAULT SPORT TECHNOLOGIES
Renault Sport F1 and Renault Sport Technologies worked hand in hand to convert the KERS system for use on the Twizy Renault Sport F1 concept car and then fine-tune the resulting package. Throughout the project, the collaboration between Renault's two sporting departments was exemplary, and the combination of their taste for a challenge, their passion for motorsport and their prior knowledge of Twizy was key to the project's success.
Based on an idea suggested by Renault Sport F1:
Thanks to the technological excellence it has acquired as a supplier of engines to a number of F1 teams, Renault Sport F1 wanted to communicate to a wider audience the savoir-faire it has built up in the realm of electric power thanks to KERS which became a part of the sport in 2009. Indeed, it was because of this very expertise that Renault's F1 engine specialists were called in to play a part in the development of the standard Twizy's electric motor in 2010. This grasp of the KERS used in F1 and of Twizy's electric motor provided the perfect opportunity to bring the two worlds together.
Renault Sport Technologies rises to the challenge:
The Twizy Renault Sport F1 project was put in the hands of experts who have experience of low production-run Renault sporty vehicles. The specialists from Renault Sport Technologies had previously been responsible for the design and development of Renault Twizy suspension and were also able to use their experience as the entity responsible for the Renault group's race and rally cars to work on this one-off project:
Supply of a production Twizy.
Development and adaptation of F1 components as a function of the architecture of Twizy's motor,
Chassis modifications and fine-tuning.
"When Renault Sport F1 asked us to work on the project, our engineers didn't hesitate. Renault Sport Technologies had already made a significant contribution to the design and development of the highly innovative Renault Twizy which meant that our input was perfectly natural. Thanks to our experience of race car engineering, we were able to take elements from our FR2.0 and FR3.5 race cars and also check that the rigidity of Twizy's chassis and suspension was capable of handling the additional 60kW.
Thanks to the very close working relationship we enjoy with Renault Sport F1, we were able to combine the 'fun' side of the project with some very advanced technology. We are very proud of the result." Patrice Ratti (General Manager, Renault Sport Technologies) Meanwhile, the experts at Viry-Châtillon brought to the table their integration savoir-faire and KERS expertise, including the battery, not to mention their experience of Twizy's own motor. "Thanks to our experience of KERS, we were able to guide the system's integration in the concept car and provide the necessary support for its fine-tuning development." Laurent Debailleul (Electric Systems Test Manager, Renault Sport F1).
Source: Renault
Gallery:
Renault Twizi Sport F1 Concept (2013)