The Stage 3 Mustang is the pinnacle of the ROUSH "Stage" Mustangs. It builds off the styling from the Stage 1, the handling from the Stage 2, and adds its own piece of the pie, a supercharged 5.0L-4v powertrain. It is the perfect interfusion of styling, handling and brut power. The Stage 3 is everything a muscle car can and should be.
At the heart of the Stage 3 is the supercharged 5.0L-4v powertrain pumping out a massive 565 horsepower and 505 lb-ft of torque, more than enough power to crush you into the back of your seat at the stab of the throttle. Creating the extra power is the R2300 supercharger featuring Eaton's® TVS (Twin Vortices Series) patented technology which delivers greatly enhanced thermal efficiency, produces higher volumetric capacity, and enables higher supercharger operating speeds, all of which allow for more power and better fuel efficiency in a smaller, lighter package. With the PCM calibrated by ROUSH engineers to the perfect combination of horsepower, drivability and durability, ROUSH feels completely comfortable offering an impressive 3 year/36,000 mile complete powertrain warranty.
Standard chassis components include a complete suspension system and an 18-inch by 10-inch cast aluminum, five spoke, chrome ROUSH wheel wrapped in the ROUSH/Cooper co-developed RS3 ultra high-performance tire. The suspension system consists of a larger, stiffer front stabilizer bar to reduce body roll and provide balanced, neutral handling. It also includes a unique ROUSH designed anti-wheel hop kit, twin-tube shocks with unique valving, increased rate springs as well as upgraded bushings and jounce bumpers. ROUSH chassis engineers spent thousands of hours in development and testing to create the perfect set up to aid in acceleration, cornering, stopping and ride quality.
As with the other "Stage" Mustangs the Stage 3 carries the 6th generation body package, referred to as the "R6" aerobody package. The R6 aerobody package incorporates a newly designed ROUSH upper grille, high-flow lower grille, corner fascia aero pockets with driving lamps and front chin splitter. It also includes a new ROUSH hood scoop, rocker panel and rear fascia side splitters, a three-piece rear decklid spoiler as well a new ROUSH rear aero valance featuring race-inspired diffusers and integrating new dual chambered, chrome exhaust tips.
The Stage 3 gets an RS3 graphics package available in multiple color combinations to allow owners to personalize to their taste, a ROUSH front windshield banner, a Stage 3 badge in the upper grille and ROUSH "R" fender badges. The rear decklid receives a Stage 3 badge, a faux gas cap "R" badge and is finished with Jack Roush's signature graphic.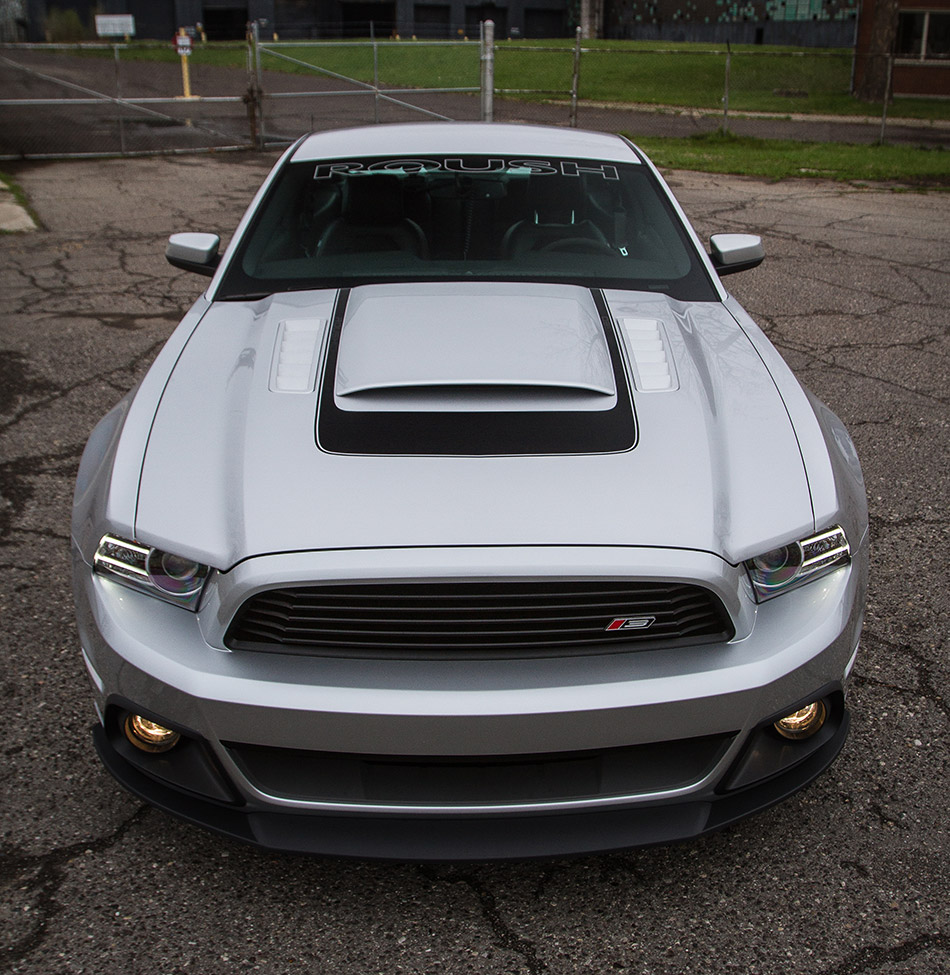 Standard components inside the Stage 3 consist of a custom gauge cluster (when built on premium base models only), ROUSH embroidered floor mats, a ROUSH center console button, a Stage 3 dash medallion and Jack Roush's signature graphic on the dash. Under the hood are a serialized Stage 3 plaque and a chassis build plaque.
Because the Stage 3 comes so well equipped, the only exterior body option is the rear quarter window louvers and graphics. Inside the car is the all new Stage 3 Interior Package consisting of Stage 3 embroidered leather seating with suede inserts and highlight stitching, suede door panel inserts with highlight stitching and a suede shift boot with highlight stitching. There is also a vent gauge pod and LED boost gauge, a suede wrapped performance steering wheel, a white or black shifter ball, ROUSH illuminated sill plates (cars equipped with ambient lighting), billet aluminum racing pedals and a convertible light bar as optional equipment.
Chassis and engine options include two 20-inch wheels options (chrome or hyper black), four different brake packages (red two-piston sport, red four-piston performance, black four-piston performance or six-piston competition), a trunk mounted tool kit, ROUSH laser cut hood struts and red or black ROUSH engine coil covers. And to hear the 565 horsepower rumble out the car is the ROUSH dual chamber off-road exhaust system.
Source: ROUSH
Gallery:
ROUSH Ford Mustang (2013)