Revised exterior and interior style revisions to the new-look Rover 25 are announced today (May 18), a week before its show debut at The Sunday Times Motor Show Live, in Birmingham. Order placements are now possible through MG Rover dealers with first deliveries from July.
The latest 25 completes a new family style identity with clean and fresh, stylish lines providing a contemporary elegance that evolves consistently across the Rover range following the recent introductions of the latest 45 and 75, in the brand's centenary year. The new front bumper design and clear lens covered twin halogen headlamps produce a cleaner and more sculpted exterior appearance. Substantial changes are made to the rear too with a new hatchback and bumper style, complemented by new alloy wheels and centre-line badging. Inside, the high quality and stylish cabin features an all-new fascia, centre console, switchgear and an array of technology features. The new Rover 25 combines a crisp and attractive style with excellent refinement, supple ride and handling and high standards of accommodation for the sector.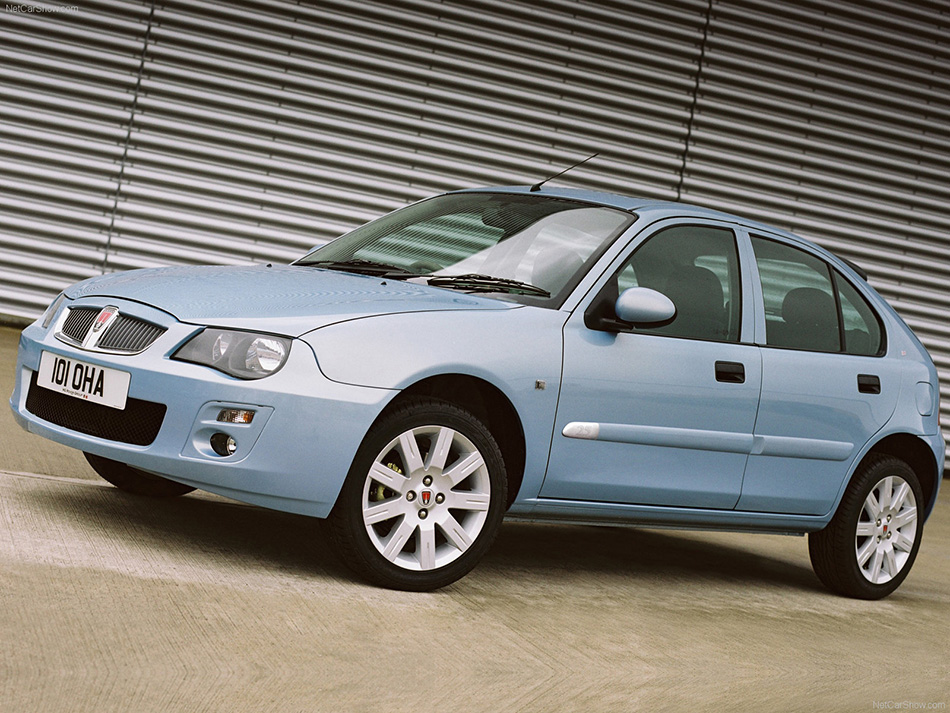 In Rover's centenary year, the Rover 25 completes the brand's largest ever and most up-to-date product portfolio, that includes the CityRover, Commerce CDV, Streetwise, Rover 45 and Rover 75.
The exterior style changes to the new Rover 25 include a new front bumper design, a deeper integral front grille and a tough clear lens protecting twin headlamps that combine to give the 25 a fresh and entirely more modern appearance.
At the rear, the treatment is just as effective, with a new, more angular rear bumper with re-positioned number plate and a clean-panel rear tailgate, giving a more defined rear appearance. Other exterior changes include body coloured side rubbing strips with the model identity in a satin finish.
The new fascia design includes four styled circular air vents that give definition and feature to the centre and ends of the fascia, and each finished in chrome. A wood fascia insert dresses the interior appearance for up to date interpretation of this traditional Rover feature. The insert is also available in a new range of finishes – burr walnut for the Rover traditionalists, and for Rover customers after something a little more contemporary, light oak and dark oak finishes are also available.
Convenience – Remote Activated Boot Release
A new feature for the latest Rover 25 is the remote activated hatchback release feature. This customer convenience feature allows the owner easier access to the boot of the car: by pressing a third button on the remote plip, the driver can release the boot lock while approaching the car.
Secure Technology – Greater Security and Locking
Auto relocking – if the car is locked/armed and the unlock button is subsequently pressed the car will automatically lock and re-arm if no doors are opened within
30 seconds. This protects against accidental unlocking of the vehicle.
Speed locking (also known as drive away locking) can be configured so that the doors automatically lock when the vehicle speed is greater than 3mph/5km/h. The doors remain locked when the vehicle is stationary and can be unlocked by the master lock button or by turning the engine off. The alarm system uses a battery backed up sounder, located within a shielded enclosure and protected with tamper proof fixings, which will activate if the power supply is tampered with.
Audible mislock – features a short horn sound if door / tailgate / bonnet are open when the vehicle is locked with the key or remote. Automatic Engine immobilisation is activated after the ignition is switched off.
Remote Locking Feature
The new remote plip has a changing lock/unlock code every time it is used. No thief could record (or capture) the code then use it later on. A new design of plip now features lock, un-lock and remote tailgate release opening. It can be operated with the alarm armed or disarmed. The alarm rearms when the tailgate is closed, with hazard warning lamps flashing to indicate this security. The latest plip design has a greater operating range.
Master Locking Switch
This new feature to Rover 25 is located amongst the switches in the new centre console. It offers a greater degree of security as the car can instantly lock all of the doors, regardless of ignition or engine state, with a single press of the button. Also included is drive-away locking for occupant security against possible external threats. A panic alarm can be triggered by pressing the Master Locking Switch for over two seconds, locking all doors, activating the alarm siren and flashing the hazard lamps and de-activated by another two second press or by pressing the plip unlock button.
Advanced Warning of Traffic Congestion
All UK specification Rover 25s feature the TrafficMaster® Traffic Alert System for congestion avoidance. No competitors currently apply this customer convenience feature so extensively in their ranges.
Safety – ABS/EBD
All Rover 25s have ABS (anti lock braking system) and EBD (Electronic Brakeforce Distribution) fitted as standard. EBD helps to ensure optimum braking efficiency.
Improved Driving Involvement
The latest 25 models all feature a more responsive and improved brake feel. The clutch pedal has been lowered to improve driver ergonomics and throttle pedal set-up has been changed on petrol and diesel models to match the engine responsiveness. Steering is also much sharper with improved H-frame toe and camber geometry and the fitment of a new specification rear suspension bush material. A new sports Rover suspension option can also be specified for owners who require a more engaging driving experience and available on 103Ps 1.4-litre models and above.
Interior
A choice of interior colourways is available. Ash or Light Smokestone complement the new re-styled fascia, glovebox, centre and floor console. The centre console faceplate can be specified in either Light Oak, Black Oak or a Walnut finish. The centre console includes additional storage space under the ICE unit and includes two additional cup holders. The new centre console includes new soft switches. SXi models also feature wood effect interior door release handle covers.
Source: Rover